New program provides home health care training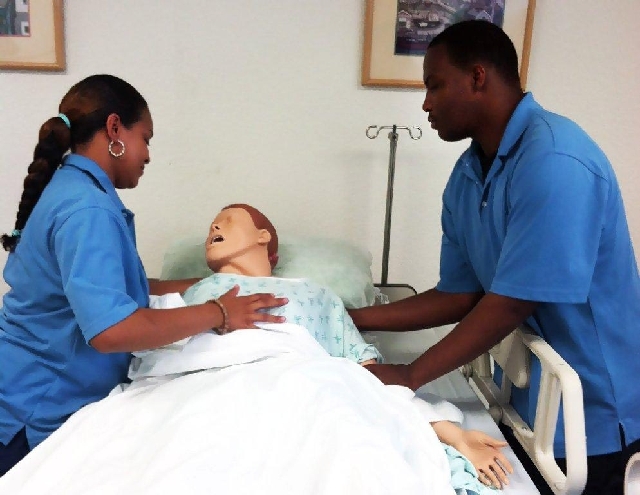 Home health care is one of the fastest growing businesses throughout the country, especially in Nevada. And at the College of Southern Nevada, Dan Gouker is overseeing a program that is answering the need to provide staffing for this growing profession .
The program is titled Home Care Aide Training. Gouker, executive director for the Division of Workforce, Economic Development and Apprenticeship Studies at CSN, said the course is designed to prepare students to work as home care aides and to assist elderly and disabled adults with daily living activities.
"The program is brand new," he said. "We started with just two students in January, and this semester we have 11 students. It's an intensive five-week program with students in class Monday through Thursday from 9 a.m. to 3:30 p.m. That equals out to 120 hours of classroom lectures and lab time."
Developed by the U.S. Department of Labor and with federal dollars, the CSN program graduates students with a National Career Readiness Certificate and National Home Care Credentials.
Steve Gleicher, owner and operations director for Right at Home, has already hired one of the first two graduates.
"When the program got under way, I reviewed the syllabus, met the first two students and spoke with several of the professors," Gleicher said. "The growth prospect for health care aides is huge and the task before us is getting trained, qualified and responsible people to work in this industry. The CSN program is positioning itself to provide these individuals and grow with us."
Right at Home is licensed by Nevada and provides personal care services to seniors in their homes. Those services might include bathing, light housekeeping, dressing, toileting, errands, meal preparation and companionship.
"Our goal is to keep people in their homes for as long as possible," Gleicher said. "There is a large retirement community in Nevada, and it continues to grow."
At CSN, Melissa Schroeder is student adviser for the Home Care Training program. She said classroom emphasis is placed on communication skills and understanding individual client needs.
"We stress a number of topics," she said, "including patient rights, understanding the effects of aging, common disease processes, caregiver etiquette and infection control procedures. Our students graduate with a good knowledge of body systems and body mechanics.
"One of the biggest components is nutrition as it relates to diseases such as kidney and heart. They also learn to cook and prepare meals for patients with different needs such as gluten allergies. We're able to do this because we have a complete lab kitchen."
But it's more than just making breakfast or lunch. Students learn how to physically transfer patients from beds to wheelchairs and vice versa. They are taught companionship, client safety and the person's legal rights within Nevada.
"After graduating," Schroeder said, "each student receives a certificate of completion to approach a home health care company and say, 'Here are my credentials.'
"During the final week of class, students take a national credential assessment test and if they pass, they become nationally certified as a caregiver. This certification is transferable to other states and it's what employers want to see. It's a big thing."
It is a big thing, and it's what Gleicher wants to see.
"Graduates come to us with home care training skills and that's very important, but it can't replicate real-life situations," he said. "As a person gets older and his or her energy declines, they tend to stop taking care of themselves and their home. What they need is for someone to come in and shop for food, make a meal or two, do laundry and clean up the house a bit.
"The second issue, and I consider this one to be epidemic, is dementia or early stages of Alzheimer's. A family member may be taking care of mom or dad or an aunt or uncle, but occasionally need a break. That's where we come in to enable that family caregiver to spend some time away from home because mom or dad can't be left alone."
According to Schroeder, all students submit to a background check to investigate for misdemeanors or felonies and a prescreening for drugs before being admitted to classes at the CSN Sahara West Center.
For many, the student is already an adult with several skills, but is interested in obtaining another parallel skill that provides an opportunity to grow in a new profession.