'Painful decision': Email hints at strife over Heart of Education Awards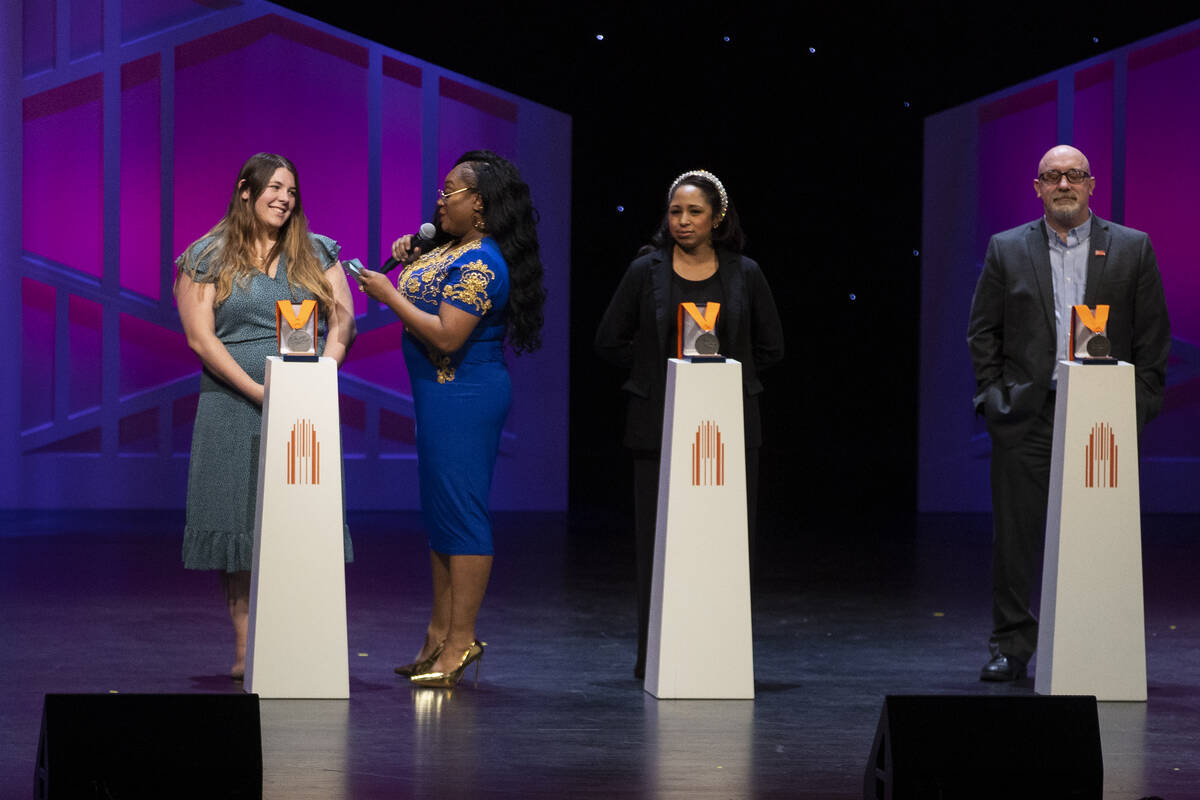 An unexpected announcement during last month's Heart of Education Awards caught hundreds of teachers off guard when Myron Martin — president and CEO of The Smith Center for the Performing Arts — said the center would "close the chapter" on the awards.
During the eighth annual red carpet ceremony April 21, Martin told the audience the Clark County School District is producing its own awards program — scheduled for Wednesday — and that the center would find other ways to continue to recognize educators.
High school teacher Ryan Fromoltz, who was among more than 700 nominees at this year's Heart of Education Awards, described the reaction to the announcement as "utter shock."
"No one was happy with the announcement," Fromoltz said, saying he could hear gasping in the audience.
The Heart of Education Awards, which recognized outstanding school district teachers, were funded by The Rogers Foundation. Hundreds of teachers and their guests were invited each year to a ceremony at The Smith Center, where 20 winners were announced and awarded a commemorative medallion, $5,000 and $1,000 to donate to a school program of their choice.
The announcement about the awards being discontinued came after Martin sent a March 21 email to Superintendent Jesus Jara expressing concerns about the district's new awards program competing with the Heart of Education. The Las Vegas Review-Journal obtained the email through a public records request.
"We were shocked to learn that the CCSD is now hosting your own annual awards show at the South Point, in direct competition with The Heart of Education Awards," Martin wrote to Jara.
In a statement, the school district said its leadership hears the concerns raised by the organizer of the Heart of Education and was hopeful it would reconsider the decision to end the awards.
"CCSD feels that we, as the Southern Nevada community, cannot celebrate our educators enough," the district said.
School district's new awards program
Martin said Tuesday that The Smith Center started hearing about the district's new awards program about a month before the Heart of Education ceremony. The center was receiving calls from sponsors and teachers who were confused about whether the district's awards ceremony was part of the Heart of Education.
"At that point in time, the school district had said nothing to us about it," Martin said.
When the district decided to produce its own awards show, "it seemed natural that maybe the time had come that we don't have to anymore," he said.
About two weeks before the Heart of Education ceremony, there was an internal conversation that "we may need to announce that this could be our last year doing it," Martin said. But a final decision wasn't made until days beforehand.
The school district said in a May 3 statement to the Review-Journal that it continues to enhance its employee recognition programs and created an Evening of Excellence Starlight Awards to honor employees "who go the extra mile for students." It will recognize more than 800 employees.
The Starlight Awards — funded by sponsors — will recognize employees in award categories such as teacher, support professional, licensed specialist, principal and central administrator of the year, the district said. Nominations were submitted by administrators for each employee group.
"While planning this event, we took great care to refrain from competing with or detracting from other community celebrations, like the Heart of Education," the district said in its statement. "With over 40,000 employees, CCSD has many worthy educators and employees deserving of community recognition."
But printed materials for the district's new awards ceremony had said it would honor employees who go "above and beyond," Martin wrote in the March email to Jara.
"I don't need to tell you that the Heart of Education has used this exact phrase since the beginning," Martin wrote. "The (flier) then states that educators are the 'heart and soul' of our community… Is this a Heart of Education reference?"
He said it was surprising the district was planning an event that "directly competes not only for teacher attention, but sponsorship resources as well."
"I know that you have not fully engaged in participating personally in the process, but I hope you recognize the heroic efforts by The Rogers Foundation, The Smith Center, and countless individuals who dedicate their time and energy year-round to making this extraordinary event possible," Martin wrote to Jara.
Martin ended the email by writing, "Wish we had been able to discuss the new event in advance. We are left with a sense of uncertainty about the future. Suggest we meet soon to discuss."
Jara responded the same day thanking Martin for reaching out to express his concerns.
"Please know that this is no way in competition with The Heart of Education Award that I fully support," he wrote.
Jara wrote he wanted to meet to discuss further "so we can course correct immediately."
"I value our partnership and commitment to support our educators," he wrote.
Education programs will continue
For Fromoltz, this year was the second time he was nominated for the Heart of Education Awards.
He was nominated by a student for the award. One of the things he said he liked about the Heart of Education is that nominations didn't have to come from a school administrator or colleague, but could also be from a student, parent or community member.
"They have more of a say in who gets nominated," he said, and it shows you've made an impact in a student's life.
The Heart of Education Awards felt special, Fromoltz said.
The Smith Center will continue with its other education initiatives such as bringing thousands of students to the center each year for field trips and holding high school musical theater awards, Camp Broadway, workshops and master classes.
But ending the awards program was a painful and tough business decision, Martin said, noting it wasn't made haphazardly. "This isn't something we took lightly."
Martin said that he felt like he was in mourning the day after the awards ceremony and that he will truly miss it.
"If I had to say what thing at The Smith Center makes you most proud, I probably would have said the Heart of Education Awards," he said.
Contact Julie Wootton-Greener at jgreener@reviewjournal.com or 702-387-2921. Follow @julieswootton on Twitter.