Plan to distribute marijuana tax money rankles CCSD official
August 21, 2017 - 6:06 pm
Updated August 21, 2017 - 7:39 pm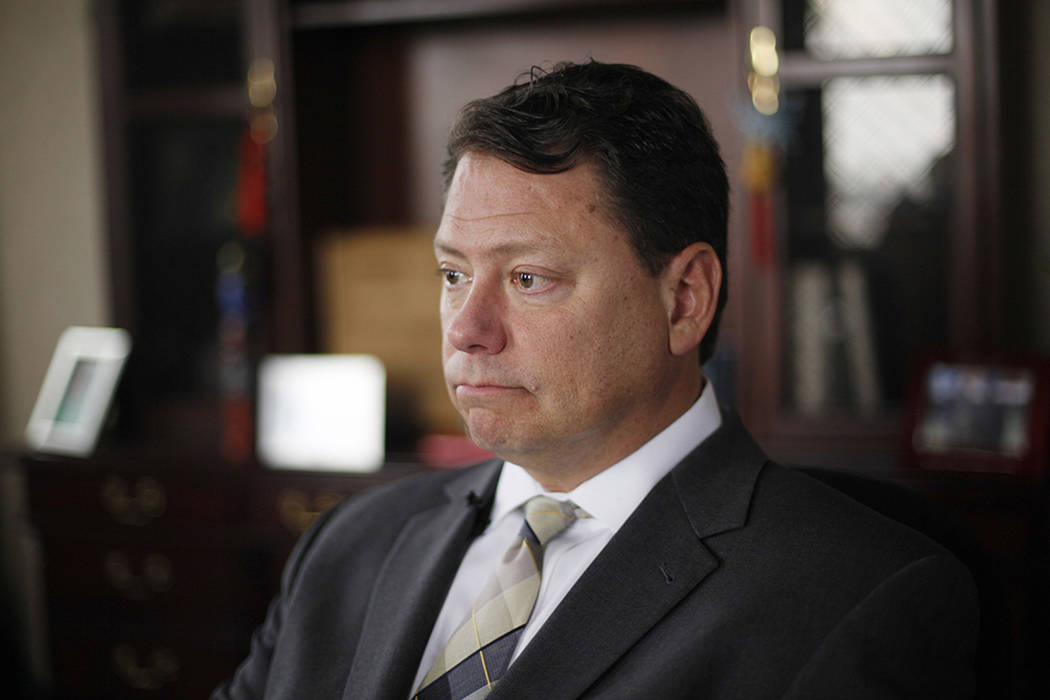 Marijuana tax revenue is projected to bring in $40 million to schools over the next two years, but the Clark County School District is taking issue with how that money is distributed.
That's because that money — an estimate from the governor's office — will go into the Distributive School Account, the state fund for public education.
Superintendent Pat Skorkowsky dislikes that setup, because the account redistributes money throughout all state school districts through a complicated formula that factors in school enrollments and local revenue.
"It sends Southern Nevada money out across the state again," he said. "We need to keep our Southern Nevada money in Southern Nevada, and be able to use it for students here."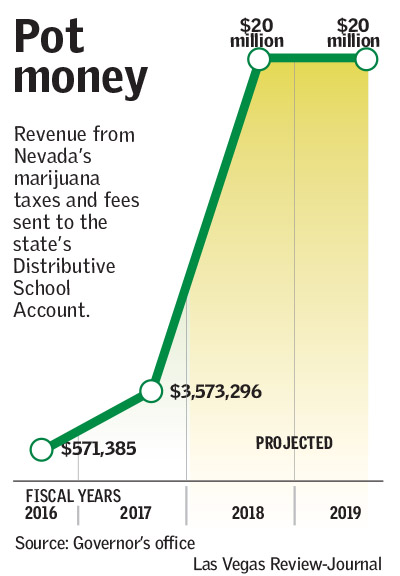 Marijuana tax revenue sent to the Distributive School Account has grown from $571,385 in fiscal 2016, when only medical marijuana tax revenue was collected, to a projected $20 million in medical and recreational marijuana tax revenue in fiscal 2018.
And Clark County has the potential to earn the highest amount for education of all Nevada counties — it has the most cultivators, who will earn the bulk of the money toward education.
How marijuana money ends up in schools
Only the 15 percent wholesale tax on both recreational and medical marijuana will aid public education. That tax is projected to rake in $56.2 million this biennium, the governor's office estimates. Fees from applications, licenses and medical cards — projected at $7.1 million — will also go toward the Distributive School Account.
But some of that revenue must pay for the Department of Taxation's costs to regulate the industry. Also, governments can tap $5 million of the marijuana tax revenue per year to help offset the costs of regulation.
The remainder — a projected $20 million in each of the next two years — will end up in the Distributive School Account.
It's unclear exactly how much of that money will aid Clark County schools.
The recreational marijuana revenue flow was outlined in the ballot initiative passed in November, and in another marijuana tax bill passed this legislative session. Ballot measures in Nevada cannot be changed by the Nevada Legislature until three years after they're passed.
Clark County School District Trustee Carolyn Edwards echoed Skorkowsky's belief that tax revenue raised in Southern Nevada should stay here.
"I think in general, we need to do more to have Southern Nevada money stay in Southern Nevada," she said. "We've used Southern Nevada money to help fund things for UNR, we've used Southern Nevada to help fund rural roads."
But the state Department of Education argues the amount of money each district receives from the Distributive School Account is determined by other available local revenue.
"Everyone just wants to talk about the state data — there's a local portion on top of that," State Superintendent Steve Canavero said. "When we stacked it all up including federal, we had a $10,000 per-kid average statewide."
As the district battles an estimated $45 million deficit, shaking the public perception of marijuana revenue as a budget fix can be difficult. Even if all the revenue over the next two years was available solely to the district now, it still wouldn't be enough to cover the shortfall.
Julie Ostrovsky, a special education parent in the Clark County School District, was confused as she sat through a seminar this month on marijuana revenue's impact to the community.
"One of the things that came up is that marijuana dollars help the education system, and I'm like, how?" said Ostrovsky, who lobbied the School Board to prevent cuts to special education. "They have a deficit, and everybody says this money's pouring in."
A casualty of school choice battle
More marijuana money could have gone to schools.
This legislative session, Gov. Brian Sandoval proposed to have the 10 percent retail tax on recreational marijuana go directly to the Distributive School Account. But the proposal became a casualty in the battle over school choice — Republicans refused to designate the money for schools without passing funds for the Education Savings Account program, which offers stipends for students to attend private schools.

When that school choice program failed, a new bill emerged to funnel that retail revenue — projected at $63.5 million for this biennium — to the state's rainy day fund.
"I was up there that Friday when it went down in the Senate," Skorkowsky said. "It was the most bizarre thing I've ever seen in my entire life, in the way that adults are behaving when it comes to how we're going to make sure kids are taken care of."
The school account didn't lose out entirely — $60 million that Sandoval set aside for the Education Savings Account ended up in the Distributive School Account.
To change the flow of state funds, Skorkowsky is relying on the voices of parents on school organizational teams, part of the local empowerment model of the district's new reorganization.
"We're going to be able to go into the 2019 legislative session with a united front," he said. "Having them understand more about school budgeting, more about how the dollars get to us, and be able to be that voice in the 2019 session."
Contact Amelia Pak-Harvey at apak-harvey@reviewjournal.com or 702-383-4630. Follow @AmeliaPakHarvey on Twitter.