Regents eye UNLV professor for temporary chancellor job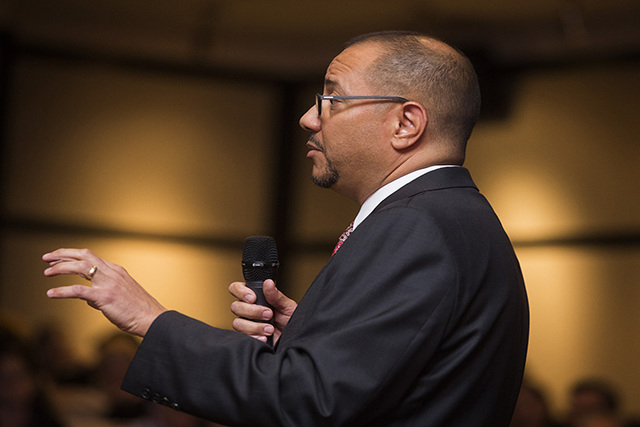 The state's higher education board is eyeing a temporary replacement for former Chancellor Dan Klaich, whose contentious retirement last week opened a powerful job overseeing Nevada's public colleges and universities.
Chairman Rick Trachok said Friday that the 13-member Board of Regents will consider selecting UNLV law professor John White during a special meeting on May 27 in Las Vegas. White has been nominated by a panel from the Nevada System of Higher Education and its overseeing regents to fill in as acting chancellor for up to a year while both groups seek input for a permanent replacement.
"I've been very impressed with his intellect, and I've always been very impressed by his temperament," Trachok said of White, who could not be reached immediately Friday. "I just think he will be a very good acting chancellor."
White, who made an unsuccessful bid for UNLV president in 2014, served as the school's second-in-command from July 2012 until February 2015. He resigned as provost a month after President Len Jessup was chosen to lead the university instead.
Regents Cedric Crear and Allison Stephens lauded the recommendation and said White — who is an advisor to Jessup — would be a good fit. White has also served as dean of UNLV's Boyd School of Law.
If chosen, White would assume the title on July 1 — about one month after Klaich's last day. Vice Chancellor Brooke A. Nielsen will assume the role immediately after Klaich departs. Under the deal proposed, White would not be eligible for a permanent job as chancellor. It was not immediately clear on Friday how much he would get paid.
"I haven't heard anything negative" about White, Stephens said, calling his selection "a good idea overall."
Regents accepted Klaich's resignation at a special meeting May 12 in response to calls for action from lawmakers and the Las Vegas Metro Chamber of Commerce following a Review-Journal article published in April. The report examined emails from Klaich which raised concerns that the ex-chancellor misled the Legislature about a new formula for distributing money among colleges and universities.
The board agreed to let Klaich retire early while still collecting full pay and benefits until his contract ends in June 2017. His base annual salary is $303,000, and he also receives $32,000 in automobile and housing allowances.
Assemblyman Elliot Anderson, who is drafting legislation to reform the state's higher education system, called the board's consideration of White "a positive signal."
"It shows that they are taking their relationship with the Legislature seriously," Anderson wrote in an email. "The Legislature knows Professor White from his time as Boyd Law dean and provost, and is trusted."
Contact Ana Ley at aley@reviewjournal.com or 702-224-5512. Find @la__ley on Twitter