Reilly itching to get to work as Nevada chancellor
August 5, 2017 - 10:54 pm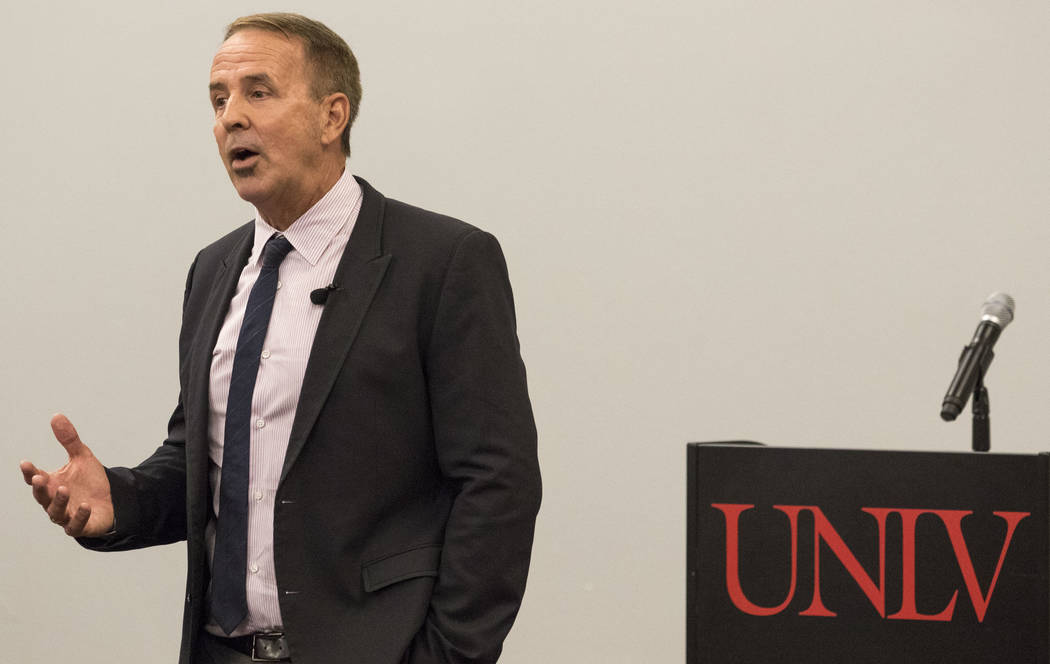 Members of the state Board of Regents had a list of 17 questions for Thom Reilly about his goals for higher education when they interviewed him for the position of chancellor of the Nevada System of Higher Education.
Reilly, 56, who landed the job and starts work Monday, will now often be on the opposite side of the table, asking questions.
But he says he's won't confine himself to the role of questioner.
"I pride myself in listening to and being responsive to individuals, not that I don't take a strong position," Reilly told the Las Vegas Review-Journal last week. "I want to be accessible."
Andrea Whitsett, who worked closely with Reilly at the Morrison Institute for Public Policy at Arizona State University, where he was director before leaving for Nevada, said he practices what he preaches.
"He's a good listener," said Whitsett, the institute's associate director. "I've been able to grow in my role because he's been so receptive to me coming forward with a new or innovative idea."
'A brilliant man'
Before receiving the 11-0 vote of the regents that gave him the new post, Reilly spelled out his goals for the system at a series of candidate forums in late June. His top priority, he said, is making higher education accessible to more people in Nevada. Other broad goals include improving educational attainment, bolstering workforce development and using higher education to solve community problems.
His resume should give him the keys to accomplish what he has set out to do, colleagues say.
Along with his experience at the Morrison Institute, a nonpartisan think tank, Reilly is well-known in Nevada for his work as Clark County manager from the early to mid-2000s.
"Thom had been working for the county in other roles prior to then," former Clark County Commissioner Bruce Woodbury said. "He was very efficient and had done an excellent job. But when he became county manager, it became clear that he was much more than that. He's a brilliant man. I came to admire him so much."
Jonathan Koppell, dean of the School of Public Service and Community Solutions at ASU, said it's "hard to imagine" a person better-suited for chancellor.
"He has the skills and credibility of an academic, and he knows his way around a university," Koppell said. "But he knows how the real world works, too. He can bring the two together."
Big-picture thinker
Reilly, who holds a doctorate in public administration from the University of Southern California, is diving into the tasks before him. He's made off-the-clock visits to Las Vegas in the past few weeks to check setting up a new office off his list.
"I'm obviously trying to read quite a bit. I've asked for some key documents to get a little jump on things," Reilly said. "I'm a bit anxious to get going."
He said first on his to-do list is scheduling one-on-one meetings with key players in Nevada's higher education world, including university and college presidents as well as all the regents.
Another priority will be encouraging the board to engage in strategic and facilities master planning.
"The last time there's been a strategic plan was six or seven years ago," Reilly said. "It's time to look at that."
Whitsett said strategic planning was also Reilly's first goal at ASU.
"He is good at bringing a vision, the big picture of how the work we do across different areas comes together," she said.
Reilly is also eyeing the governance structure in the Nevada System of Higher Education offices and foresees making changes.
"I'm not sure if the current structure is the best," Reilly said. "I don't know what is at this point, but I'm asking a lot of questions."
Contact Natalie Bruzda at nbruzda@reviewjournal.com or 702-477-3897. Follow @NatalieBruzda on Twitter.
Reilly's experience
— Director of the Morrison Institute for Public Policy, 2014 to August 2017.
— Managing principal, The Reilly Group, 2006 to present.
— Director and professor for San Diego State University's School of Social Work, 2008 to 2014.
— Vice president of social responsibility, Caesars Entertainment, 2006 to 2007.
— Clark County manager, 2001 to 2006.