Report bumps Nevada overall education ranking from last to next-to-last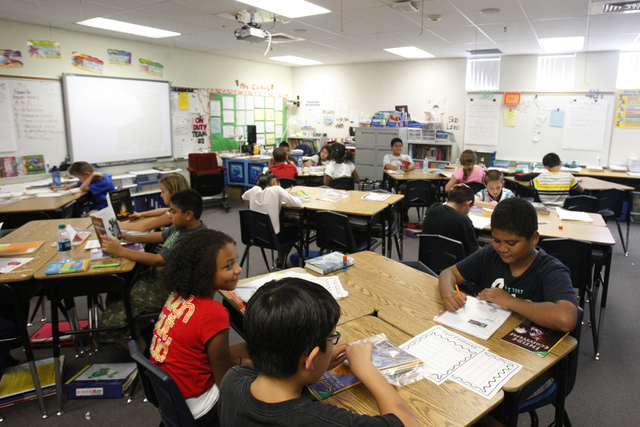 Nevada no longer ranks dead last for its lackluster education system.
Now, it's only second-to-last, according to the Annie E. Casey Foundation's annual Kids Count report.
The report, which measures child well-being in all 50 states, found Nevada improved on four key education indicators between 2008 and 2014. The share of young children not in school, for example, decreased from 70 percent in 2007-09 to 68 percent in 2012-14.
The Silver State also posted a double-digit-percentage decline in the number of high school students who don't graduate on time. That rate tumbled from 44 percent in 2007-08 to 33 percent in 2012-13, according to the report.
Still, only New Mexico fared worse than Nevada for its overall education outcomes in the latest Kids Count report.
"It's entirely unacceptable," said Steve Canavero, Nevada's state superintendent of public instruction. "Our kids deserve better, and our state's economy needs better.
"To me, this is the same sort of call to action that really the governor led in 2015 because the business-as-usual approach isn't working," he added.
Referring to the 2015 Legislature, Canavero highlighted the sweeping package of education reforms that lawmakers passed and which he expects will boost the state's performance on reports like Kids Count.
Those reforms include a third-grade literacy program and more money for schools with high populations of low-income students and English learners. The state, with the backing of a $43 million federal grant, also expects to add 2,900 slots to its full-day preschool program.
"We have launched a tremendous number of programs with new investments, so we will see an improvement," Canavero said. "We'll see incremental gains and see substantial increases maybe three years out."
Aside from education, the Kids Count report also ranked Nevada among the bottom-performing states for children's economic well-being, health and family and community. Some indicators, such as low-birthweight babies and children living in poverty or single-parent families, worsened as others, including teens who abuse controlled substances and children without health insurance, improved.
Louise Helton, a spokeswoman with the Kids Count project at UNLV, noted the significant gains made in teen pregnancy.
In 2008, teen births per 1,000 was 48. Six years later, it's only 29, according to the report.
"The numbers on teen pregnancy have plummeted 40 percent since 2008," Helton said. "That is a lot of children that could have been born into poverty … This lets us have more hope."
Nevada improved on 11 of 16 overall indicators from last year's Kids Count report. However, most of those still placed the state among the worst-performing in the country.
A lot of that, Helton said, stems from more children living in poverty. But she noted the state can solve these issues — if it decides to spend the money doing so.
"It's very discouraging as a state when you're at the bottom of the barrel (but) we are fortunate because we are a very research rich state," Helton said.
"It's just going to come down to political will to use some of those tools to fix these problems."
The Associated Press contributed to this report. Contact Neal Morton at nmorton@reviewjournal.com or 702-383-0279. Find him on Twitter: @nealtmorton.