Sandoval signs Clark County School District breakup legislation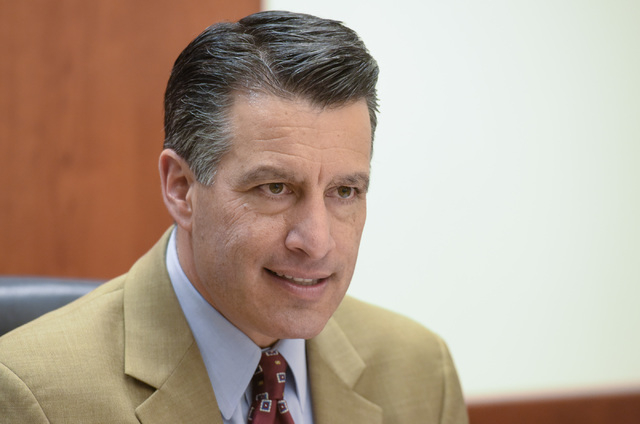 Despite concerns that a breakup of the Clark County School District will hinder its ability to issue debt for new school construction, Nevada Gov. Brian Sandoval late Thursday signed legislation requiring a split of the district within the next three years.
State lawmakers left education officials with more questions than answers when, in the final moments of the recent legislative session, they rushed through a bill to divide the nation's fifth-largest public school system.
Chief among the unknowns: Whether a requirement to implement the reorganization plan will make it more difficult for the district to borrow up to $4 billion to build new schools and relieve crowded classrooms.
"If this has any impact on the district bonds, it's not going to be positive," said Jim McIntosh, chief financial officer for the district, when contacted by the Review-Journal on Wednesday. "Investors put a high weight on uncertainty, and this will certainly create a lot of uncertainty."
He said his office has already had an inquiry from the credit rating firm Moody's Investors Service for information about potential consequences of Assembly Bill 394, which requires a committee to develop and implement a plan to break the district into an unspecified number of local precincts by the 2018-19 school year.
Regardless, the governor enacted AB 394 on Thursday night, according to a spokeswoman.
Sandoval was not immediately available for comment, but earlier in the day, he acknowledged concerns about the bond rating.
"There's been some testimony that it may affect the bond rating for the school district moving forward," Sandoval said of the new law. "So I'll make sure all the information that has been testified to is accurate and get my own independent information and evaluation as well."
The Nevada Legislature approved AB 394 within minutes of adjourning on June 1. It passed 35-5 in the Assembly and 13-7 in the Senate.
Opponents say they were prevented from raising concerns about which Clark County neighborhoods will get and pay for new schools, whether the reorganization plan will carve minority and low-income students out of high-performing campuses and what will happen to teacher salaries, student performance, magnet programs, federal grants and more.
But the bill's main sponsor, Assemblyman David Gardner, R-Las Vegas, said he is confident the committee will tackle those issues — and hopefully circumvent any legal challenges — before it presents a reorganization plan next year.
"This is something we're not trying to jam through but want to study more methodically," Gardner said earlier this week.
"The fact that this (measure) got as far as it did, with so many bipartisan votes, shows it is something worth discussing," he added. "A lot of people have the feeling that Clark County is just too big."
The district currently serves about 320,000 students across more than 8,000 square-miles.
The legislation requires the nine-member committee to weigh the impact of a breakup on central office functions, curriculum, employee unions, financial equity, real estate and much more.
While Gardner said the bill requires a thorough examination of each issue, lawmakers who voted against AB 394 argued they should have vetted the proposal before setting an implementation date.
"That's like saying, 'Let's go out and look at the lock on the gate because the horses escaped,'" said Sen. Pat Spearman, D-North Las Vegas. "You should have locked the gate first."
Spearman expressed concern that lower property values in North Las Vegas, compared to wealthier neighborhoods in Henderson and Summerlin, would create an unequal tax base to fund schools. She also highlighted the "great risk" that disadvantaged students will be segregated into underfinanced precincts.
The bill's passage will require the district to disclose the upcoming reorganization — despite lack of details about the plan — each time it issues new construction bonds.
Those vague disclosures could drive a downgrade of the district's credit rating, which have historically remained in the high-quality category, McIntosh said. In turn, a downgrade would impact the interest rate and price of construction bonds, potentially lowering the total amount that the district can spend on capital projects, he said.
Additionally, "if you break the district into several different precincts, who gets priority to issue debt when they have a capital need?" McIntosh asked. "Which precinct makes the final decision?
"If one precinct wants to replace an old school but Henderson says it grows a lot and needs more money, who takes priority and who ultimately decides and who pays it back?"
That didn't seem to concern Gardner, who has his own idea of the district's future structure.
Reiterating that the committee will resolve the sticking points, Gardner suggested common functions such as financial management or transportation remain at a countywide level.
"There would be an administrative level across the district, but precincts would handle curriculum," Gardner added. "Each precinct would have its own superintendent and school board."
That idea confused John Yinger, a professor of public administration and economics at New York's Syracuse University who has studied the consolidation and deconsolidation of school districts.
He admitted a lack of familiarity with the Clark County district, but questioned the wisdom of Gardner's proposal.
"I just don't know how that would work," Yinger said. "I'm not saying that would be a good or bad idea.
"But five or more school boards in the same district? I've never heard of anything like that."
Contact Neal Morton at nmorton@reviewjournal.com or 702-383-0279. Find him on Twitter: @nealtmorton.

RELATED STORIES
School bills: Some head to governor, others await legislative action
Governor gets bill to pay for tutoring, private schools
Assembly approves bill exempting high-earning school administrators from collective bargaining
Nevada Gov. Brian Sandoval signs anti-bullying legislation
Assembly rejects gender-based school restroom bill
Sandoval's scholarship bill heads to Senate floor
See all of our coverage: 2015 Nevada Legislature.