Saturday Conservatory to allow Henderson music students satellite lessons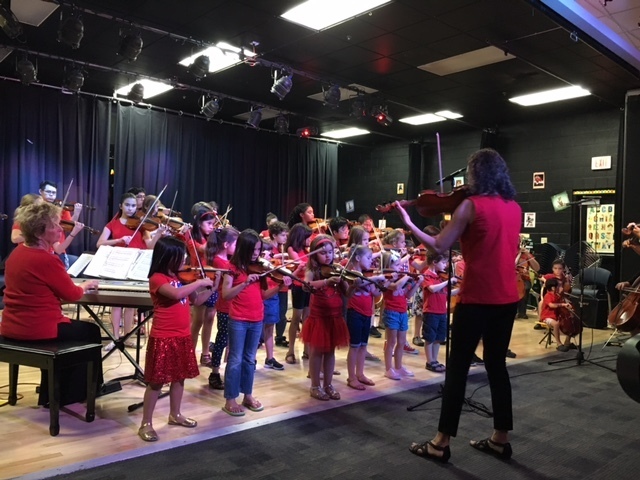 Wanting to spread music education in the community, the Nevada School of the Arts is hosting a satellite location inside the Henderson International School.
Starting this fall, Saturday Conservatory will allow Henderson students to take lessons in violin, cello, piano, voice, flute and trumpet.
"This is a great opportunity for our community when two schools partner to offer excellence in music education," said Shakeh Ghoukasian, the executive and artistic director of the Nevada School of the Arts.
Located in downtown Las Vegas, the Nevada School of the Arts, 401 S. Fourth St., opened nearly 40 years ago to be a resource for people interested in pursuing fine arts, whether to learn a new instrument or enhancing existing musical skills.
While the school teaches anyone from 3 to 93, Ghoukasian said she provides one-on-one instruction for children to help them grow musically.
"I think any skill needs time to be fine-tuned and refined," Ghoukasian said. "There is no short-term fix. This is long-term."
Even if students don't pursue music as a career, Ghoukasian said their dedication to the arts will help shape them wherever they go.
"They learn how to stick with something and how to work at something no matter how hard it is," she said.
Ghoukasian said students in Henderson who are interested in the Nevada School of the Arts' offerings might not be able to travel to the location.
For years, Ghoukasian and Nick Stamanis, fine arts director at the Henderson International School, have talked about coordinating efforts to bring the school's program to Henderson. This year, they made strides to start the Saturday Conservatory to bring instructors from Nevada School of the Arts to Henderson.
Each weekend, students can sign up to get individual training and mentorship in the instruments of their choice.
Stamanis said Henderson International School, 1165 Sandy Ridge Ave., is a perfect place to host this.
"One of our missions is art integration," he added. "It's important for us to help our kids discover their talents."
While they have many interested students at the Henderson International School, Stamanis knows there are youths in the area who might also be interested.
"This is a tremendous service to the community," Stamanis said.
The schools are working on community outreach to let others in the area know this is an option. Though the program starts in the fall, students can join any time throughout.
"It won't be a locked semester," Ghoukasian said.
While they continue to set up the semester, Stamanis added they have a learning curve since it's the first year they are offering the campus.
Ghoukasian can already foresee the Saturday Conservatory, and the partnership between the two schools, growing. They are already looking to add musical theater, among other offerings, in the future.
"I hope we become a hub for the arts," she said.
Visit nsamusic.org.
To reach Henderson View reporter Michael Lyle, email mlyle@viewnews.com or call 702-387-5201. Find him on Twitter: @mjlyle.
Saturday Conservatory at Henderson International School
Address: 1165 Sandy Ridge Ave. in Henderson
Visit nsamusic.org.