School Board to consider ending Superintendent Jara's contract
Updated October 23, 2021 - 3:19 pm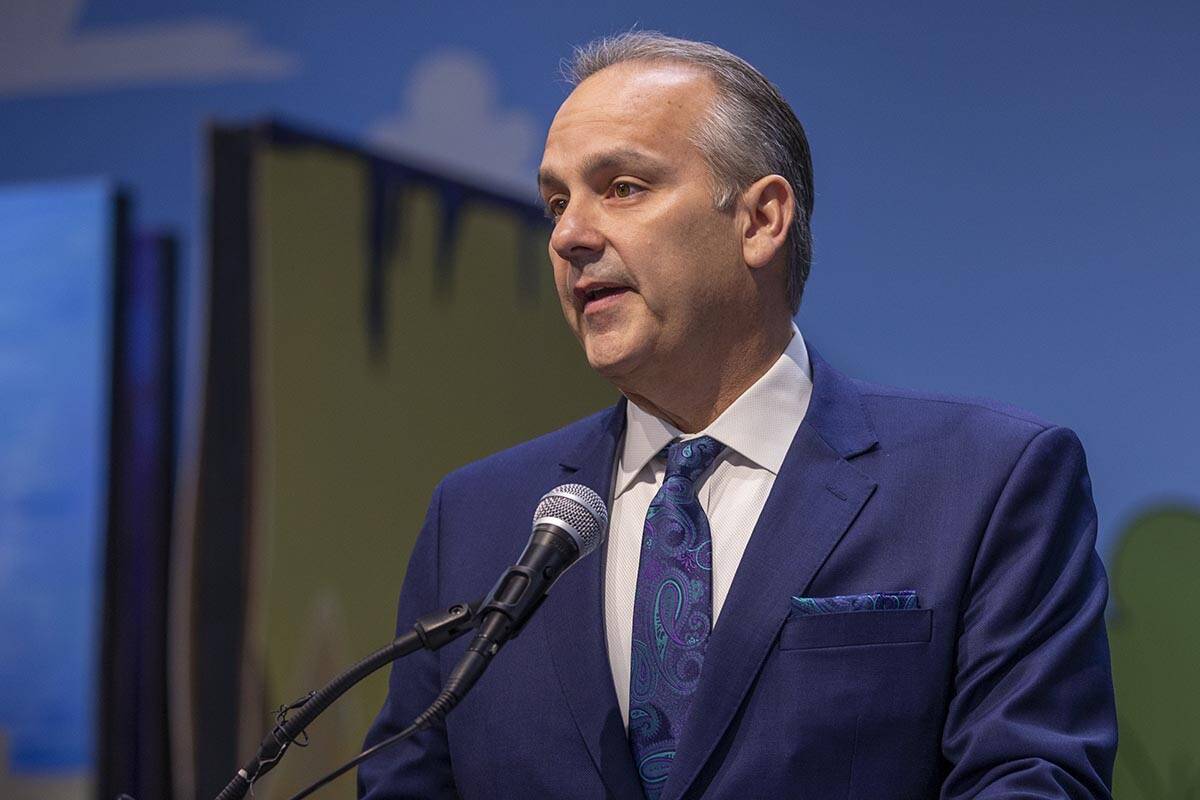 The Clark County School Board may be in for a tumultuous meeting next week, with trustees potentially voting to end Superintendent Jesus Jara's contract, revoke the election of Trustee Linda Cavazos as board president, or both.
A meeting agenda posted Friday for the board's regularly scheduled Oct. 28 meeting includes the two items, both brought by "written request of three trustees," whose names aren't listed.
One states the board will discuss and possibly take action on "termination for convenience" of Jara's employment agreement. It's the second time in a little more than a year the proposal has appeared on an agenda.
The second calls for the board to discuss and consider the "rescission of the election" of Cavazos as board president.
Trustee Danielle Ford said Friday she initiated the agenda item about Jara's contract, but said she couldn't comment further.
In a statement, Jara said: "The superintendent serves at the pleasure of the board and the board can exercise its rights under my employment contract at any time. In the meantime, I remain focused on improving student outcomes by steadfastly serving the students and families of the Clark County School District."
An email sent to school district staff Friday used nearly identical wording.
Jara has been on the job since 2018, and his annual salary is $320,000.
As for the agenda item about Cavazos, Trustee Lola Brooks released her letter to the Review-Journal, in which she said Cavazos had reached out to principals to gain support for ousting Jara.
"You have proven time and time again that the only concern you have is for your own status and ego, while also affirming that everyone else is to blame for your choices and performance," Brooks wrote. "Unfortunately, I wanted to believe that you were capable of growth and that perhaps allowing you to lead would help you recognize the difficulties of the job."
Cavazos said Friday she plans to release a statement Saturday.
She also said she supported putting an item on the meeting agenda related to Jara's contract, along with Trustee Lisa Guzman, who declined to comment Friday.
The Review-Journal also reached out to Trustee Evelyn Garcia Morales, who referred to meeting items posted online.
Jara has faced criticism over his handling of the COVID-19 pandemic, including the decision to operate with 100 percent distance learning for about a year beginning in March 2020, as well as the school reopening process.
In May, the school board voted 4-3 to approve an extension of Jara's contract, with Ford, Guzman and Cavazos voting against the motion.
That action followed a dispute about whether Jara's contract had automatically renewed for the last two years, with Jara's representatives arguing it was in force until 2023 and trustees saying it ended on June 30 this year.
The vote defined the contract term as beginning June 19, 2018, and ending Jan. 15, 2023.
The School Board also considered an agenda item to consider possibly terminating Jara's contract "for convenience" in July 2020. However, trustees voted 4-3 to halt the special meeting before getting to the item.
The meeting agenda also included a couple other items related to Jara's conduct.
Those included an erroneous statement he made during a 2020 special legislative session when he claimed the school district wasn't behind a bill to return unspent school funds to the district and an incorrect statement to the School Board that the Nevada Department of Education would have to approve the district's reopening plan by a deadline that didn't apply.
Contact Julie Wootton-Greener at jgreener@reviewjournal.com or 702-387-2921. Follow @julieswootton on Twitter.