She graduated from Mojave High. Now, she's leading the school board.
Updated March 3, 2023 - 3:40 pm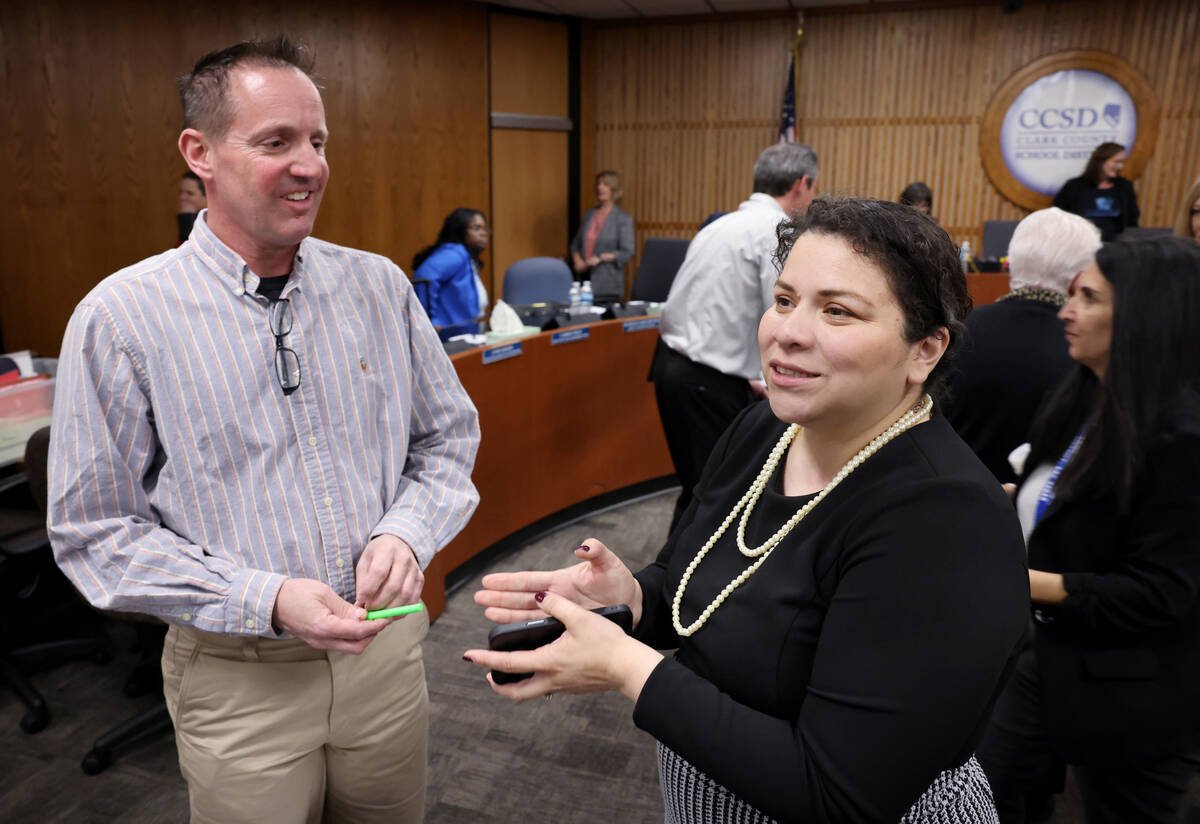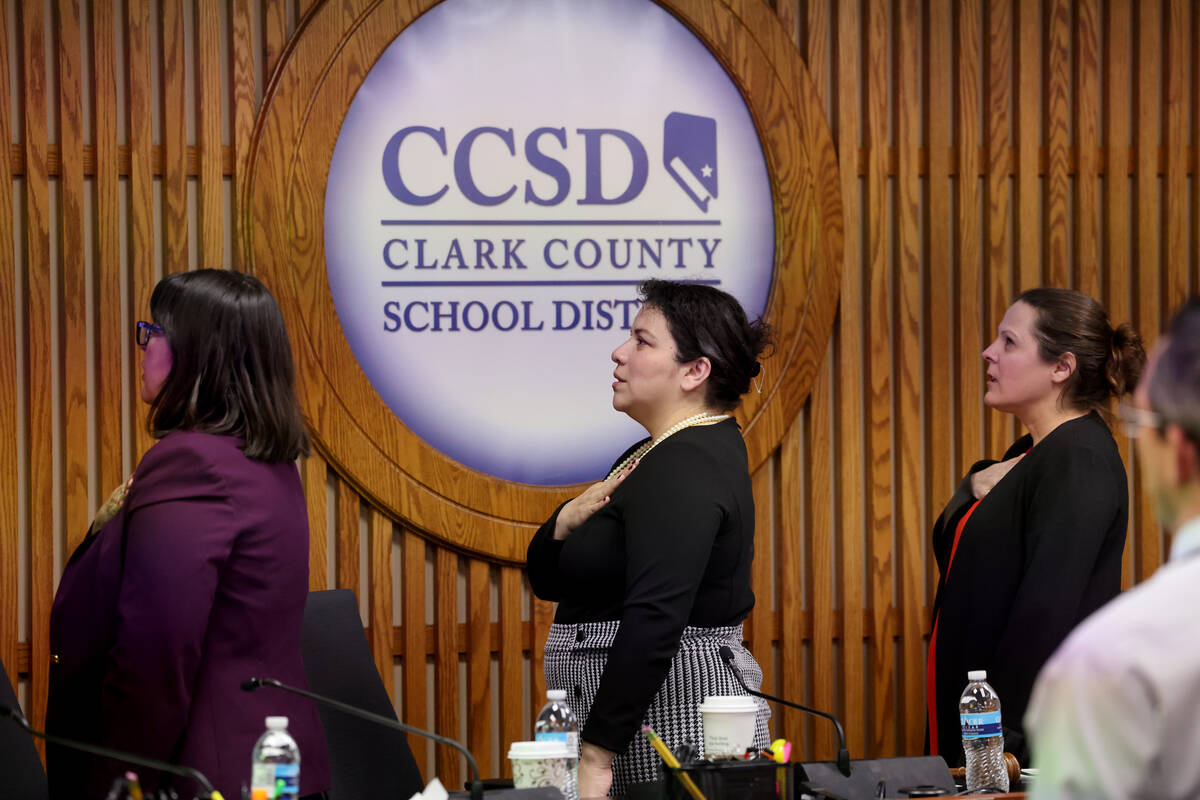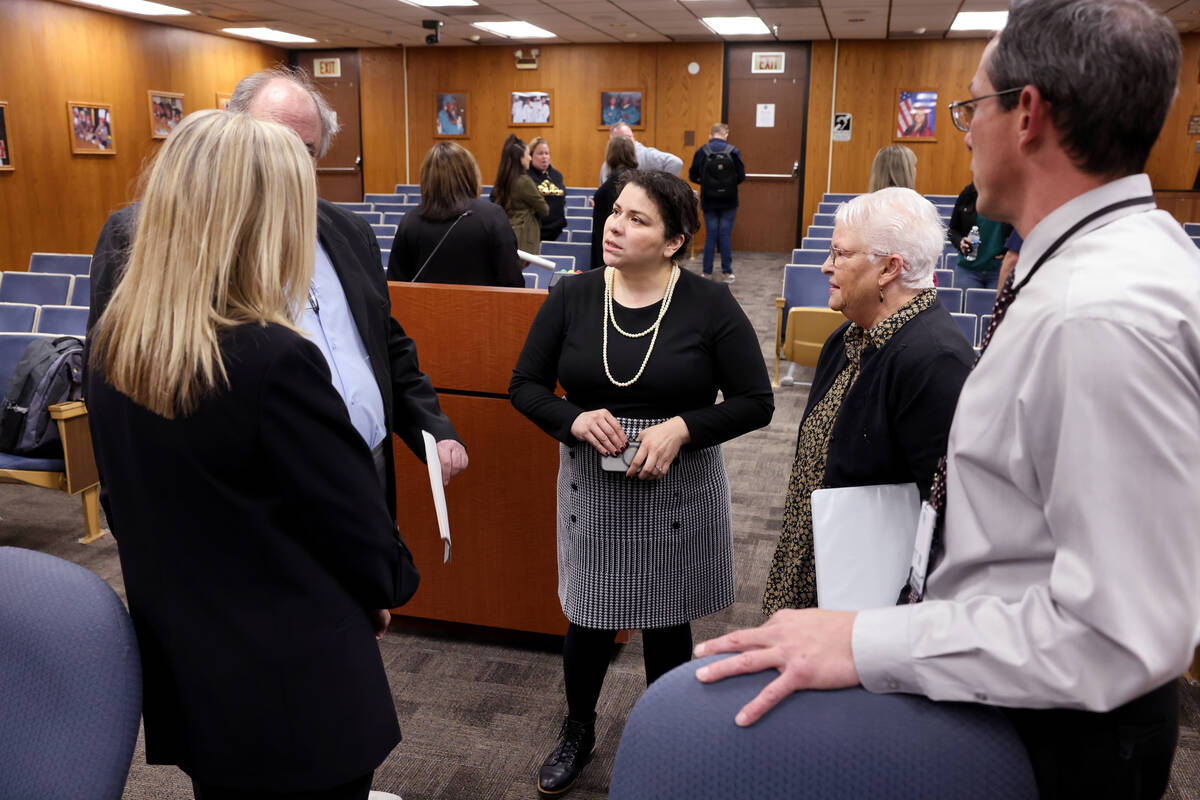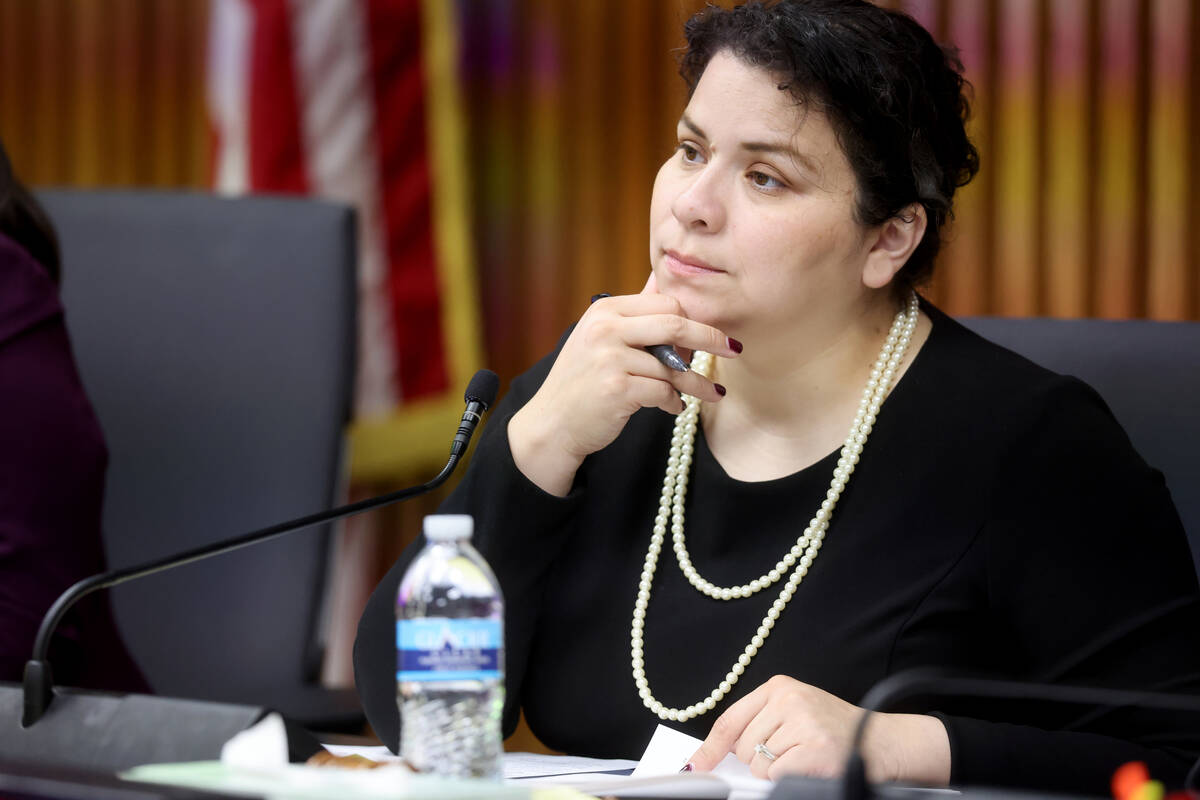 As a teenager, Evelyn Garcia Morales made sure her younger brother was fed in the mornings and ready to head out the door.
Their mother worked the graveyard shift at a local factory and arrived home just in time to drive them to school — something she insisted on doing every day.
Garcia Morales, 39, recalled her mother putting the car in park at stop lights and taking a "micro nap."
She said her mother — who grew up in a small, rural area of Mexico and was only able to receive up to a third grade education — recognized the value of an education and how it was a path out of poverty.
"CCSD gave me that opportunity very early on," she said.
Garcia Morales — a 2001 alumna of Mojave High School in North Las Vegas — now leads the board of the Clark County School District, the same district she graduated from.
Garcia Morales was elected to the Clark County School Board in November 2020 representing District C, which includes her high school alma mater. She was the board's vice president last year.
Earlier this year, she was selected by fellow trustees to serve as board president.
It was an honor and privilege, Garcia Morales told the Las Vegas Review-Journal last month.
"As board members, we have the responsibility to set the tone and vision for our district," she said.
The board is "laser-focused on student outcomes," Garcia Morales said, and it's committed to having at least one topic at each meeting dedicated to it.
The board has also prioritized community engagement this year, she said.
Garcia Morales acknowledged, though, "the last two years haven't been easy," and the school district has "experienced a form of darkness," but she's hopeful it will be able to see the light.
The district operated under distance learning for about a year due to the COVID-19 pandemic until students returned for in-person classes in spring 2021. School board meetings were often long and tense, with crowds of public commenters.
There was also tension on the board, with arguments among trustees and frequent 4-3 split votes, including a 2021 decision to fire and then rehire Superintendent Jesus Jara. Garcia Morales voted on the side of retaining Jara.
After a 4-3 vote in October to extend Jara's contract and boost his pay, Garcia Morales said it doesn't build unity when trustees who were elected to make hard choices "actually create more chaos."
When trustees are constantly pulling public records on each other, doing public interviews outside of board policy and not staying in their lane, "it makes it incredibly difficult to even sit in this position," she said.
The district also faces challenges such as a teacher shortage, school safety and chronic absenteeism among students.
Outside the boardroom
Outside the boardroom, Garcia Morales and her husband are raising two sons, ages 12 and 1.
She also works as executive director of the nonprofit education organization Fulfillment Fund Las Vegas, based at Chaparral High School.
Fulfillment Fund reaches first-generation students and helps remove barriers to postsecondary education, she said.
The organization has also awarded more than $1 million in scholarships since it opened 11 years ago, Garcia Morales said. "Our goal is to help students persist," she said.
The organization has a memorandum of agreement with the school district that comes before the School Board every two years, Garcia Morales said.
During her time on the board, Garcia Morales has abstained from voting twice based on her employment, the district said in response to a Las Vegas Review-Journal inquiry.
Oksana Komarnyckyj, an investment banker who met Garcia Morales more than three years ago when they went through the Leadership Las Vegas program, described her as a thoughtful and pragmatic person who is willing to listen to members of the community and work toward creating a solution.
"I don't think that Evelyn closes her mind to any option automatically," Komarnyckyj said.
'Changed our financial situation'
Garcia Morales, a first-generation American, was born in east Los Angeles, but spent most of her childhood in La Puente.
When her family moved to Las Vegas around her sophomore year of high school, she attended Bonanza High School.
Then, Garcia Morales' parents got divorced and her mother quickly became a single parent. "That really changed our financial situation," she said.
They then moved to North Las Vegas. Garcia Morales said she proudly calls the city home today, but the transition was challenging as a teenager.
When she was 16 years old, Garcia Morales underwent hip reconstruction surgery, which she says was desperately needed.
After learning the recovery process would be lengthy, she looked at her mother and told her she couldn't go to school.
"My mom said, 'No, absolutely not,'" Garcia Morales said. "She never felt sorry for me."
Through a school district-run distance learning program, Garcia Morales received printed packets of schoolwork in the mail that she had to complete and send back. She also joined classrooms for lessons by calling in via a landline telephone.
"Physically, it was impossible for me to sit in a classroom and learn the traditional way," Garcia Morales said.
Eloisa Garcia, Evelyn's older sister, said her younger sister has a "loving, caring heart" and sees education as an opportunity to better oneself. She described her as a "beautiful human being."
"Education is what has helped her move forward and be where she's at," said Garcia, who also lives in the Las Vegas Valley and has a son enrolled in the school district.
'I wanted to do everything'
Garcia Morales returned to a traditional brick-and-mortar school for her senior year of high school — this time, at Mojave.
She got involved in activities such as Future Teachers of America and raised money in order to attend an extracurricular trip over spring break in Washington, D.C.
After graduating, Garcia Morales went to UNLV and the state's newly-created Millennium Scholarship helped her pay for college.
She also worked full time for the YMCA of Southern Nevada for five years while in college.
"It feels like an origin place to me," she said.
Garcia Morales graduated with a bachelor's degree in political science from UNLV and later, a master's degree in organizational development and knowledge management from George Mason University in Virginia.
After 11 years of managing national Latino student leadership programs in Washington, D.C. — including for the Congressional Hispanic Caucus Institute — Garcia Morales came home to the Las Vegas Valley nearly six years ago.
Throughout her career, she said, the thread that has persisted is "young people and education."
Contact Julie Wootton-Greener at jgreener@reviewjournal.com or 702-387-2921. Follow @julieswootton on Twitter.