Soon-to-be UNLV grad finds passion in social work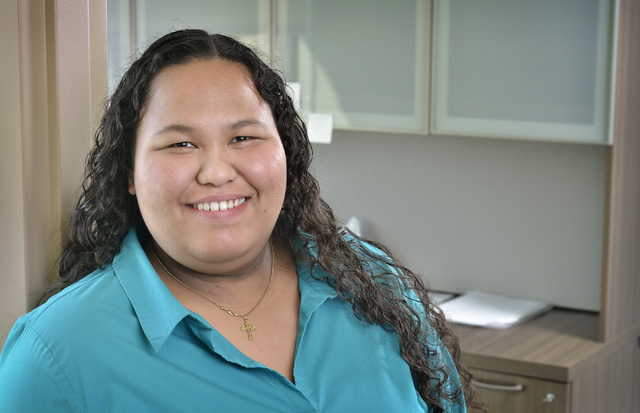 Margie Toves, 25, always knew she wanted to work with children and families.
When she arrived in Nevada from Guam at the age of 18, Toves pursued a psychology degree at Nevada State College, but she soon fell in love with social work.
Toves, who graduates Saturday from UNLV with a master's degree in social work, has a positive attitude as she attempts to join what experts say is an understaffed field of mental health professionals statewide.
"I just feel like we can do anything," she said. "I feel like this field is amazing."
Nearly every county in Nevada suffers from a mental health professional shortage, according to the 2016 Health Workforce Supply in Nevada report produced by the University of Nevada School of Medicine.
Natasha Mosby, a 38-year-old licensed clinical social worker, is a program coordinator for a grant targeting mental and behavioral health workforce development at the UNLV School of Social Work.
Mosby said she believes Nevada's transient environment could contribute to a deficit in mental health providers statewide.
"One of the grant's goals is to work toward the lack of providers that we have, so that's great for our community," she said.
The $1.4 million U.S. Department of Health and Human Services Health Resources and Services Administration grant, awarded to UNLV in fall 2014, provides a $10,000 stipend for selected students who "can intervene on behalf of children, adolescents, and transitional-age youths who are at risk of or who have developed behavioral health disorders," according to a university news release.
It is expected to aid in the training of 104 social work students over three years, improving the number of professionals locally and increasing the competency of workers treating children and adults up to age 26, Mosby said.
A specialized track has been created for the selected students with courses in family systems, trauma, integrated behavioral health and school-based social work.
During their practicum experiences, the students must work in integrated work sites, which include exposure to both primary medical care and mental health services, in order to give the future professionals a more well-rounded education, Mosby said.
"If you don't prepare them, if you don't give them the proper tools, you may be setting them up for failure," she said.
Toves, who entered counseling as a child when her parents divorced, was one of the 35 graduating students who formed the first cohort of selected students.
She worked as a part-time case manager at Seven Hills Hospital, where she said observing adults gave her additional insight into some of the benefits of treating children early.
"Seeing their history, seeing how much abuse and neglect they went through and how much stigma they went through, I think a lot of those things could have been prevented given the right services," she said.
Toves has numerous professional goals.
Her most immediate is to become a licensed clinical social worker, which requires 3,000 hours of supervised postgraduate work above what is required for a typical social work position.
In 2015, more than 600 clinical social workers were employed statewide, and there were about 260 clinical social worker job listings in Nevada.
Toves has accepted a position as a case manager on the weekends for Seven Hills, working to ensure patients are safe to discharge and ensuring they have the proper medications and living arrangements for when they go home.
She'll continue to pursue her aspiration of becoming a licensed social worker, eventually opening up her own practice and possibly training future social work students.
Mosby emphasizes to students the importance of giving back to the community.
"When I think of social work, I think 'grass roots.' I think of where we came from," she said.
She added that Toves is now on her way to joining that grass-roots effort.
"She's going to impact lives, and I think that's what's important," Mosby said.
Contact Pashtana Usufzy at pusufzy@reviewjournal.com or 702-380-4563. Find @pashtana_u on Twitter.
Graduation ceremonies
College of Southern Nevada
Number of students eligible to graduate: 3,508
When: 6 p.m., Monday, May 16
Where: Thomas & Mack Center
UNLV
Number of students eligible to graduate: 2,750+
William S. Boyd School of Law
When: 10 a.m. Friday, May 13
Where: Artemus W. Ham Concert Hall
School of Dental Medicine
When: 5 p.m., Friday, May 13
Where: Artemus W. Ham Concert Hall
Graduate College, Lee Business School, College of Education, Howard R. Hughes College of Engineering, William F. Harrah College of Hotel Administration
When: 9 to 11:30 a.m., Saturday, May 14
Where: Thomas & Mack Center
Graduate College, College of Fine Arts, School of Allied Health Sciences, School of Community Health Sciences, School of Nursing, College of Liberal Arts, College of Sciences, Greenspun College of Urban Affairs
When: 2 to 4:30 p.m., Saturday, May 14
Where: Thomas & Mack Center