Southern Nevada schools enhancing focus on STEM offerings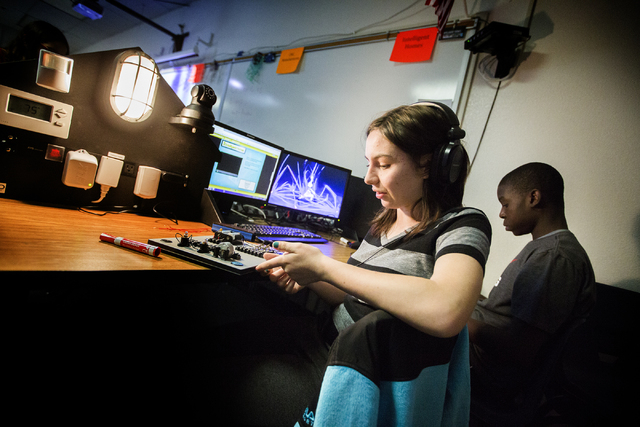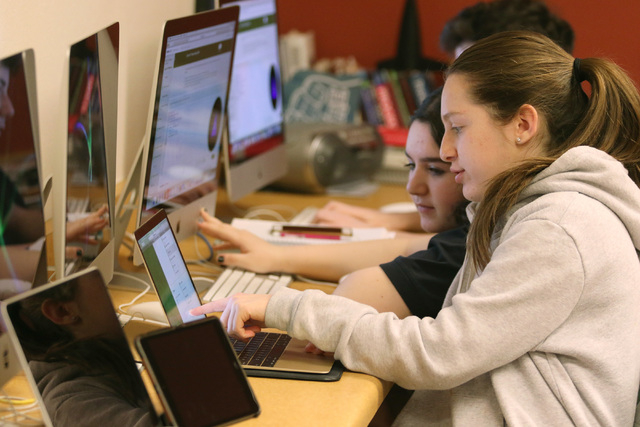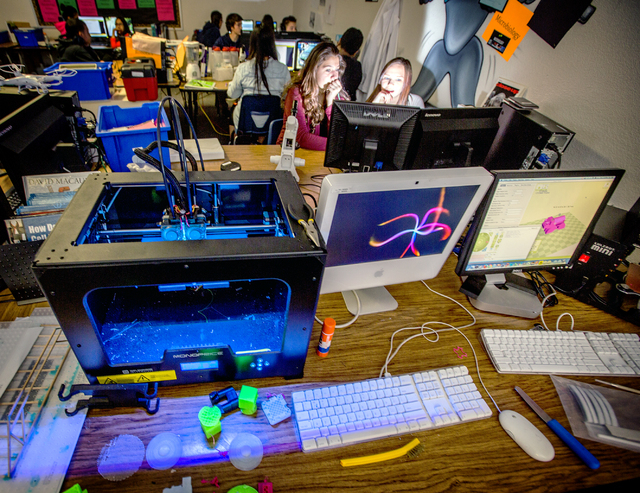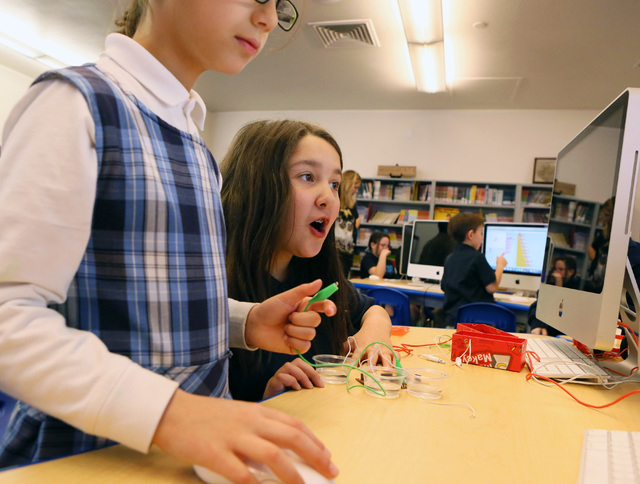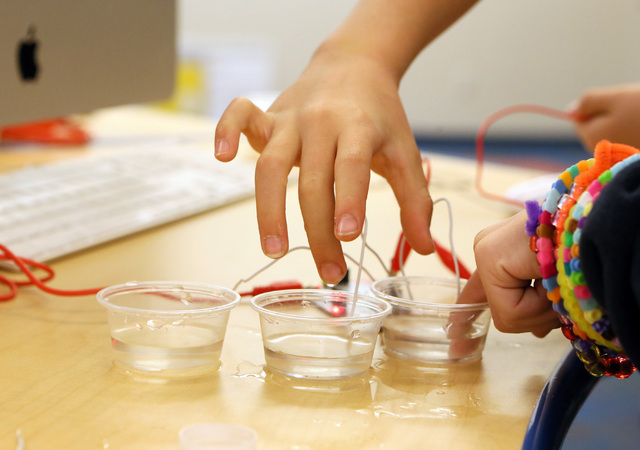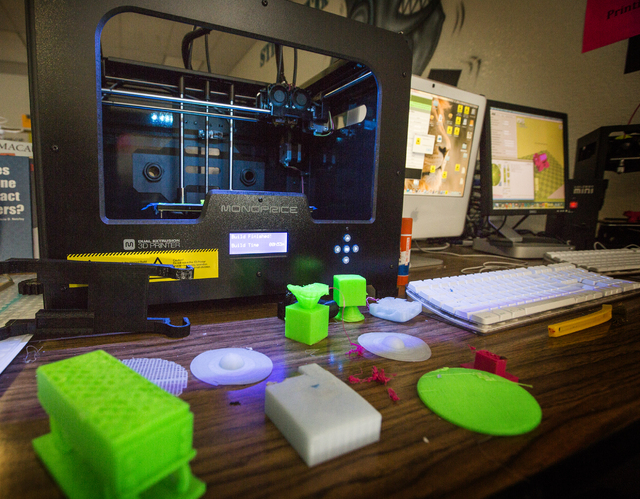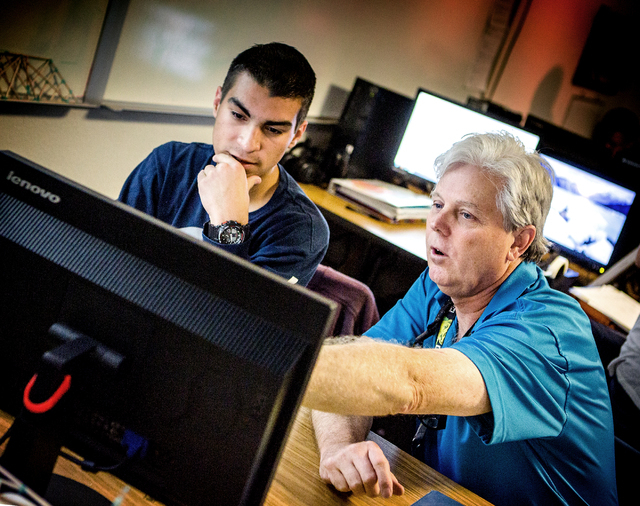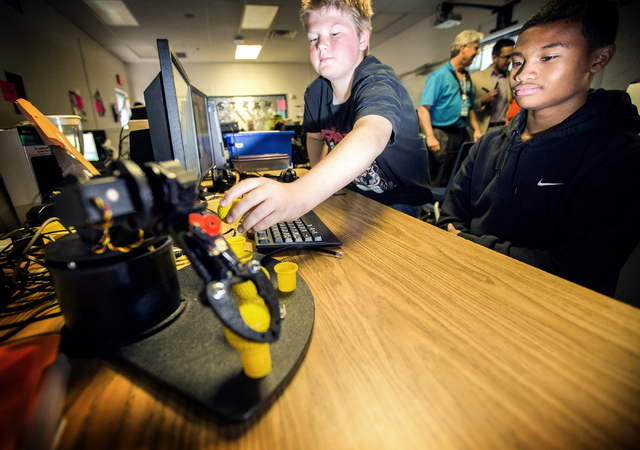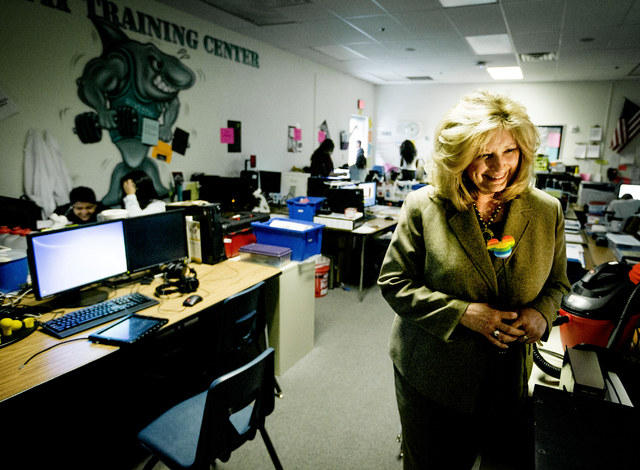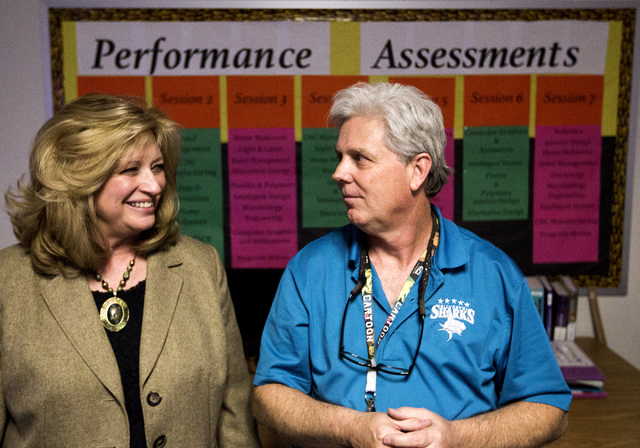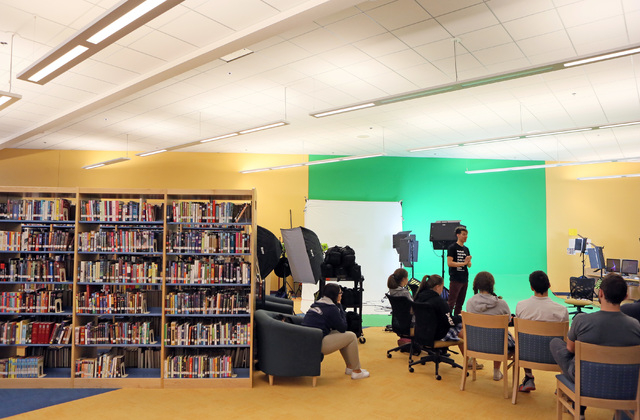 A pair of 3-D printers whirred with activity, slowly etching layers of plastic into a small toy.
Divided into teams of two at 18 work stations, sixth- through eighth-graders at Silvestri Junior High School tinkered with a computer-aided manufacturing machine and branded pieces of wood with their own designs.
Other students fused plastic pellets together to craft flimsy golf tees or sent small projectiles soaring through a hula hoop to test a formula on momentum and trajectory.
The lab, which debuted last fall, cost about $100,000, said Principal Merry Sillitoe. For the first time her students have a science, technology, engineering and mathematics — or STEM — class to explore potential careers in those fields.
"It's my No. 1 favorite class," said Samantha Bradley, 13, as she wired an electrical circuit at the intelligent homes station.
The program also represents a fraction of the investment that K-12 schools in Southern Nevada have pumped into STEM education. Nine district magnet schools offer a STEM emphasis, with more planned in coming years.
As state officials try to fuel a more diversified and tech-driven economy, education leaders have scrambled to design new curriculum and purchase state-of-the-art materials that they hope will persuade students to pursue high-skill STEM jobs.
Bradley hasn't yet committed to one particular career, but the STEM class already helped her re-engage with a favorite subject.
"I don't have to deal with sitting down and writing a boring essay or copying a bunch of algebraic functions, although I do love algebra," Bradley said.
"But this (class) incorporates hands-on designing.It doesn't just keep my interest. If you never really try something, you'll never really learn."
'A pretty fair place'
In Nevada, STEM education gained prominence following the decimation of the state's tourism and construction sectors.
A 2011 Brookings Institution report highlighted the state's need for a plan to diversify its economy. That included spending significant resources raising STEM standards throughout the K-12 system. In 2014, Brookings released "Cracking the Code on STEM," a report outlining actions to strengthen education and workforce training in those fields.
"That was a big moment for STEM in Nevada," recalled Mark Newburn, vice president of the State Board of Education.
"Suddenly, I'm watching TV, and they're talking about STEM," he said. "Literally two years before, no one had ever heard about STEM, and now people understood."
That same year, the board adopted "next generation" science standards that introduce students to STEM as early as possible. Kindergartners, for example, learn basic concepts of energy, force and motion.
Newburn, a computer scientist who serves on UNLV's engineering college advisory board, stressed the importance of starting STEM education in the early years.
"There's this serious disconnect with business thinking the decision to go into these fields happens in college," he said. "It doesn't even happen in high school. These kids pick whether they're on this track or not in middle school."
To that end, Silvestri provides a critical point where even sixth-graders begin tackling eighth-grade and higher-level math to understand aeronautical engineering and the weight-bearing capacity of different bridge designs.
Bob Potts, research director with the Nevada Governor's Office of Economic Development, highlighted STEM education and a talented workforce as top priorities for companies relocating to or expanding in the Silver State.
Tesla Motors and Faraday Future, for example, will need hundreds of high-skill workers developed through the K-12 and higher education pipeline in order to meet local hiring thresholds.
"If it's a company that produces a very specific, technical product, finding the right skill set of people is absolutely top of their list," Potts said. "So the question is how do we get the right workforce — not only for these companies — but also to provide great jobs for our workers here."
Across the district, elementary and high schools have built new computer science and coding courses through grants, with expansion to middle schools coming in 2017.
"The biggest challenge: getting our business community engaged and part of the solution," said Jesse Welsh, the district's academic manager of innovative learning environments. "It's making sure we have the funding to pay for those programs and equipment.
"We're at a pretty fair place, but how do you make (STEM) stronger systemwide?" he asked. "We have pockets of excellence, but how do you get that to all of our students?"
'This opens the doors'
Charter and private schools have encountered the same challenge, and some have secured one-time grants to find a solution.
With three charter campuses in Henderson, Pinecrest Academy recently won a $304,000 competitive grant from the Nevada Department of Education to create a STEM curriculum based on the state's new science standards. The curriculum will align with math and reading standards, and Pinecrest eventually will make it available to all Nevada schools.
"Students are exposed to scientific and engineering practices as early as kindergarten," said Abeera Rehmat, STEM director for Pinecrest.
"The goal of these units is not only to promote scientific literacy, but also to provide a meaningful real-world experience for students, in which they solve problems, become critical and creative thinkers and are able to understand that STEM is interdisciplinary."
Private school campuses also have added STEM programs. Faith Lutheran High School focuses on internships with UNLV, NV Energy and local engineering, architecture and technology firms. Southern Highlands Preparatory Academy turned to the Boston Museum of Science to develop its STEM projects, including kindergarten windmill design, agricultural engineering in the second grade and environmental engineering in the upper school.
The Adelson Education Campus in Summerlin received a grant to bolster its STEM education for all K-12 students.
The $1 million donation from a primary benefactor of the school will transform the existing library into a 5,000-square-foot "technology and learning incubator." Opening this fall, the space will house a robotics arena, laser technology, 3-D printers and more.
Instructors will pair coding and digital media lessons with the incubator's hands-on approach, said Camille McCue, director of technology innovations.
"This opens the door to a variety of (career) areas, so students don't have to pick just one," she said. "They can cross over multiple times if they really want to focus on programming apps or filmmaking."
The school also will purchase mobile computers for every student and provide more professional development for teachers.
On a recent Tuesday morning, Ben Khavkin sat with fellow ninth-graders in an introduction to computer science class. The 14-year-old likely won't pursue a job directly related to STEM, but he hasn't ruled out the practicality of the coding course.
"I'm more sort of into the medical field, but I think I could incorporate this someday," he said. "This technology's becoming more and more usable, so hospitals need to get on board."
The Review-Journal is owned by the Adelson family, founders of the Adelson Educational Campus.
Contact Neal Morton at nmorton@reviewjournal.com or 702-383-0279. Find him on Twitter: @nealtmorton