Southwest and Spring Valley Neighborhood News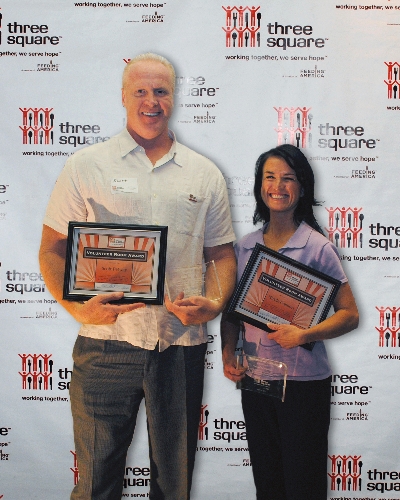 DRESS FOR SUCCESS SET TO CELEBRATE BOUTIQUE'S GRAND OPENING
Dress for Success Southern Nevada, an affiliate of the international nonprofit organization that promotes the economic independence of disadvantaged women, is set to celebrate the grand opening of its women's boutique, career development office and donation warehouse with a ribbon-cutting ceremony and cocktail reception with Mayor Carolyn Goodman and County Commissioner Susan Brager at 5:30 p.m. Thursday at the boutique, 3400 W. Desert Inn Road, Suite 25.
For more information, visit dressforsuccess.org/southernnevada.
PROFESSIONAL COACH SET TO GIVE PRESENTATIONS AT LIBRARIES
Betty Mahalik, a professional coach and founder of Dynamic Solutions Coaching & Training, is set to give a presentation, "The Case for Emotional Intelligence: New Tools for Getting the Most from Yourself & Others in Life and Business," in partnership with the Las Vegas-Clark County Library District at 5 p.m. Wednesday at the Rainbow Library, 3150 N. Buffalo Drive, and at 6:30 p.m. May 15 at the West Charleston Library, 6301 W. Charleston Blvd. The presentations are free to the public. Targeted to professionals, business owners and organizational leaders, the hourlong presentations are designed to focus on the relatively new field of social and emotional intelligence, combining lecture as well as some brief interactive activities.
For more information, call 658-4425.
EVENT TO BENEFIT JUNVENILE DIABETES RESEARCH FOUNDATION
The Juvenile Diabetes Research Foundation's Hope Gala É The Art of the Cure is planned for 6 p.m. Friday at Mandalay Bay, 3950 Las Vegas Blvd. South. The Robert Marlon Studio has become an active participant in the Nevada Chapter of JDRF and will auction an original piece of art titled "Making Waves." The piece was created under the artist's direction with JDFR youth ambassadors assisting in applying layers of paint to the piece, which is a mixed-media original on canvas.
The gala is set to feature a cocktail reception, a dinner, silent and live auctions, and live entertainment featuring singer Clint Holmes. Auction packages include exclusive vacation packages, jewelry, dining experiences, art, fashion and sports memorabilia.
Table prices range from $3,500 to $25,000, with individual tickets priced at $350 each. For more information, visit jdrflv.org or call 732-4795.
INFANT/CHILD CPR CLASSES AVAILABLE
Clark County Aquatics has scheduled a two-day program for parents and/or caregivers who want to become certified in American Red Cross infant/child CPR and basic water safety skills for children younger than 3 from 4 to 4:45 p.m. Saturday at the Desert Breeze Aquatic Facility, 8275 W. Spring Mountain Road. The class is free through a grant by the International Code Council Chapter. Registration is required as space is limited.
The first day is a 45-minute parent-child swim lesson where children will be introduced to basic water skills through games. The second day consists of a four-hour CPR certification class for adults only. For more information, visit tinyurl.com/infantswimsafety.
STAMP OUT HUNGER FOOD DRIVE SET FOR SATURDAY
The Help Stamp Out Hunger food drive is planned for Saturday. To participate, leave a bag of nonperishable food items at your mailbox that day for your letter carrier. Another option is to visit an Albertsons Sav-on Pharmacy by Saturday to purchase a pre-packaged bag of nonperishable food.
Shoppers can also donate $1, $5 or $10 at the register. A "stamp" will be hung in honor of each donation. Donation "stamps" supporting the food drive can also be found at any Goodwill of Southern Nevada retail store through Saturday. Last year's effort raised nearly 200 tons of food that was distributed to more than 20 local food pantries to help those in our community who struggle with hunger.
For more information, visit sngoodwill.org or contact Glenn Norton at glenn@nalc2502.com.
NV ENERGY, SOUTHWEST GAS PLAN FREE WORKSHOP ON SOLAR WATER HEATING
NV Energy and Southwest Gas plan to host a free workshop on the benefits of solar water heating from 6 to 8 p.m. May 17 in Student Union Room 208 at the University of Nevada, Las Vegas, 4505 S. Maryland Parkway.
Utility customers can meet with company representatives about the incentive programs for this energy-efficient technology. Eligible contractors and vendors will also provide helpful information.
NV Energy customers with electric water heaters can access more information at nvenergy.com/renewablegenerations or call 866-786-3823.
Southwest Gas customers with natural gas water heaters can access more information at solarwaterheating rebate.com or call 855-743-1603.
CHANGES COMING TO VILLAGE SQUARE SHOPPING CENTER
The Village Square shopping center, 9400 W. Sahara Ave., recently unveiled changes planned by new ownership and management that took over in November.
The exterior will get a fresh look with a new color scheme, and the parking lot will be reconfigured to make better use of the space. More exterior shade will be addressed, and trees will dot the parking plaza. Residents will begin seeing changes in about eight months, owners said. Representatives of Westport Capital Partners LLC and Sentinel Development said they are motivated to work with businesses looking for retail space, pricing rent attractively and making allowances for interior build-outs. New tenants include Bachi Burger, European Antiques, European Massage School, Patty's Closet, Rocket Fizz, Sparkle and the upcoming 808 Tapas. Village Square sits on the northwest corner of West Sahara Avenue and Fort Apache Road. It offers 240,000 square feet of retail space and is anchored by the 18-screen Regal Cinemas. Community events are being planned to engage residents. For more information, visit facebook.com/govillagesquare.
SOUTHERN NEVADA HEALTH DISTRICT CLOSES MAIN FACILITY
The Southern Nevada Health District has suspended operations at its main facility at 625 Shadow Lane as a result of an engineering report that found that the main building lacks an internal support system and may be unsafe to occupy. This closure impacts only services in the main building.
Services provided in the outlying buildings on the campus are not affected at this time, and services will continue to be available at public health centers in East Las Vegas, Henderson, the Cambridge Community Outreach Center and at service sites throughout the valley. Updated information on service availability also is available at southernnevadahealthdistrict.org or by calling 759-4636 from 9 a.m. to 5 p.m. Monday through Friday.
Client services that are available at other locations include:
– Birth and death records at the East Las Vegas Public Health Center and the Henderson Public Health Center
– Health cards at the East Las Vegas Public Health Center and the Cambridge Community Outreach Center
– HIV/AIDS testing at the East Las Vegas Public Health Center and the Henderson Public Health Center
– Immunization clinic at the East Las Vegas Public Health Center and the Henderson Public Health Center
– Sexually Transmitted Disease Clinic at the East Las Vegas Public Health Center and the Henderson Public Health Center
Services that have been temporarily suspended include: Food and pool plan review, individual sewage disposal system plan review; loan certifications for private water supplies and sewage disposal systems plan review; parcel maps plan review.
The health district is anticipating these suspended services will be operational within soon, and the environmental health staff does not foresee an adverse impact on any local businesses.
DAVID BARTON GYM TO HOST FREE YOGA CLASS AT TIVOLI VILLAGE
The David Barton Gym plans to host a free yoga class at 8:30 a.m. May 19 on the main stage at Tivoli Village, 302 S. Rampart Blvd. Participants are asked to bring yoga mats, water bottles and a towel.
All skill levels and ages are welcome. For more information, visit tivolivillagelv.com.
TRIGEMINAL NEURALGIA SUPPORT GROUP SET TO MEET MAY 19
A meeting of the Las Vegas Valley Trigeminal Neuralgia support group is scheduled for 1 to 3 p.m. May 19 at Spring Valley Hospital, 5400 S. Rainbow Blvd. The group should meet in the third-floor waiting room before going to the third-floor rehabilitation day room for the actual meeting. The group shares experiences for those suffering with TN pain.
For more information, contact Bill Starr, support group leader, at 263-7716.
REGISTRATION OPEN FOR 2012 HELLDORADO DAYS PARADE
Applications are being accepted for participation in the 2012 Helldorado Days parade. The parade is scheduled for 5 p.m. May 19. There is no fee to be part of the parade. Applications can be found on the city's website, lasvegasnevada.gov, and should be sent to the city of Las Vegas, attention Esther Carter, 495 S. Main St., Las Vegas, NV 89101. The first 120 applications will be accepted.
The Helldorado rodeo is planned for May 17-20 at the downtown rodeo grounds, east of the intersection of Las Vegas Boulevard and Stewart Avenue. Tickets and all event information can be found at elkshelldorado.com.
REDROVER PLANS TRAINING WORKSHOP FOR ANIMAL RESCUE VOLUNTEERS
RedRover is scheduled to host a training workshop from 10 a.m. to 2 p.m. May 21 at Albertsons, 4055 S. Durango Drive, for people who want to shelter and care for animals rescued from large cruelty situations or displaced by floods, fires and other natural disasters.
RedRover Responders walk, feed and comfort animals until they can be reunited with their families, placed in foster care or adopted into new homes. After completing the training program, volunteers 18 or older are eligible to deploy to situations in Nevada and throughout the United States and Canada.
The cost is $50 per person in advance, which includes a volunteer T-shirt, an official photo ID badge, a certificate of completion and a volunteer handbook.
Find more information and register, visit redrover.org/responders.
HEALTH COMPANY HONORED
Jane Lee, founder and president of Jadon Foods, a North Las Vegas-based gluten-free cookies and snacks retailer, was named Microenterprise Business Person of the Year by the Nevada District office of the U. S. Small Business Administration.
Lee is to accept her award during the awards reception planned for 6 p.m. May 23 at Vegas PBS – KLVX TV, 3050 W. Flamingo Road.
For more information on Jadon Foods, visit jadonfoods.com.
GLBT MONTH JURIED ART COMPETITION PLANNED
In celebration of GLBT (Gay, Lesbian, Bisexual, Transgender) Month, the Las Vegas-Clark County Library District has planned "Over the Rainbow," a juried art competition created to encourage participation of the public in showcasing creativity in the visual arts. A single juror process is utilized for awards and for the selection of the work for exhibition, from young adults (6th to 12th grade) and adults. Entries will be accepted at the following times: 10 a.m. to 6:45 p.m. May 29 and 30 at the Windmill Library Art Gallery, 7060 W. Windmill Lane. No entry will be accepted after 6:45 p.m. May 30. Judging is set for May 31. For entry forms and more information, visit lvccld.org/events/special_programs/overtherainbow/.
BARKING DOGS ANNOUNCES DONATIONS TO LOCAL SHELTERS, RESCUES
Barking Dogs pet grooming and boutique, 9325 S. Cimarron Road, Suite 145, has announced its "Karma Konnection" fundraiser to benefit local shelters and rescues. Each month, a different shelter or rescue is chosen by the salon to receive donations of cash, toys, food, etc. For each donation members of the public make, they will receive $2 off any product or service at Barking Dogs. For more information, visit barkingdogslv.com.
GRIEF CAMP COMING JULY 20-22 TO LOVELL CANYON
Camp Mariposa, a grief camp, is scheduled for July 20-22 at Camp Potosi in Lovell Canyon, 12 miles southwest of Red Rock Canyon.
The camp is accepting applications from children 7 to 12 who have lost a loved one.
It is partially funded through grants from Cox Communications and Speedway Children's Charities. There is no cost to families of accepted campers. A $25 refundable deposit is requested with the application in order to reserve a space. Reservations should be received by June 22.
4-H CAMP PLANNED AT LAKE TAHOE
The University of Nevada Cooperative Extension Southern Area's 4-H camp is planned for July 29-Aug. 4 at the Nevada State 4-H Camp at Lake Tahoe. Registration is open to campers 9 to 15 until the camp is full.
The cost is $350 and includes transportation, meals and activities. To sign up, contact Mary Regan at 257-5524 or reganm@unce.unr.edu.
GRANT WILL HELP STOCK FOOD PANTRY
Helping Hands of Vegas Valley has received a $10,000 grant from health care provider CareMore. The grant will help fund HHOVV's low-income qualified food pantry, which serves an average of 355 clients monthly.
Helping Hands of Vegas Valley is a nonprofit organization that provides assistive services to senior citizens in Southern Nevada, allowing them to maintain their dignity and independence while improving daily living.
For more information, visit hhovv.org.
MAMMOVAN SCHEDULED TO OFFER LOW-COST BREAST CANCER SCREENINGS
Thanks to a $10,000 grant from Food 4 Less, Nevada Health Center's Mammovan is scheduled to offer low- to no-cost breast cancer screenings at selected Food 4 Less locations. Stops are scheduled from 8:15 a.m. to 3 p.m. June 5 and Sept. 4 at 1301 S. Boulder Highway; June 14 at 4001 S. Decatur Blvd.; Aug. 16 at 1955 N. Nellis Blvd.; and Nov. 21 at 2255 Las Vegas Blvd. North. For more information, visit nvhealthcenters.org.
The public may review the proposed fare adjustments at rtcsnv.com.