State releases school-level student testing data, setting bar for improvement
September 15, 2017 - 9:09 am
Updated September 18, 2017 - 9:25 am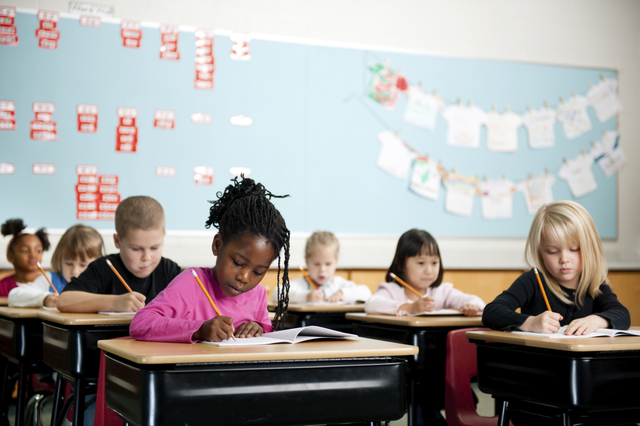 School-level data released Friday showing results of Nevada's standardized testing of students will serve as a jumping-off point in performance improvement efforts, state and local officials say.
The state reported Tuesday that 47 percent of students in Nevada and Clark County in grades three through eight are proficient in English and that 35 percent are proficient in math, as first reported in the Review-Journal.
The data released Friday on the state Department of Education's newly redesigned website, www.nevadareportcard.com/di/, provided the first look at details of how individual schools scored on tests given in the 2016-17 year.
"The new portal helps us track our progress on becoming the fastest-improving state in the nation," state Superintendent of Public Instruction Steve Canavero said in announcing the release. "The data helps us focus on the lowest-performing schools and ensuring that we are providing the right professional development for our school leaders."
Notably absent from the data are star ratings for each school. After hearing concerns from districts across the state, department officials are changing the formula for the ratings, which award five stars to the highest-performing schools and one star to the lowest-performing ones.
The star ratings, which give parents and the community a quick look at how a school is performing, are expected to be released this fall. They are also used to determine whether schools are eligible for certain state programs and grants.
With the release of the data, school officials can now begin analysis to identify trends and areas for improvement, said Mike Barton, chief academic officer for the Clark County School District.
"We know we have a lot of work to do. Collectively, we're all about continuous improvement," he said.
Diving into data
Overall, Clark County served 320,523 students at 369 schools in the 2016-17 year, according to the data. The district had an average daily attendance rate of 95 percent and a graduation rate of 75 percent.
The state had previously released combined elementary and middle school proficiency scores, but the categories were separated in Friday's data. They show that about 48 percent of elementary school students in Clark County were proficient on the reading exams and 40 percent were proficient in math. The numbers were lower in middle school, with 45 percent of middle school students proficient in reading and 24 percent in math.
As of Friday, the state portal showed individual school results but didn't allow comparisons among schools in a given category. The Review-Journal examined all Clark County schools to compile lists of the district's top- and bottom-performing schools.
Barton cautioned against just using proficiency rates to compare schools. The state data include other metrics, including growth and average daily attendance. He suggested that parents contact the schools directly for more information on the data.
"I think it's important to engage with the school directly, with the principal," he said. "I think this is the power of the school organizational teams now. We know they will work together to see where they are right now and where they can improve."
Elementary and middle schools
Goolsby Elementary School is the district's highest-performing elementary in both math and reading, with proficiency rates of 80 percent and 87 percent, respectively.
Students at Rogich Middle School were among the highest-achieving at that school level. Students scored proficiency rates of 72 and 52 percent in English and math, respectively.
Schools that perform well in one category tend to also be strong in the other, the data show.
The same goes for the flip side. Schools that score poorly in one category tend to be subpar in the other.
Kelly Elementary was among the bottom five schools in both third-grade math and reading, according to the data. Eight percent of students were rated proficient in English and 10 percent in math.
Students at Brinley Middle School were among the lowest performers in both English and math, with 22 percent proficient in English and 9 percent in math.
High schools
High school students, who don't take state standardized exams year to year, are measured differently from the lower grades, with graduation rates and scores on ACT college exams as the academic basis.
Five Clark County high schools had 100 percent graduation rates: Sandy Valley High School, Veterans Tribute Career and Technical Academy, and the east, west and south campuses of College of Southern Nevada High School.
The CSN schools were also among the top five performers on the ACT, which is administered to all 11th-graders in the state.
A-TECH had the highest ACT score, at 23.7 out of a possible 36 points. West Career and Technical Academy rounded out the top five.
Contact Meghin Delaney at 702-383-0281 or mdelaney@reviewjournal.com. Follow @MeghinDelaney on Twitter.