Students in Clark County rally to urge action on climate change
Updated September 20, 2019 - 5:27 pm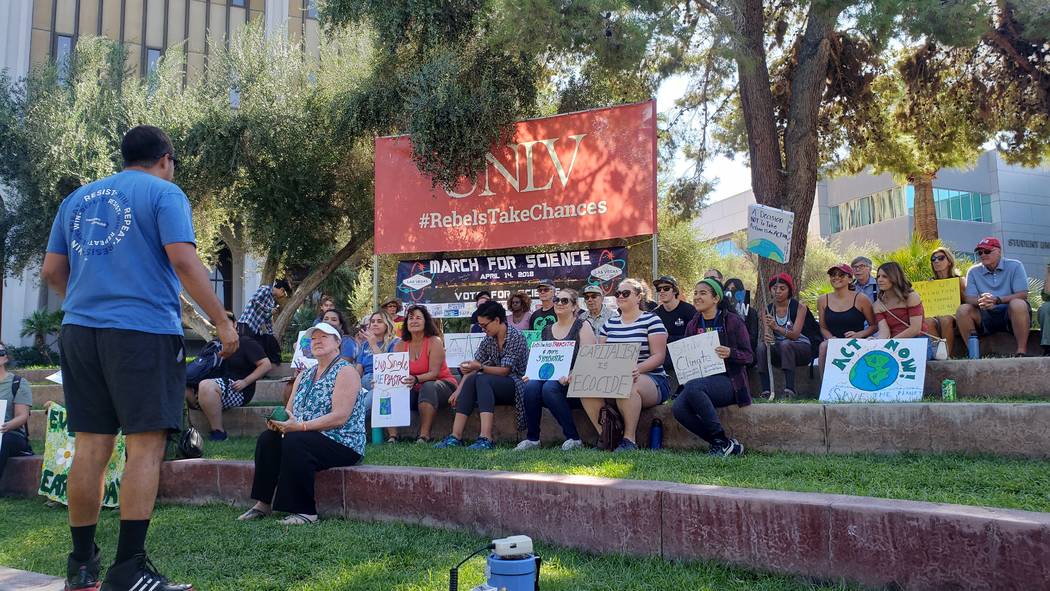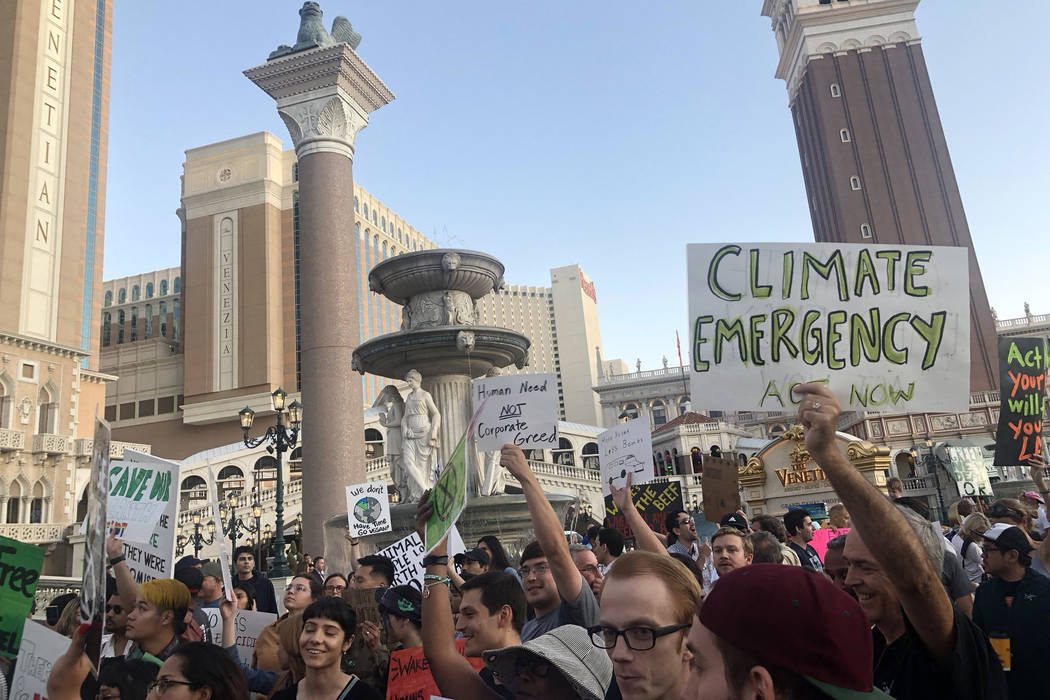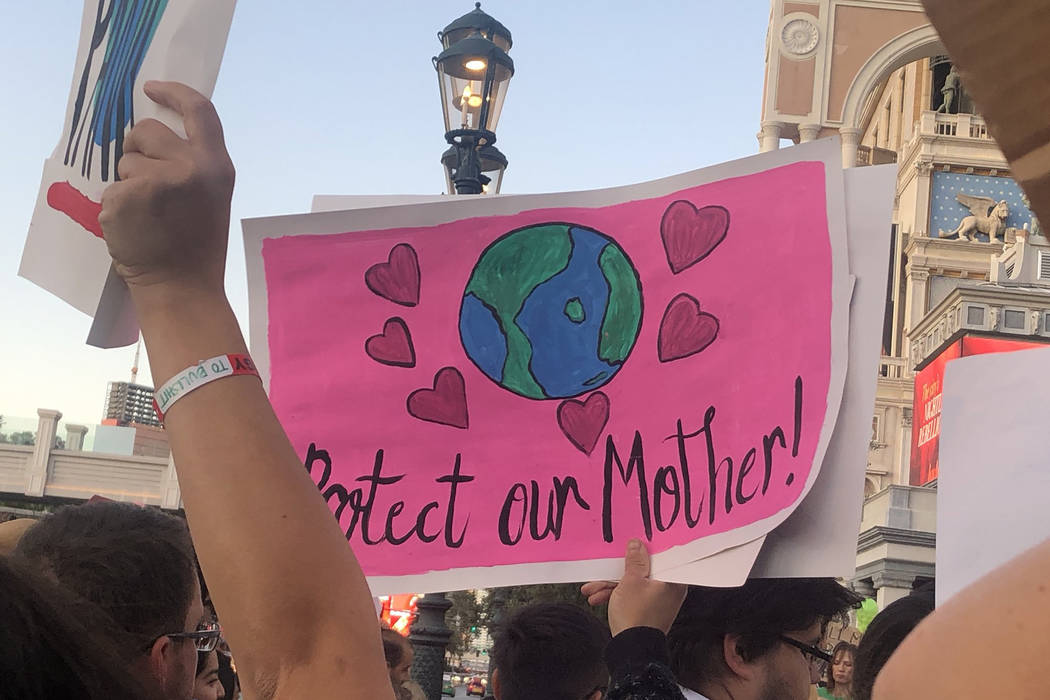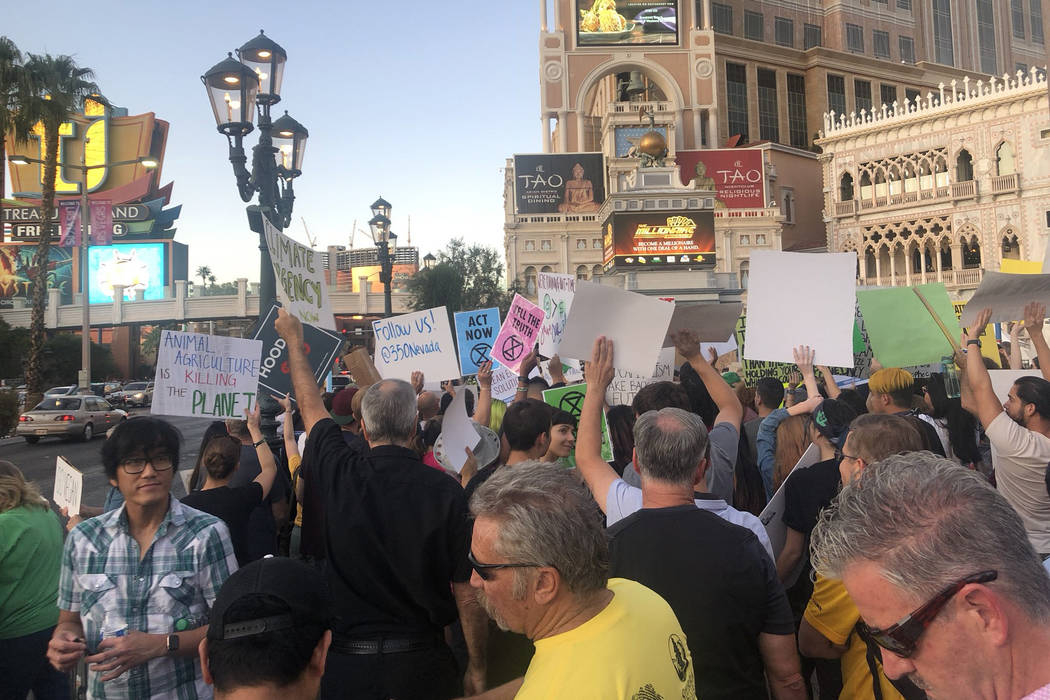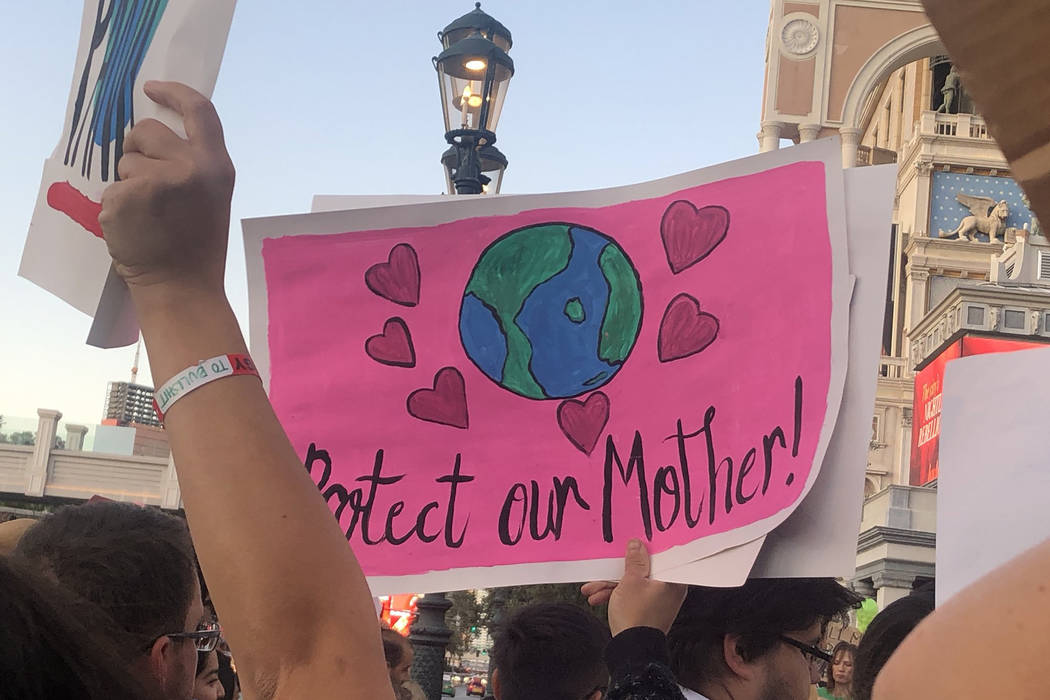 Students around the Las Vegas Valley walked out of classes Friday to demand action to end climate change and preserve the world for their futures.
Roughly 100 students gathered by the flag pole at Palo Verde High School, chanting "No more coal. No more oil. Keep your carbon in the soil," and "Change the politics, not the climate." The school was one of at least six Clark County School District high schools participating in the "global climate strike" three days before the U.N. Climate Action Summit.
District officials could not immediately provide a list of all schools that participated in the walkouts, but local groups that organized the strike said that more than 10 Clark County schools and over 500 students participated. Any students who participated during class time without explicit parental or administrative permission would be counted as "unexcused absences," the district said earlier this week.
Students at UNLV also staged a rally in support of the action.
Students participating in the event at Palo Verde, which was approved by school administrators, called for a number of policy changes: including support of the Green New Deal, less reliance on plastics, a decrease in fossil fuel use and immediate action from politicians to address what they called an urgent crisis.
Sierra Cervantes took to the megaphone to encourage her classmates to make little changes to their daily routines to make a difference. The 17-year-old doesn't plan on getting a car unless it's electric.
"Try to avoid plastic as much as you possibly can. Try not to drive as much. … Try to carpool if you can," she told her peers. "Eat less meat. Going vegan is not that hard. It's one of the easiest things I've ever done."
Call for 'decisive action'
Dexter Lim, who helped organize the walkout, said it was meant to show elected officials and world leaders that time is running out to save the planet from drastic climate change.
"Unfortunately, our voices can only do so much," he said. "We need to reach those who are in power to have them take decisive action to ensure that we have a future."
Some critics of the global strikes accused environmental activists of frightening children in order to use them as pawns in their political movement.
"Polling data shows kids are fearful about climate, coming into school with anxiety – even when the U.N. models don't justify that fear," Marc Morano, publisher of the Climate Depot, a website that expresses skepticism about the impact of climate change, told FoxNews.com.
The global action follows reports from the Intergovernmental Panel on Climate Change that sparked public alarm, offering various projections on the impact climate change would have on the planet.
Oil and gas firms BP and ExxonMobil did not respond to requests from the Review-Journal for comment on the protests.
At UNLV
The UNLV climate strike drew students from other colleges as well as members of the community to the Alumni Amphitheater, where speakers connected climate change to inaction by large corporations.
The event was promoted by NextGen Nevada, a progressive youth organization, whose representatives asked the crowd of about three dozen to register to vote and invited them onstage to speak.
Jessica Munger told the audience that she saw four generations of her family flee last year's Camp Fire in Paradise, California. Now living in Las Vegas, Munger says she sees her new home as just as vulnerable as Paradise for its dry climate and its relative indifference to climate change.
"Anywhere I go now, I think, this is inevitably going to happen again," Munger said.
Her partner, Lianne Barnes, a psychology professor at UNLV, said it was disappointing that the university didn't promote the event in its events newsletters.
"Vegas in general has an extra responsibility to address climate change as a place that, probably more than any other, is bringing water to where it wasn't before," Barnes said.
UNLV alum EvaSara Luna said her daughter, a student at Leavitt Middle School, also was walking out of classes in support of the strike.
Luna said it's often her daughter who brings up concerns about climate change in their household, where the family eats vegan, recycles and composts.
"She fears what's happening," Luna said. "We're in a crisis."
Alex Hamilton, the owner of a zero-waste shop called Minimal Market, attended the strike with her two daughters. She said she tries to discuss climate change with them despite their young age, in terms they can understand.
"I tell them the planet is sick," Hamilton said. "They understand the importance of taking care of the Earth."
Other attendees included students from schools that did not have their own walkouts planned, as well as Tulsi Gabbard volunteer Lynn Lombardi, who said climate change action needs to include an end to wars.
Protest on the Strip
Friday evening, nearly 200 people protested outside The Venetian, arguing that the Strip property has not embraced eco-friendly practices as much as other casinos. Organizers said climate activist groups such as 350 Nevada, Sunrise Movement Las Vegas and the Nevada Conservation League participated in the protest.
Protesters chanted and held signs, including 24-year-old Israan Mendes' poster board that read "Do not gamble with our fabulous planet," over a drawing of the "Welcome to Fabulous Las Vegas" sign.
In a statement, the Las Vegas Sands Corp., which operates The Venetian, said the resort actively minimizes its environmental impact on the climate through its "Sands ECO360" global sustainability strategy.
It also highlighted other environmentally friendly practices, noting that it reached an agreement with NVEnergy earlier this year to procure 100 percent renewable electricity for the resort.
"In addition, our solar thermal system on the roof of the Sands Expo and Convention Center provides enough hot water to heat 100 percent of Palazzo pools and spas, as well as floors one to seven of the hotel tower," the corporation said.
The Review-Journal is owned by the family of Las Vegas Sands Corp. Chairman and CEO Sheldon Adelson. Las Vegas Sands Corp. operates The Venetian.
Contact Amelia Pak-Harvey at apak-harvey@reviewjournal.com or 702-383-4630. Follow @AmeliaPakHarvey on Twitter. Contact Aleksandra Appleton at aappleton@reviewjournal.com or 702-383-0218. Follow @aleksappleton on Twitter. Staff writer Katelyn Newberg contributed to this report.