Summer graduates beat the odds
August 14, 2013 - 6:29 pm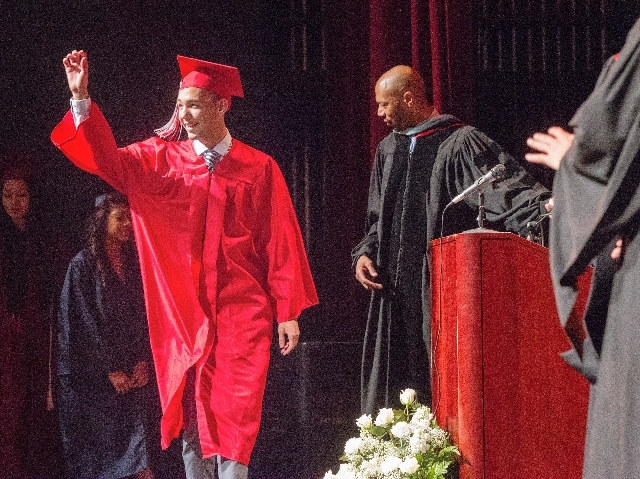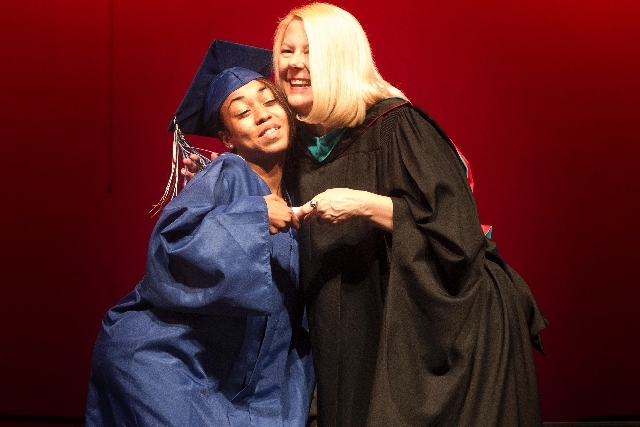 He lets the noise of the other rowdy teenagers wash over him, but Angel Peraza-Lezcano doesn't join in.
Hands in lap, the baby-faced 19-year-old silently smiles, soaking it in, delighted at what many high schoolers consider a bore — their graduation ceremony.
Teary-eyed parents snapping photo after photo.
Another speech about their potential to be creators of the next Facebook.
Waiting 50 minutes for five seconds of walking from one end of the stage to the other.
But Peraza-Lezcano, a recent immigrant from Cuba, sees it differently. In Cuba, graduation is a diploma without the celebration, he says. And it doesn't beckon a fruitful future.
"It's very beautiful," he says with sincerity looking around the Las Vegas Academy's theater behind hundreds of other students unusually raucous for a graduation ceremony, acting more like it's a football game or pep rally.
They're exuberant for a reason this Wednesday, a day which marked a come-behind victory for the 325 seniors. Out of thousands more seniors in Clark County School District who were short on their graduation requirements this spring and couldn't walk the stage for their diplomas, this small percentage of seniors kept at it, making one last-ditch effort this summer and succeeding.
It's unclear how many Clark County seniors graduated and how many didn't in 2013 even though officials estimated 14,500 graduating seniors of 21,005 enrolled in June. The district has changed its policy of releasing preliminary graduation numbers after its claimed improvement to the graduation rate in 2012 turned out to be an exaggeration.
"Because our goal is to provide the public with the most accurate, complete and credible information we can, we will refrain from releasing any preliminary graduation numbers until the state finalizes them," district spokeswoman Kirsten Searer said.
In 2012, the district's graduation rate was 61 percent. For this year's graduation rate, the autumn diplomas won't have much of an effect, same as last year when 314 seniors graduated late.
But Peraza-Lezcano and the others can still call themselves the Class of 2013. They toiled through the summer in tutoring bootcamps to earn those last credits or pass one or more of the state's four proficiency exams required to graduate. The district spent $103,500 this summer to tutor seniors needing to retake the exams and $364,000 on summer school courses, which are taken by seniors and other high schoolers as well.
Peraza-Lezcano missed his Western High School graduation because he was short three credits for English, which he didn't speak until he was 17. That's when he moved from Cuba with his parents and brother. Peraza-Lezcano earned his English credits this the summer and donned his red cap and gown, the only Western student at the autumn graduation.
"I got here," Peraza-Lezcano says, looking around at the graduation ceremony, but meaning more. He plans to be an architect, a future he didn't consider in Cuba. "My parents moved here for me, my future."
Watching him are his grandmother and parents somewhere in the mass of shouting families and friends. His mother was a banker in Cuba and now a housekeeper.
Although Peraza-Lezcano may have been focused from the start, this summer marked a last chance those who slacked off or strayed, having little interest in school, as graduate Mary Ann Tanada acknowledged in her speech.
"But all those who wander aren't lost," she said, emphasizing that they realized what must be done although it may have been too late for their schools' graduations. "It's never too late to reach our goals. The tassle is definitely worth the hassle."
Contact reporter Trevon Milliard at tmilliard@reviewjournal.com or 702-383-0279.