Teachers overwhelmingly don't trust Jara to manage money, survey says
Updated April 22, 2023 - 1:34 pm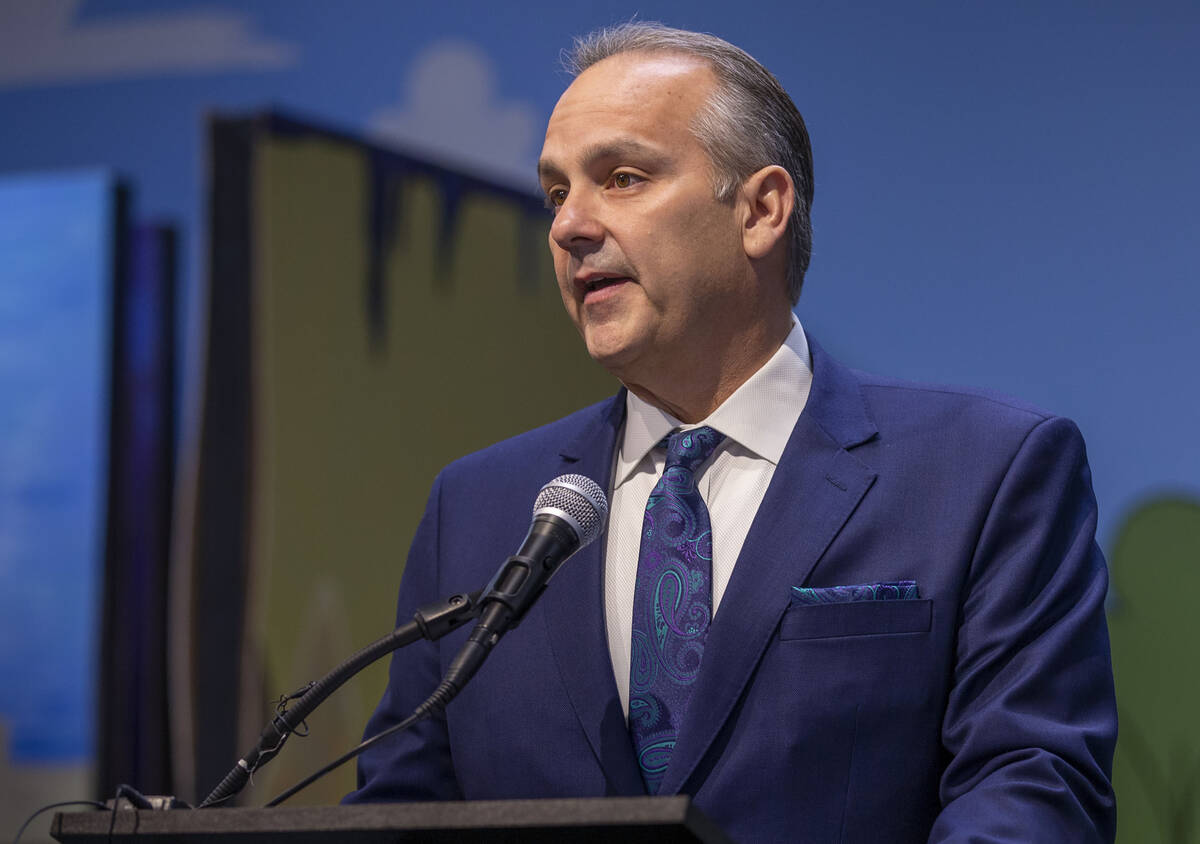 A survey conducted by the Clark County Education Association shows 75 percent of teachers who responded have no confidence in Superintendent Jesus Jara to effectively spend additional state education money.
The teachers union, which represents more than 18,000 licensed employees, released the survey results Thursday night, nearly three months after Gov. Joe Lombardo introduced a proposed budget that includes $2 billion in new K-12 education funding over the biennium.
Jara has had a number of high-profile conflicts that have surfaced over the last several years, including being fired and then rehired.
In October 2021, a divided Scbool Board voted to terminate the superintendent's contract "for convenience," meaning they didn't need to provide a reason, but the board reversed course the following month.
In October 2022, the board voted 4-3 to extend Jara's contract for three-and-a-half years and boost his annual salary by $75,000 to $395,000 a year. His contract now runs through the end of June 2026.
"This is not something that happened overnight," union President John Vellardita said about the decision to gauge the sentiment of educators on the superintendent's tenure and performance. "This has been building for some time."
Several thousand educators in the Clark County School District — the overwhelming majority of whom are CCEA members — took the voluntary survey, which opened in late March and was up for about four days.
It included one "yes" or "no" question about whether they have confidence in Jara's ability to effectively use new state education funding to improve student outcomes.
The union said it received 5,582 responses. Of those, 4,170, or 74.7 percent, said "no."
In a Thursday news release, the union pointed to low proficiency rates, widening disparities for at-risk students and the lack of college and career readiness among graduates.
"From the very beginning, he's told the community to judge him not by his rhetoric, but by his record — and that record couldn't be more clear," the union wrote in its release.
In a statement Thursday, the school district called the survey a bad faith attempt by the union to influence contract negotiations "to leverage what little credibility they have left with teachers."
"It is unfortunate that their focus is not on improving the salary schedule and health expectations to retain our hard-working educators," the district wrote. "They deserve better from their bargaining association."
Jara and the district gave a presentation to lawmakers on March 31 in response to questioning from Democratic legislative leadership about how school district superintendents plan to use additional money to improve student outcomes.
CCEA said in its Thursday statement that Jara and district officials "failed to present a clear plan on how new funding will be used to improve student outcomes."
In early March, state legislative staff sent out a document to superintendents with a list of questions to address during the joint hearing. The author wasn't listed, but file information inside the document showed it was drafted by Vellardita.
The union doesn't take lightly the results of this kind of survey, Vellardita said, and it weighed heavily on the executive board whether to make the results public.
CCEA now plans to conduct a multi-week canvassing campaign and will pose the same question to community members.
Union representatives plan to knock on several thousand doors beginning as early as next week, Vellardita said.
Contact Julie Wootton-Greener at jgreener@reviewjournal.com or 702-387-2921. Follow @julieswootton on Twitter.