Teachers, state workers would feel most pain under Sandoval budget, legislator says
January 26, 2011 - 9:38 pm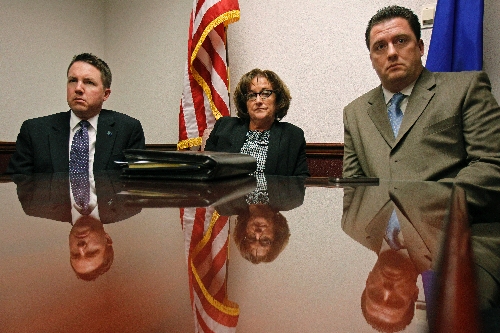 CARSON CITY — Teachers and state workers are making the principal sacrifices under the budget proposed by Gov. Brian Sandoval, the leader of the state Assembly said Wednesday.
Assembly Speaker-elect John Oceguera, D-Las Vegas, said businesses and all citizens are supposed to feel pain under the "shared sacrifice" concept that Sandoval describes as necessary for Nevada's economic recovery.
But Sandoval's plan would lead to a 5 percent wage cut and a 5.3 percent loss in benefits for state workers and school employees, the speaker said.
"It should be a broad-based" shared sacrifice, Oceguera said at a news conference after a pre-session hearing during which legislators criticized Sandoval's plan to cut public education support by at least 9 percent. "Right now the focus is on (school) employees and state workers shouldering the burden."
In response to questions, Oceguera would not say whether he thought businesses would be making any sacrifices at all under Sandoval's budget plan. The governor proposes no tax increases and wants to end a tax increase approved in 2009 that essentially doubled business taxes.
Earlier Wednesday, school district officials told legislators that entry-level teachers in Clark County earn $35,000 a year and their counterparts in Washoe County receive $31,000 a year.
"I am worrying" about the effect of the cuts on starting teachers' pay, said Assembly Ways and Means Chairwoman Debbie Smith, D-Sparks.
Sandoval wants to withhold money from school districts to force them to cut teacher pay by 5 percent, but Oceguera said his calculations show teachers would be hit with a 5.3 percent reduction in benefits. Teacher salaries and benefits, however, are determined through collective bargaining negotiations with unions.
Smith asserted that state support for public education would drop by $668 million under Sandoval's $2.2 billion public school funding plan. Oceguera refused to say that he would back tax increases or that increases are inevitable.
He said legislators will develop their own spending plan "week by week" during the legislative session, which starts Feb. 7 and then decide whether tax increases are warranted.
A similar strategy was used in 2009 by legislators who rejected the spending plan proposed by Gov. Jim Gibbons. After holding hearings and meeting behind closed doors for weeks, legislators before adjournment agreed on $800 million in temporary tax increases that they quickly passed but that were then vetoed by Gibbons. Legislators, including several Senate Republicans, then voted to override that veto.
Rob Roberts, the Nye County school superintendent and president of the Nevada Association of School Superintendents, told legislators the Sandoval budget leaves schools "severely underfunded."
Heath Morrison, superintendent of the Washoe County School District, predicted he would lay off 432 teachers and increase the average class size by four pupils if education funding is not increased.
New Clark County Superintendent Dwight Jones did not attend the hearing but said Tuesday that about 1,200 layoffs are contemplated in his district.
Jeff Weiler, chief financial officer for the Clark County School District, told legislators he expects a $250 million drop in state funding under Sandoval's budget.
He said the Clark County School District has cut $375 million in the past three years and eliminated 1,700 jobs.
Because 89 percent of district spending is on salaries and benefits, Weiler said, more layoffs would be required without additional money, particularly if employee unions do not make concessions.
Sandoval also proposes setting up a block grant plan that gives school districts the option of continuing class-size reduction programs and full-day kindergarten programs or using the money as they see fit.
But his plan reduces by more than $18 million the $343 million that now goes to these programs.
In response to questions, Nevada Superintendent of Public Instruction Keith Rheault said the state never has done a study on whether students who were enrolled in smaller classes achieved lasting benefits. He also has no state studies on the effect of full-day kindergarten.
"I don't have any hard evidence," he said.
Class-size reduction programs began in 1990. In Clark County, a study found that children who attended full-day kindergarten made greater gains in literacy by the third grade than those who attended half-day kindergarten classes.
Review-Journal reporter James Haug contributed to this story. Contact reporter Ed Vogel at evogel@reviewjournal.com or 775-687-3901.