Tesla announces first $1.5M investment in Nevada education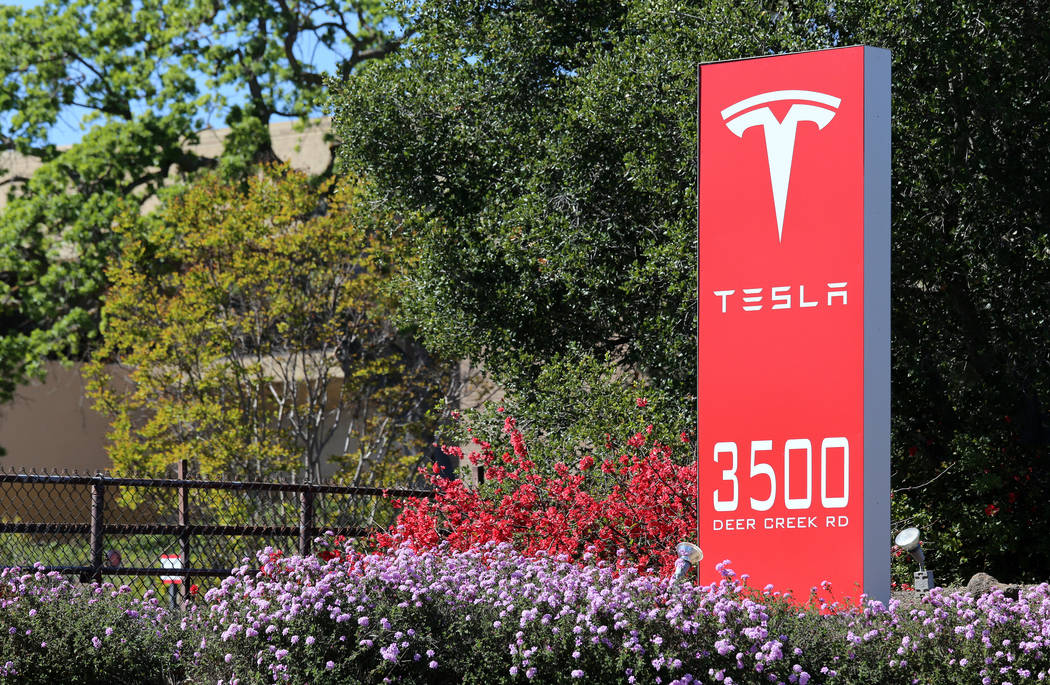 Tesla will fund new employees in both the Clark and Washoe county school districts and help bolster half a dozen science-focused nonprofits in an effort to bring new technology skills to Nevada students.
Details of the first $1.5 million expenditure by the company — part of a $37.5 million investment in education planned over the next five years — were announced Thursday at the State Board of Education meeting.
Among other things, it aims to expand robotics programs to every high school in Nevada, create specialized training for teachers and provide summer camp opportunities for students, all in the name of science.
It's the summer camp expenditures that hold personal meaning for State Superintendent of Instruction Steve Canavero. Growing up, his family couldn't afford to send him to science camp, but he was able to attend one summer on a scholarship. That changed his whole trajectory.
"Nearly every day of that experience, I remember that," said Canavero, whose bachelor degree is in ecology and systematic biology from California Polytechnic State University. "For me, it hits close to home."
Sevens nonprofits, in addition to the two school districts, are getting funding from Tesla for various projects. The projects will be monitored on a quarterly basis and more money can be doled out as needed throughout the year.
Funded projects
The funded projects are:
— $315,550 to FIRST Nevada and $127,100 to Robotics Education and Competition Foundation as part of a multi-year investment aimed at establishing the high school robotics programs.
— $263,924 to the Desert Research Institute to development of a teacher training infrastructure focusing on robotics and STEM.
— $262,700 to The Envirolution, Inc. for the Project ReCharge initiative, a program which teaches students about energy and ends with students on a real-life quest to improve efficiency for a local school or business.
— $200,000 to Jobs for Nevada's Graduates to develop a new "Education to Employment" pathway across Nevada industries and expand access to the program by 20 percent.
— $154,083 to Sierra Nevada Journeys to provide 250 scholarships for students in underserved communities to attend the Overnight Outdoor Learning program at Grizzly Creek Ranch, increase access to STEM programs to 900 additional students and start a new Girls in Engineering camp in partnership with Tesla team members.
— $76,643 to Energetics Education to pilot the Solar Rollers program in Washoe County. High school teams design, build, test and race sophisticated solar-powered, radio-controlled cars. This is the only program that does not currently exist in Nevada in some form.
— $50,000 each to Clark and Washoe counties to establish a new career technical education positions to train and implement programming from within. The role will also also supporting rural districts.
Tesla's commitment has been in the works since 2014, when Tesla decided to build its so-called Gigafactory in Storey County in exchange for $1.3 billion in tax incentives. The commitment is one of many initiatives under Gov. Brian Sandoval to bring new jobs to Nevada and new skills to the state's students to help fill those jobs.
"The demand for STEM jobs in Nevada will continue to grow dramatically over the next few years," J.B. Straubel, Tesla's chief technology officer, said in a statement. "That is why we're investing in initiatives that inspire students to choose a career in STEM and sustainability, and give them a foundation for success."
Sandoval said in a statement he was grateful for Tesla's commitment and the opportunities it would provide.
"An integral part of our vision for the new Nevada economy is developing an educated workforce that meets the demands of the industries coming into our state," he said.
Contact Meghin Delaney at 702-383-0281 or mdelaney@reviewjournal.com. Follow @MeghinDelaney on Twitter.