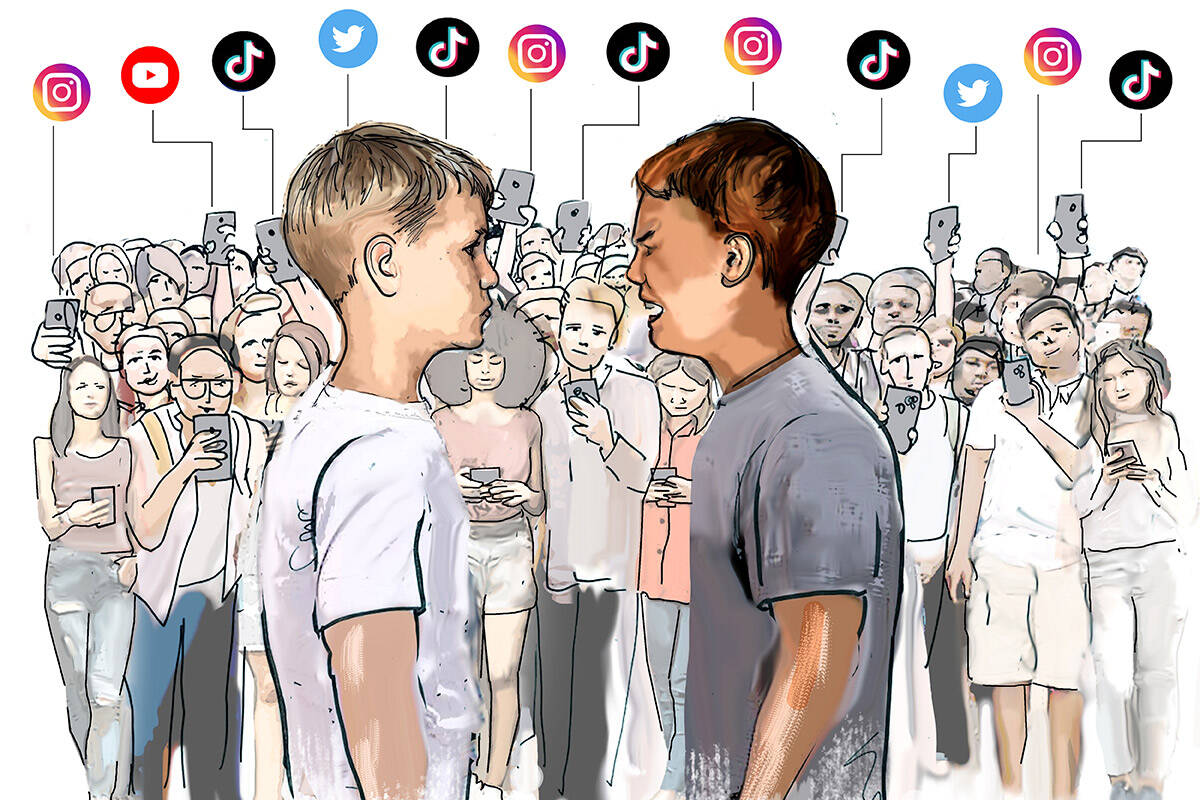 Durango High School junior Malia Poblete was off campus last month when a fight broke out at her school.
But less than five minutes later, the 17-year-old saw a video of the incident on Instagram.
"Students are very quick to post that sort of thing," she said.
Across the Las Vegas Valley, dozens of social media accounts created by students are used to share videos of on-campus fights or to bully classmates and school employees. The majority are on Instagram, but some accounts exist on other platforms, such as Twitter and TikTok.
Many of the posts are highly disturbing, and victims are easily identifiable.
Some of the videos show fights that appear to be staged, while others show students being injured. One video showed a student being dragged across the floor of a school cafeteria with blood on his shirt and on the floor. Another shows a girl pulling another girl off a sidewalk and ripping her sweatshirt off while punching her repeatedly in the head. Other accounts highlight photos of children, with captions mocking or belittling their physical appearance.
There's little parents can do beyond reporting pages to the social media platform — which may or may not remove them — or reporting the bullying incident to their child's school, except for when someone is making a threat that can be forwarded to police.
The proliferation of bullying and fight pages comes as students continue to struggle with mental health and behavioral problems following the COVID-19 pandemic — particularly after returning to campuses in spring 2021 following a year of online learning.
Due to privacy laws, personal social media use is not monitored by the Clark County School District.
Two parents told the Las Vegas Review-Journal they wanted to speak about the issue but didn't feel comfortable using their full names out of fear that their child could be targeted.
In January, in response to a Review-Journal inquiry about one Instagram account, the Clark County School District said school administrators were aware of the page and had reported it to the social media platform.
"Due to privacy laws, personal social media use is not monitored by the Clark County School District," the district said in a statement. "Accounts that appear to be managed by a CCSD student or with intent to threaten or cause harm to a school or individual are reported to the proper social media channel to investigate for removal."
Social media threats against the safety of a school, students or staff are taken seriously and reported to the Clark County School District Police Department, according to the statement.
Also, "all reported allegations of bullying, including cyberbullying, are investigated and appropriate action is taken," the district said.
But many families feel like there's no outlet to resolve problems if social media posts occur outside the school and they don't know who owns the account, according to Rebecca Garcia, an administrator for the "CCSD Parents" Facebook group.
"It becomes an issue where it feels like there's no way to solve it," she said.
Multiple accounts for some schools
Becker Middle School in Summerlin has at least seven active bullying or fight video pages on Instagram, the most of any district middle school, according to a Review-Journal analysis.
It's followed closely by Cashman Middle School with six, Findlay and Woodbury middle schools with five each, and Silvestri Junior High School STEAM Academy, Molasky Junior High School and Faiss Middle School with four each.
Bonanza and Western high schools each have three accounts, while four pages exist for West Preparatory Academy At Charles I. West Hall, which serves students in elementary through high school, according to the Review-Journal's analysis.
The Review-Journal isn't identifying accounts by name because of the acts of violence against children. But many of the accounts are public, meaning anyone can find and view the content.
Nationwide impacts
In New Jersey, 14-year-old Adriana Kuch died by suicide in February after she was attacked at her high school and a video was posted on social media. Four teenagers have been charged in connection with the attack and the school district superintendent has resigned.
Nationwide, a growing number of school districts — including in Seattle; San Mateo County, California; and Chatham, New Jersey — have sued social media platforms, alleging they've had harmful effects on student mental health.
In response to a Las Vegas Review-Journal inquiry about whether it had filed any lawsuits against social media platforms, the Clark County School District said it was reviewing all of its options.
Utah recently enacted a new law, which goes into effect next year, that requires juveniles to have parental consent to use social media sites. The legislation also requires age verification of Utah users, and it prohibits those younger than 18 from using social media platforms during overnight hours.
Members of Nevada's congressional delegation — Reps. Mark Amodei, Steven Horsford, Susie Lee and Dina Titus, and Sens. Catherine Cortez Masto and Jacky Rosen — did not respond to requests for comment about the social media pages. Assemblywoman Shannon Bilbray-Axelrod and state Sen. Roberta Lange, who chair the Nevada Legislature's committees on education, also could not be reached for comment.
Poblete, the Durango High junior, said she doesn't think social media accounts used for cyberbullying are as prominent as those featuring school fight videos.
But accounts with school fight videos seem to be a newer trend, and the types of big fights that are filmed don't happen too frequently, she said, noting she's fortunate enough that she hasn't seen them in person.
But, Poblete said, videos of fights spread quickly.
Little recourse for parents
The school district said in a statement that it asks for community members to report pages to the proper social media channels.
But after the Review-Journal reported a Twitter account devoted to sharing fight videos from Foothill High School in Henderson, it received a response on Feb. 24 saying the account hadn't broken the website's safety policies.
"We know this isn't the answer you're looking for," Twitter said in its response. "If this account breaks our policies in the future, we'll notify you."
Students and parents are also encouraged to report bullying and other safety matters through SafeVoice Nevada, the state's anonymous reporting hotline, the district said in its statement. Parents are urged to talk with their children about responsible social media use and to closely monitor their children's accounts for inappropriate conduct.
But social media accounts are frequently run by students, which leads to the question of who's managing their online access, Garcia said, noting it's the responsibility of parents to do so.
Many parents have children who have experienced social media bullying more broadly, although not directly from one of the school-specific bullying accounts, she said.
A school doesn't always have what a parent feels is an appropriate response on campus, Garcia said, so parents are left to try to find a different school for their child, move them to an online school or pursue homeschooling.
When that happens mid-year, it becomes harder to change schools regardless of why, she said, no matter how much documentation of bullying is provided.
Garcia also said anxiety and stress resulting from bullying affect attendance — a concern for many families.
Jessica Shearin, president of the Nevada Association of School Psychologists, encourages parents to limit, monitor and supervise their child's social media use as much as possible.
It may feel invasive, but social media use can have some "pretty negative effects" on child development and mental health, according to Shearin, a school psychologist at two district elementary schools.
"We're still learning the impacts that growing up on social media can have on kids," she said.
Contact Julie Wootton-Greener at jgreener@reviewjournal.com or 702-387-2921. Follow @julieswootton on Twitter. Review-Journal staff Taylor Lane, Jessica Hill, Taylor Avery, Jennifer Hurtado and Brett Steidler contributed to this report.