UNLV med school faces setbacks amid rift, lacks $100M donor
Updated April 25, 2017 - 9:25 pm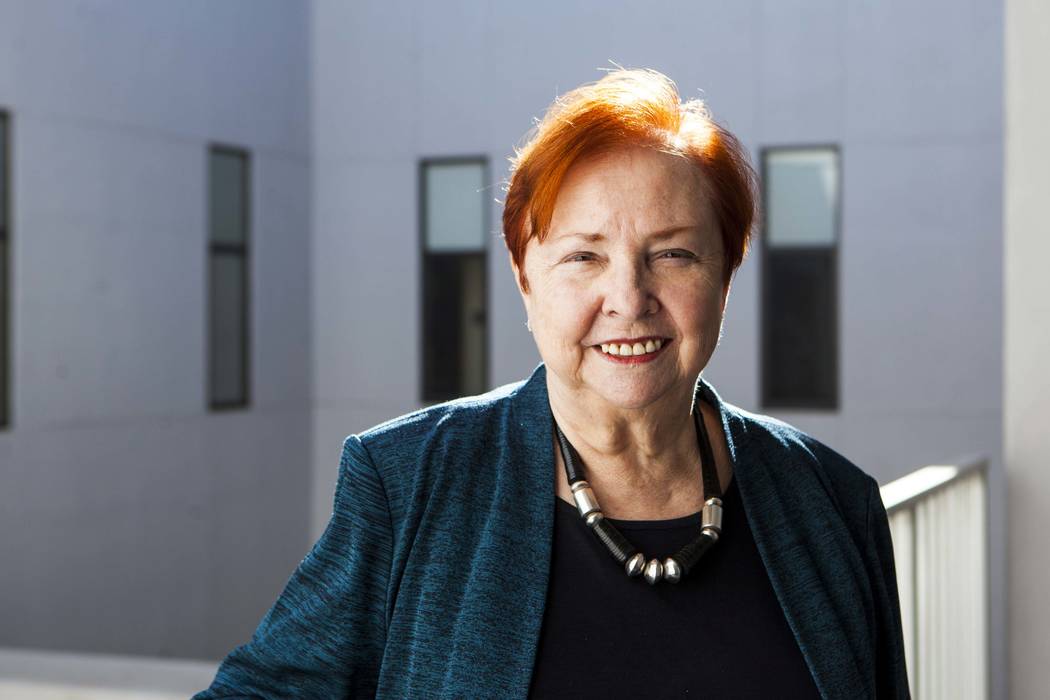 UNLV's new medical school, touted as an engine for economic diversity and a solution to a growing physician shortage throughout Southern Nevada, already faces possible setbacks amid rising tension between the Board of Regents and Dean Barbara Atkinson.
The rift comes as key deadlines for the launch of the school loom and regents criticize Atkinson's approach, particularly her fundraising strategy centered around securing a single $100 million megadonor.
Construction of a medical education building and plans to double the school's class size could be delayed if that megadonor is not found soon, according to Atkinson.
The July 17 opening of the medical school isn't in jeopardy, but Atkinson acknowledges the lack of a megadonor by early June could stall the school's growth before it even gets off the ground.
"Once the first big donation like that comes in, we're hoping other people will want to join in," Atkinson said. "The first one will lead the way."
Some regents of the Nevada System of Higher Education aren't so sure. They dispute Atkinson's accounting of money raised thus far and question the viability of her search for that elusive $100 million donor even as she defends her fundraising plan.
In the two years since UNLV received start-up money from the state Legislature, the school has raised about $20 million, according to Atkinson.
"I can't understand why the medical school hasn't raised more money," said Regent Trevor Hayes. "We've heard for years that the southern Nevada community was reluctant to donate to UNR's med school because there was worry it would go to support programs in the north and not the south. We were told that if there was ever a school created in Las Vegas, the money would flow, but we've seen none of that."
Regent Cedric Crear expressed similar concerns.
"The glaring hole is that the school hasn't raised the money it really needs," Crear said. "They need to be bringing in more dollars."
Construction of the medical building is set to begin this fall and is expected to take four years, a timeline UNLV would clearly need to readjust if Atkinson doesn't meet her groundbreaking goal. She also might have to cut her own expectations of doubling the class size from 60 to 120 students by 2021.
"It really does depend on donors," Atkinson said.
Discrepancies
Fundraising so far has included $13.5 million from a 2015 scholarship drive that will go toward full rides for the first 60 students and benefit later classes. The school also received $3 million from the United Health Foundation.
Hayes feels confident about those two funding sources. Still, he said UNLV continually tells the regents money raised adds up to $20 million.
"If there's more, they haven't shared that with us," Hayes said.
Atkinson called concerns over any discrepancies "ridiculous." Spokeswoman Pam Udall said the school has raised additional signed gift commitments since the scholarship drive and $1.5 million in support for programs, faculty and research.
"There are smaller pieces of funding," Atkinson said. "It's not that they don't exist."
Regent Allison Stephens, vice chairwoman for the board, said she has noticed discrepancies in the terminology used by school officials, such as money that is a pledge versus an in-kind donation.
"It just has to be a little bit clearer," Stephens said, adding that it's important for the board to fulfill its fiduciary oversight duty. "We need to understand what each number is. We should not have misunderstandings about that."
UNLV President Len Jessup did not return phone calls requesting an interview, but he issued a statement that said the medical school had raised more than $20 million.
"The growth and sustainability of the School of Medicine is central to UNLV's Top Tier vision, and it factors prominently into our current and future fundraising efforts," Jessup said.
$100 million strategy
Regent Mark Doubrava, chairman of the health sciences system committee, said he's aware of one or two potential megadonors in discussions that he characterized as "hot." Atkinson said she's optimistic of a donation by the close of the legislative session, which ends June 6.
According to David Bass, senior director of research for the Council for Advancement and Support of Education, it's "standard practice" for universities to target a primary lead gift that will contribute the lion's share of funds.
Hayes and Crear, however, aren't convinced.
"I've never heard of a nonprofit fundraising strategy centered on one large gift to the exclusion of seeking smaller, complementary donations," Hayes said. "It's baffling."
Crear agreed.
"You can't just rely on one donor," he said. "They need to be bringing in multiple donors — broad-based support."
'A huge undertaking'
Officials also face a July 1 deadline for UNLV's takeover of the southern Nevada practice plan, which is currently operated by the University of Nevada, Reno.
"I don't think it's ever happened anywhere in the country where one medical school is opening, but they have to bring over an existing faculty base," Doubrava said, adding that he believes it's the most difficult part of the overall endeavor. "It's a huge undertaking."Las Vegas-based faculty physicians who ran their medical practices through UNR generated funds for the school but will now transition to UNLV. Before July 1, hundreds of new contracts need to be negotiated and acceptance letters signed.
"This transition has to be seamless in term of continuity," said UNR Medical School Dean Thomas Schwenk. "You have patients expecting care and residents expecting training. There can be no break. When we close down at 5 p.m. on June 30, they have to open up at 8 a.m. on July 1."
Doubrava said officials considered waiting until 2019 to make that transition because new students wouldn't begin clinical rotations until the third year. Doubrava said any delay also would have caused too much anxiety for faculty physicians.
"With that much uncertainty, we, the regents and the administration thought it might be better to bring the UNR faculty over to UNLV sooner rather than later," he said.
The regents, though, appear more concerned about the immediate future. Atkinson projects the clinical side of the operation to generate roughly $1 million per week in revenues and reach about $80 million in its first year.
"I'm concerned that UNLV believes that it will immediately make more money by taking over the existing plan," Hayes said. "It seems like their economic forecasts are very optimistic. I hope they're right."
Regents also want faculty physicians to be more visible in the community.
"There's going to be a culture change," Doubrava said. "I think everyone is excited to see what the physicians can do now that they're part of the UNLV family."
Atkinson said she shares the goal of increased community engagement but also believes the regents have underestimated what the UNR faculty physicians accomplished. She said problems as minuscule as broken telephones made running the business side of the practice difficult.
"We'll be wanting this to work as a very efficient practice — a practice people want to come to," Atkinson said. "It won't happen overnight. It will take a while to get it going the way we want it to go."
Contact Natalie Bruzda at nbruzda@reviewjournal.com or 702-477-3897. Follow @NatalieBruzda on Twitter.
The first class
Questions surround the UNLV medical school's fundraising strategy and its hunt for a single $100 million donor, but one definite remains: Each of the first 60 students will receive full scholarships.
Dean Barbara Atkinson and other officials began making admission offers to students in December. They had 910 applications.
Priority for interviews was given to Nevada residents or those with close ties to the state, Atkinson said. Of the 400 who met the criteria, 291 students were interviewed.
Nevada System of Higher Education Regent Trevor Hayes questioned the effectiveness of this strategy, especially given UNLV's goal to catapult itself to a Tier 1 Carnegie Research university — the highest designation from the Carnegie Foundation for the Advancement of Teaching.
"If the goal is for UNLV to be a Tier 1 research university, the best and the brightest applicants should be considered," he said.
Regent Mark Doubrava, chairman of the health sciences system committee, said he agrees with the school's approach, citing the fact that public medical education requires a significant investment from state dollars.
"As long as the applicant pool of Nevada students is strong and qualified, I think we should stay in the Nevada pool," he said.
Atkinson said it's an "outstanding" and "very diverse" first class, with offers going to 35 women and 25 men. Atkinson hopes to have the first class in place by May 1.
And once students accept their offers, their journey to become doctors will begin on July 17 at UNLV's Shadow Lane campus — a temporary solution while officials wait for a megadonor.
"I think we are going at a healthy pace," Doubrava said. "I'm pleased but realize there's a tremendous amount of work to be done. We don't have time to take a breath."
With preliminary accreditation, the school can have 60 students in each class. Once the school wins full accreditation — likely spring 2021 — UNLV can go beyond that number.
"Once we get full accreditation, we can make a request to increase the class size," Atkinson said. "But we have to have additional classroom space."
Some colleagues suggest a gradual increase in class size of 20 per year, but Atkinson wants to double the number of students to 120 in one swoop.
"I think the need (for doctors) is pretty severe in Las Vegas," Atkinson said. "I personally would rather do it all at once. The sooner we can get to 120, the better."
Related
UNLV Medical School wins preliminary accreditation, clearing way for first class
UNLV's vision for medical school moving closer to reality
UNLV medical school clears key hurdle