UNLV official paid $50K to college friend, but work done is unclear
Updated July 16, 2018 - 12:26 am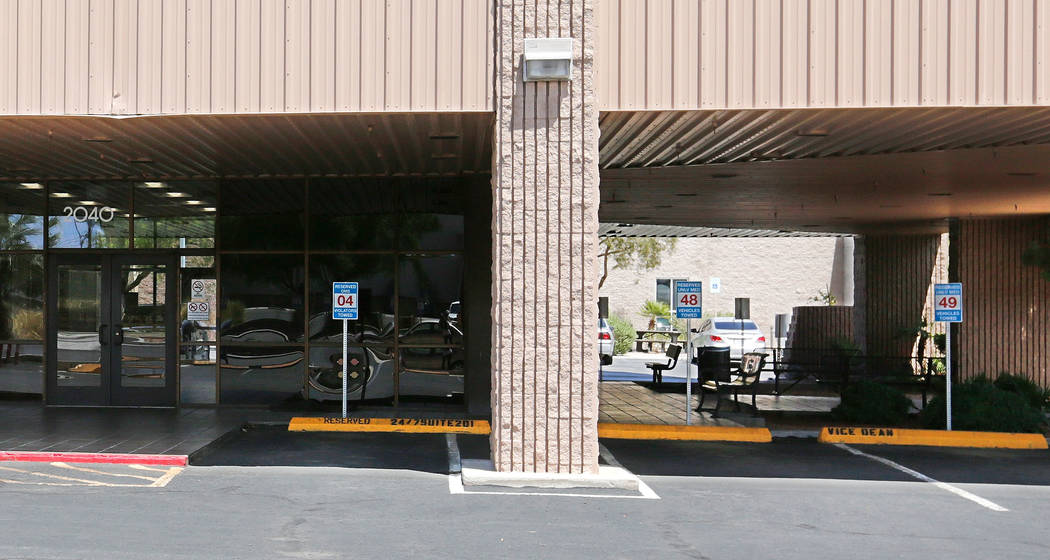 Five months after UNLV launched its new medical school, the chief of staff authorized a $50,000 payment to her college friend for consulting services.
But little to no marketing deliverables were produced.
A series of emails beginning in February 2017 and obtained by the Las Vegas Review-Journal through a public records request shows how Maureen Schafer, former chief of staff for the medical school, hired Ernest Lupinacci as a branding and marketing consultant for the new school of medicine, all the while serving as his direct supervisor and skirting policies and procedures to pay him.
"I don't know what he did," said Chuck Johnston, managing partner and president of B&P Advertising, a Las Vegas marketing firm with which UNLV was also working. "I still don't know what he did. We've worked with UNLV for 14 years and have a long-standing relationship with them. It was kind of a strange situation."
Over a series of months, emails show UNLV officials and others questioning the payment amount, the contract and the quality of work performed.
Schafer, now UNLV's director of special projects for government affairs, said in a statement to the Review-Journal that she used a "streamlined method to acquire professional services and minimize bureaucracy" in an effort to keep the school "on track with an expedited timeline," while also noting Lupinacci's experience working with Fortune 500 companies. The university refused to say why Schafer was reassigned, but said she began her new role on Dec. 19.
Lack of accountability
Early emails depict a cozy relationship between Schafer and Lupinacci, with Lupinacci signing two emails "xo," and in one exchange telling Schafer "can't wait to see you," attaching his flight information from San Francisco to Las Vegas on March 28.
This was before his first "official" consulting trip to Las Vegas, which he listed on an invoice as being April 11-13, 2017.
"We knew each other in college," Lupinacci said on Wednesday. "We stayed friends over the years. Over the years we've networked, and we have a lot of mutual friends."
They both went to George Washington University in Washington, D.C., in the late 1980s.
Schafer referred to Lupinacci, who lives in New York, as a "fabulous man" when he sent her his resume, and quickly followed up by saying she negotiated fees for him in the range of $100,000 in a yearlong "letter of appointment role."
"The dollar amount is high, but he does have excellent professional/industry experience," Gina Strebel, the assistant vice president in the office of the provost said in one exchange.
The LOA role, however, didn't materialize, and emails show how Schafer found another way to get Lupinacci on the university's payroll, even as she acknowledged the lack of work he produced.
"I am not sure we can bill a full $10,000/month since April since we were not able to begin work since we had work stoppages while we were figuring out how to get you engaged," she said on Sept. 13.
Last week, Lupinacci said that based on the "amount of time, input and energy" he put into the project, $50,000 was "incredibly reasonable." His role, he said, was to help determine the medical school's vision, strategy, positioning and tone of voice.
"It's pretty standard stuff that you're doing for any sort of modern brand," he said on Wednesday. But in one email, he referred to the "strategy/values stuff," as suggested by Deirdre Devine, the director of strategic initiatives for the school, as a "bit of a wank."
Devine said she and Lupinacci had limited interaction, which included a couple brainstorming sessions, and she found him to be "smart and creative."
"I had no expectations of him producing under me … and I wasn't intending to hold him accountable for anything," Devine said on Tuesday.
'We've accomplished zero'
Lupinacci shared his first attempt at developing a mission statement for the school on May 1. But at that point, he did not have a fully defined role with the school. He did not submit a scope of work until June 5, but the billing period for the final invoice he submitted to the university shows April 1 as his start date.
A couple of weeks later, Lupinacci noted the lack of work being done.
"It's almost the middle of the summer, and we've accomplished zero," Lupinacci said in an email to Schafer on June 16. In another email on the same day, he wrote, "We are never going to get this done, at least not done right. That's my dread."
Schafer eventually connected him with B&P Advertising and contracted Lupinacci's work through the firm. But a physical contract was never drawn up, and the formal introduction between the two parties didn't come until July 24, 2017.
Emails in August and September showed that he gave input on "UNLV Health" logos that were designed by B&P, but Lupinacci was not involved in choosing the final logo, and the logos he worked with were never used in marketing materials. Around this time, Lupinacci gave a presentation to the dean's council, which Brian Brannman, the former chief operating officer for the faculty practice plan, recalled as being "marketing 101."
"There wasn't any specific stuff about the power of marketing to the Practice Plan physicians," Brannman said. "Nothing else came out of that. While he may have had a lot of potential, it was an awful lot of money to bring in a guy from out of town. B&P had done a phenomenal job. I didn't see any reason to not work with the local guys."
The faculty practice plan, which opened on July 1, 2017, is the arm of the medical school that allows students to gain firsthand clinical experience while also being supervised by UNLV faculty physicians. Physicians who see patients through the practice plan receive a portion of their salary from the medical school, enabling them to both see patients and teach students.
"It's not an expense we needed to take on at that time," said Brannman, who has worked as a health care consultant since leaving UNLV. "We should have been more thoughtful before we went out and engaged someone at that level."
In late September, emails showed that Lupinacci attended a meeting with another vendor — Digital Deployment — and provided some feedback to UNLV employees regarding website development, but by mid-October, the emails with UNLV slowed down even more.
On Nov. 20, he reached out to Schafer, saying he hadn't received any payment "at all to date," and said he contacted B&P Advertising but had not heard back from the firm.
The same day, Johnston, in an email to Schafer, conveyed his discomfort "with being used as a conduit to pay another consultant who we have no contract with." Johnston first expressed his concerns in an email to Brannman a week earlier.
" … We are in the dark as to any work or deliverables he's providing UNLV," Johnston said in an email to Schafer. "The last contact B&P had with Mr. Lupinacci, other than requesting payment for services we have no knowledge of, was Aug. 8, 2017."
'We should pay'
Also on Nov. 20, Schafer asked Lupinacci for a listing of deliverables. Three days later, after she received his "debrief," she asked him to address his invoice to UNLV Medicine.
"We will pay it very quickly," she said. "No need to send to BP and this will make the turnaround even more easy for us."
But there were questions from UNLV officials.
Rhonda Boots, the controller for UNLV, said the invoice "seems really high for the Practice Plan to pay since we have no delivered brand or website." Just months earlier, in March 2017, the state Board of Regents approved a $19 million line of credit for the practice plan. Some regents had expressed concern this year regarding the amount that the school had used to date — $9.7 million. Regent Allison Stephens said it was supposed to be a "temporary tide over" until the cash flow started.
In a response to Boots' question, Jim Albertson, the former senior associate dean of finance for the school, said the "deliverable was beyond the control of the consultant but the result of internal process by UNLV … we should pay."
On Dec. 14, Schafer provided Diane Chase, executive vice president and provost of UNLV, with a "high level overview" of deliverables, saying, "The (Faculty Practice Plan) team, led by Pam Beal, was very happy with his performance."
On Dec. 26, after the payment was sent to Lupinacci, Schafer was told that UNLV's audit team was looking into the matter.
In an emailed statement from a university spokeswoman on Wednesday, Chase said there is "flexibility for professional services contracts under $75,000," but that "a more robust process could have been used and that has been conveyed to staff."
She also said that the university did not pay for the services with state money, saying that the funds to pay him came from the clinical practices. Neither Nevada System of Higher Education Chancellor Thom Reilly nor several regents contacted by the Review-Journal would comment on whether the funds used to pay Lupinacci should be considered state money.
The final email from Lupinacci came on Jan. 2, when he asked Schafer for a name and number of someone at UNLV with whom he could speak regarding "accusations" from the summer. The accusations were that Schafer and Lupinacci were having a relationship, and Lupinacci said on Wednesday that it's the "most ridiculous assertion."
"We're friends in the way that we send each other Christmas cards, and we follow each other on Facebook," he said. "It's frustrating to know that someone is making these claims."
Contact Natalie Bruzda at nbruzda@reviewjournal.com or 702-477-3897. Follow @NatalieBruzda on Twitter.