UNLV student to graduate Tuesday, 30 years after first try
December 17, 2017 - 11:49 pm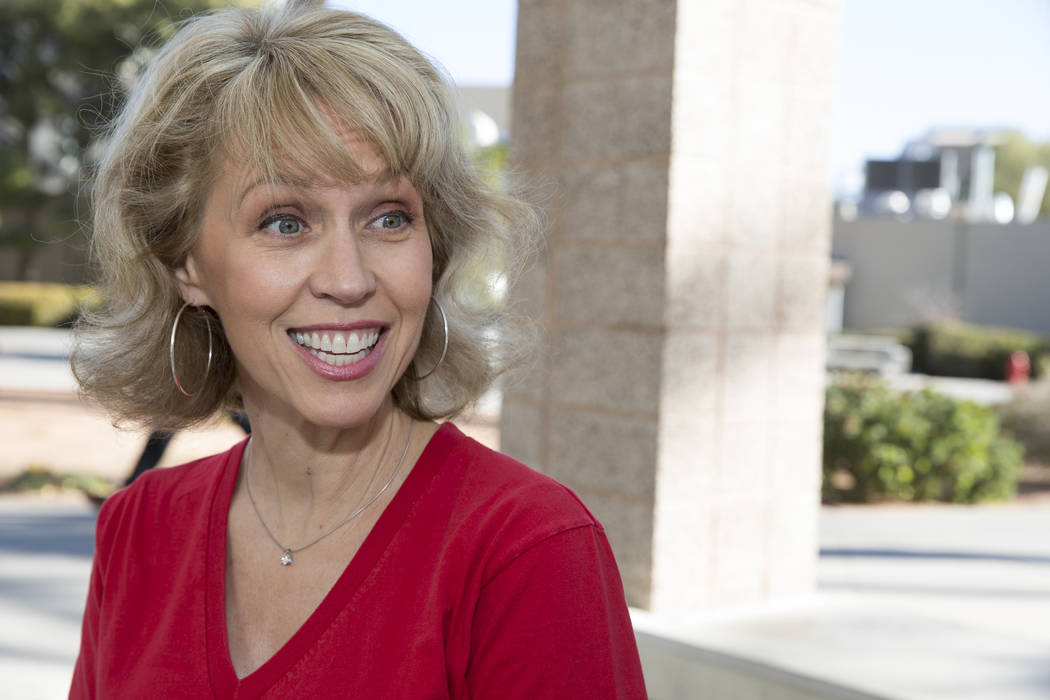 The stage fright from the dance team spilled over into Ellen Fumo's coursework.
Being in the classroom brought on intense anxiety, shortness of breath and sweaty palms.
"It was completely irrational, and I buried it — nobody knew," Fumo said, describing her panic disorder. "I'd go home exhausted."
In her final semester at UNLV in 1987, Fumo's panic disorder got so bad that she received F's across the board, and she dropped out of school in her fourth year.
It took away her dreams of earning a degree for years, but that changes Tuesday.
More than 30 years after she walked onto the UNLV campus for the first time, Fumo will walk across the stage at the Thomas & Mack Center to graduate.
Reaching out
She'll receive her bachelor's degree in psychology alongside 2,096 other graduates at the winter commencement ceremony, where the number of degrees conferred are up about 100 from the year prior, and the average age of the baccalaureate recipients is 26.
Fumo, 52, will graduate with many students who are as old as her children — a fact she came face-to-face with when she returned to campus in 2013.
"'Creepy old lady' — I thought they would think that," Fumo said, recalling that the professor in her first class back on campus was younger than her. "But they were awesome, friendly."
Upon her return to college, the age differential was just one of the few major changes.
The name of the dance team had changed to the Rebel Girls. New buildings had appeared, and the campus was a lot quieter.
"They didn't have cellphones back then," Fumo recalled with a smile. "People talked to each other. People yelled across the way, chased each other down. It was noisy back then. It's so quiet now."
Most important to Fumo, however, are the changes in campus resources, including the availability of counseling and psychological services.
"I would have used that in a heartbeat," Fumo said, adding that she likes seeing the call-to-action flyers posted around campus. "They've gotten so much better at reaching out to people."
Bringing awareness
When she began her studies in 1983, she felt "hyperanxious" sitting in a classroom and being in front of other people. It was like a small voice in her head, telling her she wasn't really smart enough.
"Nobody talked about it then — there wasn't a word for it," she said.
After spending her freshman year at UNLV, she transferred to the University of San Diego for two years to study pre-med. It was fun, and she had the opportunity to volunteer at a hospital and with the Special Olympics, but she never relaxed.
"I remember calling my parents from USD, and I said, 'I want to come home,' thinking that coming home would help with the panic attacks," she said.
She changed her major back to psychology and powered through at UNLV until fall 1987, when she received five failing grades.
"That's when life fell apart," she said.
Soon after, Fumo was working part time, and she paid $60 to see a counselor.
"She finally explained to me, 'Oh, you have this,' " Fumo said. "She gave me some books, and I read book after book after book, and that's what did it for me. It's something you always sort of have with you, but because of some counseling and books I've read, it doesn't take over like it used to."
She eventually married and had two children; for several years, she was a single mom after she and her first husband divorced. She worked as a paralegal and a court recorder to make a living, but not having finished school weighed on her.
"I always told them (her children), 'You're going to get your degree,' " Fumo said. "But how can I preach to them how important education is if I don't have my degree?"
With her family and employer supporting her, Fumo returned to campus in fall 2013.
Her panic disorder was under control this time, but living with it made her much more aware of her fellow classmates.
"When I sometimes see a person in the corner or someone shy, I go talk to them," she said. "I've been to that place and pulled myself out, so I can help."
She hopes her story can bring awareness to others.
"If you have a problem, don't hide it," she said. "It takes away your dreams."
Contact Natalie Bruzda at nbruzda@reviewjournal.com or 702-477-3897. Follow @NatalieBruzda on Twitter.
If you go
When: 4 p.m. Tuesday
Where: The Thomas & Mack Center, UNLV
Outstanding graduates
During the ceremony, UNLV President Len Jessup will recognize five outstanding graduates for their exemplary academic and community achievements. They are:
— Josh Adams, bachelor's degree in applied physics, mathematics minor. Adams traded in his career as a touring rock musician and music producer for a career in physics.
— Randy Dexter, bachelor's degree in communication studies. He's a 10-year U.S. Army veteran who advocates for veterans making the transition from military to civilian life.
— Jacqueline Phan, master's degree in biochemistry. She has helped to further research on C. diff — an illness that most commonly affects older adults in hospitals or long-term care facilities.
— Vivian Sam, bachelor's degree in biology. She's studying seed techniques that produce forage plants for the endangered desert tortoise.
— Qi Shen, Ph.D. in mechanical engineering. Shen has published 15 journal articles, book chapters, more than a dozen conference papers and four patents, all while earning a 4.0 GPA.