UNLV unveils plan to promote final presidential debate
January 13, 2016 - 2:33 pm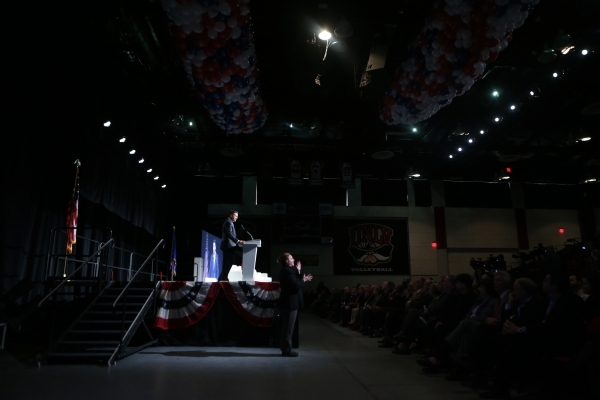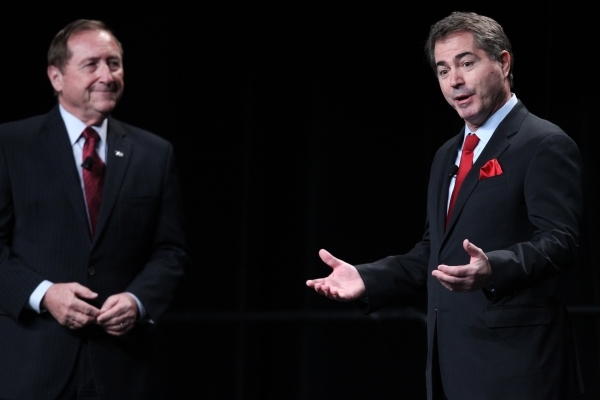 UNLV has unveiled a plan to promote the school's role as host of this year's final presidential debate, an event that will catapult Las Vegas into the national spotlight weeks ahead of November's general election.
At a rally-style announcement hosted Wednesday by UNLV and the Las Vegas Convention and Visitors Authority, the school presented a new logo, website (lasvegasdebate2016.com), slogan ("Let Freedom Ring") and Twitter hashtag (#UNLVegasdebate2016) to publicize the debate months ahead of its Oct. 19 date.
"In Nevada, our voice will be heard louder than any other state," Gov. Brian Sandoval told dozens of state and local officials who gathered for the brief address, which was capped off with a shower of red, white and blue balloons and confetti inside UNLV's Cox Pavilion. "That conversation will begin today and will continue throughout the year."
Nevada is expected to be a swing state in the 2016 election, and it has increased influence because it's the first Western state in the nomination process, making it a popular campaign stop for candidates, who have made dozens of visits in the past year.
Frank Fahrenkopf Jr., co-chairman of the Commission on Presidential Debates, said the school was picked to host the coveted event thanks in part to UNLV's facilities and the city's ability to host a large volume of visitors and media professionals.
"If it's a close race, it's going to be, really, a magnificent thing," Fahrenkopf said. "This town will be lit on fire."
Local officials expect to reap big benefits from becoming a debate site, including positive publicity from national media and the opportunity to engage students directly in the political process through activities leading up to the debate.
The undertaking was fervently pursued by first-year UNLV President Len Jessup, who hopes the exposure will bring UNLV prestige as it develops a decadelong plan to become one of the most highly ranked research universities in the nation as designated by the Carnegie Foundation for the Advancement of Teaching, a Stanford-based education research center.
The convention authority worked with UNLV to secure the designation and funded the $4 million effort.
"This is going to bring us tremendous exposure," Jessup said. "We look forward to the next nine or 10 months. It's going to be fun."
Contact Ana Ley at aley@reviewjournal.com or 702-224-5512. Find her on Twitter @la__ley