Virtual education is a good fit for Henderson competitive swimmer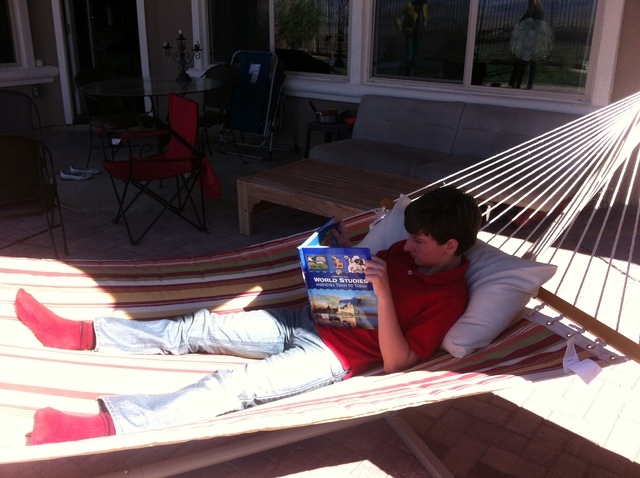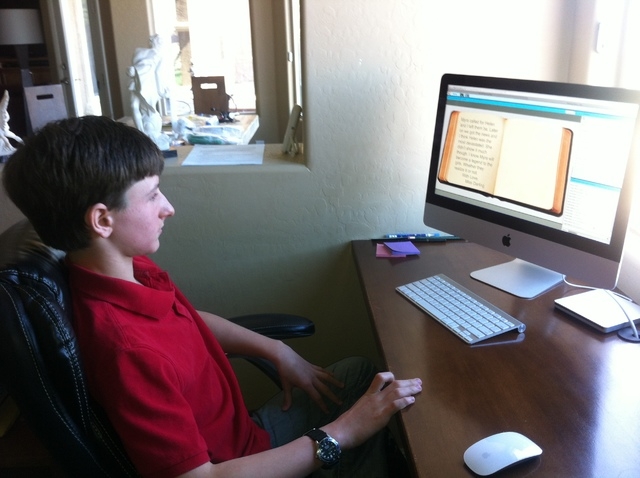 Lightly swinging in a hammock in his backyard with a social studies book propped up in his lap, 13-year-old Devon Kisfalvi is actually having another productive day at school.
Instead of a brick-and-mortar building, Kisfalvi attends Nevada Connections Academy, a virtual school.
"It's not for everyone," he said. "There are benefits to the program."
Tonya Strozier, the assistant principal of Nevada Connections Academy, said the goal of the school is to promote an individualized lesson plan that helps student work at a pace that helps them learn better.
Connections Academy has been around since 2003 and in Nevada for the last six years.
The program is in 30 sites across the country.
Strozier added that she is expecting 2,400 to be enrolled in the coming year.
"Most of the students are in Southern Nevada," she said.
One of the requirements for attending is there needs to be a parent or guardian at home to observe the learning process.
"We call them a learning coach," Strozier said. "It helps keep the student on track."
There are many reasons parents choose virtual education.
After her son's private school was consolidating in 2010, Diana Kisfalvi, a Henderson resident, searched for other programs Devon could be a part of.
"I did a lot of research at other charter schools, public schools and private schools," she said.
After another family member introduced her to Connections Academy, Kisfalvi was sold on the idea. Not only did it accommodate Devon's thirst for learning, it would also help with his schedule.
As a competitive swimmer, Devon spends several hours per day training.
"Some days I would get home from school, start on homework, go to two hours of swim practice, come back home to eat dinner and then do three more hours of homework," he said. "Then I would start the process over the next day."
Being at Connections Academy, his schedule is less cramped and allows him to pace himself better.
Kisfalvi said she likes the program because it also allows her to keep track of her son's schoolwork.
"He has always done well at school," she said. "But can you imagine your son not doing well and not finding out until parent teacher conference?"
Strozier said parents see students' scores in real time, so there is no more waiting for conferences once or twice a year to find out how they are progressing.
Through a virtual school, Kisfalvi can see Devon's progress after each assessment. If there is a problem or if he missed something that he didn't understand, Devon is able to go back at that moment to address the issue.
"When I was in school, I remember I was the type of person who sat in the back of the classroom and never raised my hand," Kisfalvi said. "Sure, I had questions, but I struggled in silence."
Strozier said in an online environment, she has seen quieter students raise their virtual hands to participate more.
Another aspect the family likes is the ability to choose which subjects to dive into first.
Devon, who prefers science over language arts, can decide what to work on first each morning when he steps up to the computer.
Regardless of where he starts, Kisfalvi said it is easier for Devon to stay on track without distractions a typical classroom might have.
She added that sometimes her son would come home from school and tell her the class didn't get to a certain subject because of time constraints or rowdy students.
Connections Academy also provides materials for students to participate in physical education and art.
Even though Devon meets his physical education requirements through swimming, the school has provided him with DVDs on yoga and a jump rope.
Along with completing a certain amount of hours for physical education each week, students also have lessons they have to complete.
For art assignments, they can either scan drawings and post online or mail items to their teacher.
Connections Academy also allows a certain amount of vacation days students can take of their own accord.
"It allows us to travel throughout the year," Kisfalvi said.
Even though it is virtual, there are still interactions.
"I have all his teachers' numbers in my cellphone," Kisfalvi said.
Strozier said teachers are available regularly.
"Teachers keep a close eye on students," she said. "There are biweekly phone calls."
Also, on Fridays, students in Las Vegas come together.
Strozier said they still do other activities such as prom and graduation.
She added that if a students are still eligible to play sports for their zoned school.
Connections Academy is scheduled to host an information seminar at 6:30 p.m. April 3 at the Seven Hills Conference Center, 3215 St. Rose Parkway. Along with meeting teachers, people can also interact with students.
"I have gone before," Devon said. "I like talking to parents about my experiences. They can ask me what it is like day to day."
Strozier said virtual education is the future.
"Our students are very tech-savvy," she said. "Any school that doesn't provide some type of online component is going to be left behind."
For more information, visit connectionsacademy.com.
Contact Henderson/Anthem View reporter Michael Lyle at mlyle@viewnews.com or 702-387-5201.
Clark County Virtual Schools
Clark County residents have access to several tuition-free charter school options from schools with traditional classrooms to those with online offerings.
Online schools include:
Nevada Virtual Academy, www.k12.com/nvva
Nevada Learning Academy @ CCSD, ccsdde.net
Beacon Academy of Nevada, banv.org
Odyssey Charter Schools, odysseyk12.org
Nevada Connections Academy, connectionsacademy.com