Wave of anxiety hits Clark County schools over DACA demise
September 11, 2017 - 5:49 pm
Updated September 11, 2017 - 9:54 pm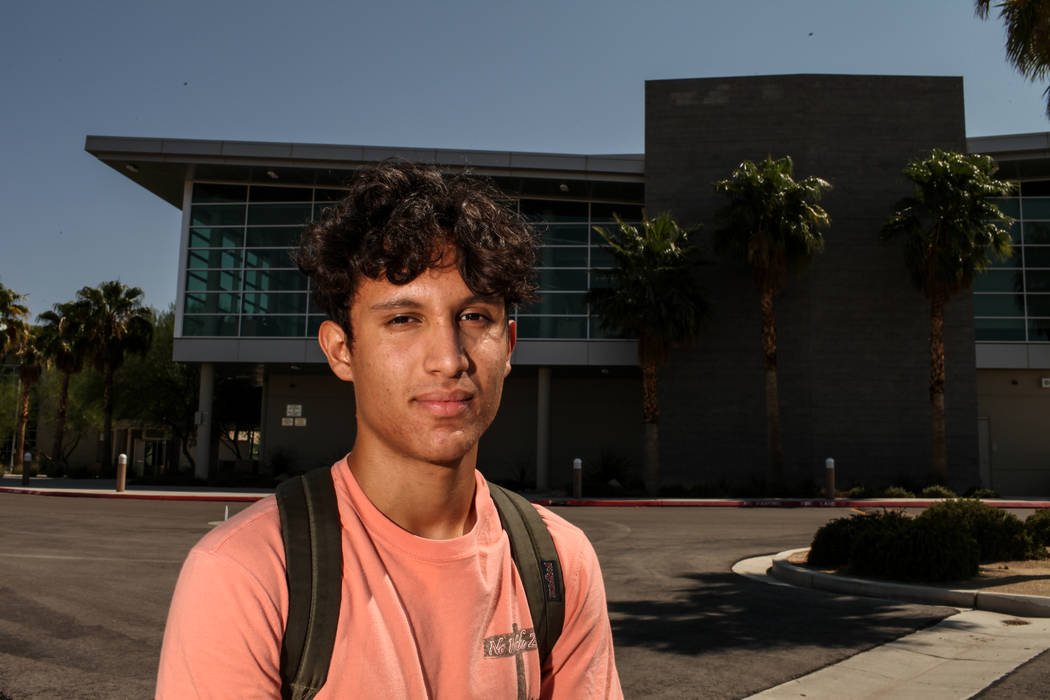 Johan Gaytan remembers nothing of crossing the U.S.-Mexico border at age 6, and he has only a few faded memories of his homeland.
Now the 17-year-old senior at East Career and Technical Academy in Las Vegas is bracing for the future following last week's announcement that the Trump administration is rescinding the Deferred Action for Childhood Arrivals program, or DACA.
"I always knew that there was going to be an end to this, and the end could be for better or for worse," said Gaytan, the only member of his family in the program. " … We didn't realize it was going to be so quick."
Most DACA participants are young adults, but Gaytan and other minors in the program could miss out on a big advantage enjoyed by their elders if Congress fails to come up with a replacement: the ability to pursue an education without fear and legally work to pull themselves up the economic ladder.
Gaytan, who hopes to attend UNLV and pursue a business career, said all he can do now is focus on school and finding a job as the expiration of his DACA-enabled work permit in 2019 approaches.
"I can't control government, and I can't control the Trump administration," he said. "But I can control what I can do, and that is getting a job and getting some sort of income to help my mother."
Reassuring undocumented students
The Clark County School District issued a resolution in January declaring schools a "safe space" for students. The resolution restricted access to students' immigration information without parental consent or a court action.
The district reminded families of that resolution again last week, after the Trump administration said it would end DACA in March 2018.
"We don't track who's undocumented," said Trustee Carolyn Edwards, who proposed the resolution. "And we're not going to be asking, and we're not going to be reporting it either. That remains the same."
But some Clark County residents say allowing undocumented children to attend public schools is fundamentally unfair.
Chuck Muth, president of the conservative grass-roots advocacy group Citizens Outreach, used the Legislature's failure during the past session to fund the state education savings accounts program to make the point.
"Here I am, a United States citizen who pays his taxes and a citizen of Nevada, and I have to worry about my own kids' education," he said. "And yet the children of people who are in our country illegally are getting a free education, while I'm paying for my own. That angers me."
The ESA program would have set up publicly funded accounts to cover costs for private school tuition for those who did not want their children in a public school.
When the ESAs were not funded, Muth said he and his wife continued to home-school their children at their own expense.
"I'm not saying don't educate them. I think we do need to," Muth said of undocumented students. "But I think somebody should take into the account the unfairness of noncitizens getting a free education while people like myself and people sending their kids to private schools are paying both ends of the stick."
Fear among parents
Amid the continuing political debate, the atmosphere at Clark County schools remains tense.
Sunrise Mountain High School teacher Charles Scorpiniti said he saw a clear sign of concern in his classroom the day after the DACA announcement.
"There were a lot of kids that decided not to come (to school)," he said. "I think they probably just didn't feel comfortable. But the whole place was real empty."
DACA recipient Erika Rivera, a Desert Pines High School graduate and parent of a 6-year-old student at Lunt Elementary, gives anguished voice to the fears gripping many in the undocumented community. Both of her daughters were born here as citizens.
She sobbed in her small Las Vegas apartment as she contemplated having to take her children with her to Mexico if DACA ended and she were deported.
"They would have to pay for something that I didn't even do," said Rivera, who was brought into the country at 9. "My only crime is not being born here. "
Like many other recipients, she's scared that immigration authorities could target her once her permit expires.
"They have all my information. They have my daughter's information," Rivera said. "I'm scared that one day I'm going to go pick her up and that (Immigration and Customs Enforcement) is going to be waiting for me."
An undocumented education
If DACA ended tomorrow, students such as Gaytan likely still could go to college, if they could raise the money and weren't subject to deportation.
Higher education institutions have admitted undocumented students for many years, said Steven Bloom, director of government relations for the American Council on Education.
"If Congress doesn't act in time and DACA goes away completely, I'm sure that many schools would continue to admit them," he said. "And some would do their part to provide institutional resources to make sure that those students have the money they need to succeed in college."
As a DACA recipient, Gaytan cannot receive federal financial aid for college, but he still plans to apply to UNLV and complete as much of a bachelor's degree as he can.
At worst, he says, his education would give him some advantage in the Mexican economy if he and his family are deported.
"There is no other way which I can make a difference with myself and my family without education. There is no other way to succeed and push forward," Gaytan said. "Education is everything. Without it, you're no one."
Contact Amelia Pak-Harvey at apak-harvey@reviewjournal.com or 702-383-4630. Follow @AmeliaPakHarvey on Twitter.
A right to public education
The School Board's "safe space" resolution passed in January simply restated how the district has always operated — in compliance of federal law. The federal Family Educational Rights and Privacy Act prohibits schools from releasing personal information without a student's consent, with a few exceptions.
Education for undocumented students was also solidified through a 1982 Supreme Court decision, which concluded that even students in the country illegally have a right to public education under the Fourteenth Amendment.
— Amelia Pak-Harvey