Western Governors University students celebrate graduation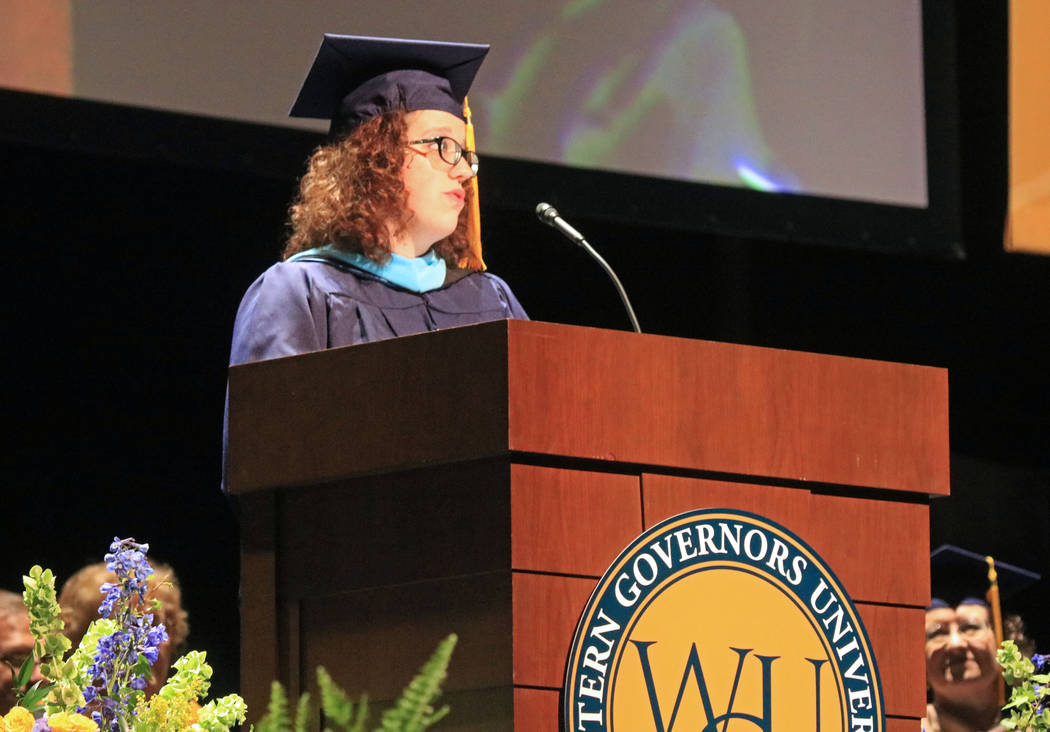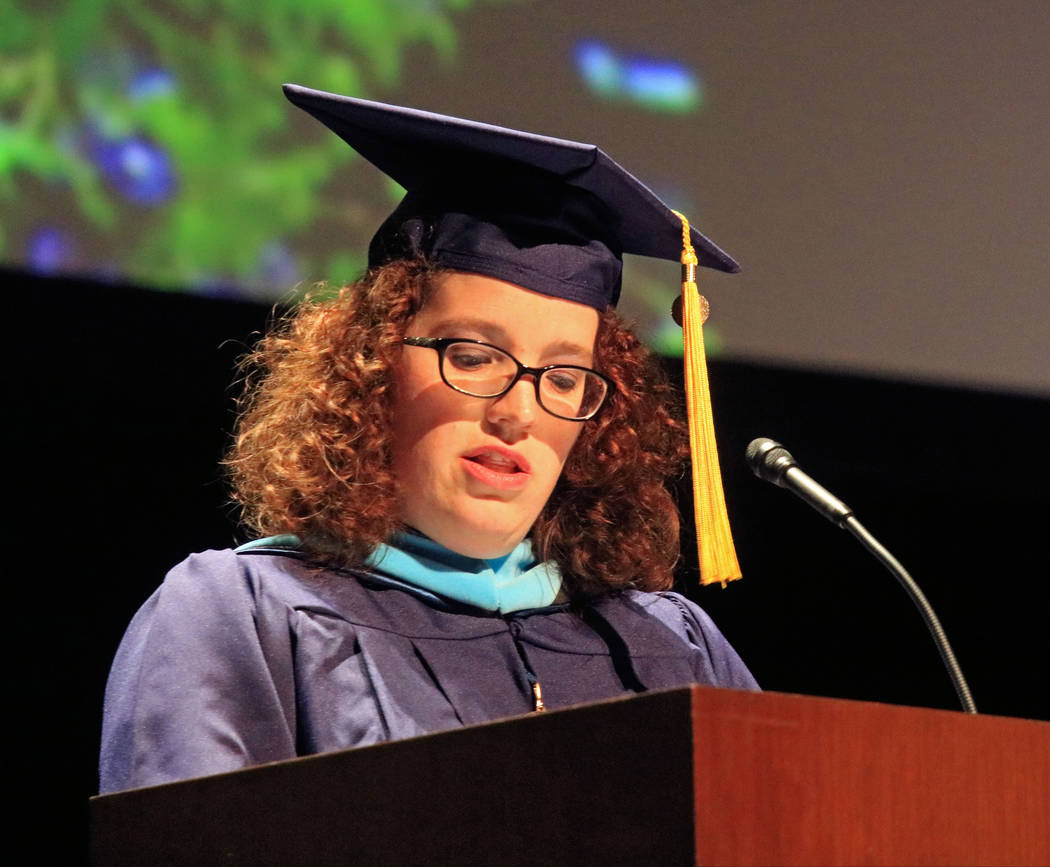 As Carrie Brown approached The Smith Center's lectern to address about 100 fellow Western Governors University graduates Saturday, her imminent speech wasn't the only thing stirring her nerves.
Brown thought back to about 15 years earlier, when she'd been told to leave her high school graduation because she'd decorated her cap with Native American regalia. An eagle feather had dangled by her ear. Her Great-Uncle Beno had helped bead the cap; each bead a prayer for Brown.
The 33-year-old's cap had similar adornment Saturday.
"I always feel slightly paranoid now when I graduate," she told her fellow students after an introduction in the Northern Paiute language. "I feel like I don't belong."
"However," she continued, "My WGU degree and commencement is different. I fought with it, struggled with it and wanted to give up several times. But it's mine. I earned it."
Brown's class is only the second to graduate from the online nonprofit university launched in Nevada in 2015. About 400 students graduated this year, WGU Nevada Chancellor Spencer Stewart said.
U.S. Rep. Ruben Kihuen, D-Nev., spoke to the students about the importance of education not just for himself, but for his parents, who came to the United States from Mexico for work.
His parents were proud at his congressional swearing-in ceremony in January. But his mother cried when he graduated from UNLV.
"The proudest moment for me and my family was walking on the stage at Thomas & Mack," he said.
"Today is not just about you," he continued. "It is about the family members who helped you get here."
Some of those family members couldn't be at the ceremony. Student speaker Logan McDaniel, said his son Larry had died at age 8 after years of surgeries related to extra fluid that put pressure on his brain and an infection that had inflamed his brain and spinal cord membranes.
McDaniel, 38, dropped out of college in the early 2000s to care for his ailing son. Larry died in October 2008.
McDaniel enrolled in WGU after his boss told him he'd gone as far as he could in health care information technology without a bachelor's degree.
Standing before his fellow students, he thanked his wife, two children born after Larry and his mother, who died in March 2016. McDaniel earned his bachelor's degree in January and walked Saturday for a master's of business administration in information technology management he has almost finished.
"The knowledge that she would have been the proudest mother sitting out in that crowd today pushes me to keep chasing that love of learning," he said.
Before she spoke onstage, Brown said she returned to school so she could take better-paying positions within the Reno-Sparks Indian Colony. She was graduating with a Master of Science in management and leadership.
The great-uncle who'd helped her decorate her high school cap had died in July 2009 and never saw Saturday's WGU ceremony. But he helped shape her, she said.
"It's a memory of him I'll always have," she said.
Onstage before her fellow students, Brown said living as a Native American woman means dividing life between warrior-worker and nurturer-scholar roles.
"Today, I get to be both," she said.
Contact Wade Tyler Millward at wmillward@reviewjournal.com or 702-383-4602. Follow @wademillward on Twitter.