Workforce Connections grant helps pay students to clean up Desert Rose Adult High School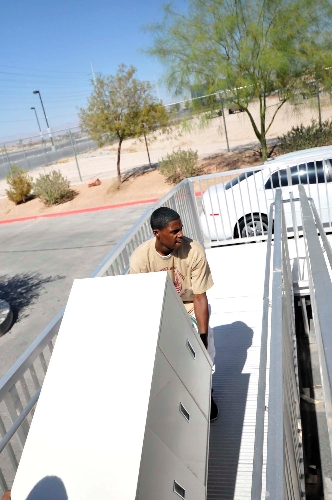 Students at Desert Rose Adult High School are learning the value of hard work.
Desert Rose, 444 W. Brooks Ave., employed 11 students this summer to beautify the campus and prepare it for the fall semester. Monday through Friday, they can be found cleaning classrooms, scraping gum from underneath desks, moving furniture, shampooing carpets, tending to the garden and more. For many of them, it is their first job. They make minimum wage, $8.25 an hour.
All of them are also working toward a GED and/or high school diploma.
The summer work program is part of the Workforce Investment Act Year-Round Youth Grant, sponsored by Workforce Connections, 7251 W. Lake Mead Blvd., Suite 200.
Workforce Connections is Southern Nevada's local workforce investment board, funded by the U.S. Department of Labor.
The WIA grant subsidized a 15-month program to get 76 students on track to graduate with extra support and resources. The summer work component is part of the program.
Desert Rose's youth grant facilitator, Charles Thompson Jr., oversees the students. He keeps a giant chart in his office with all 76 names and tracks each individual's academic progress. He meets with the students every day after their shifts to talk about their work and to have them fill out activity logs that can be used to enhance their resumes.
Delano Borden, 20, failed out of Clark High School three years ago and came to Desert Rose in January. He lives at the HELP of Southern Nevada Shannon West Homeless Youth Center, 1417 Las Vegas Blvd. North.
Borden needs 10 more credits to get his high school diploma and hopes to find a job —- janitorial or other —- after he graduates. He recently opened his first savings account and plans to use the money to buy a car or rent an apartment.
"Mr. Thompson (and) everybody in portable nine have helped me a lot," Borden said. "… I just want to be successful, be stable and have a stable living arrangement."
Elizabeth Gomez, 19, tends to the school's many gardens and greenhouses most days. She has her GED diploma and is working toward a high school diploma.
"It's been really great," she said. "It's not so stressful. It's a familiar place and I'm comfortable. … I'm just really grateful for it."
Gomez, too, is trying to save her money to afford a car. After graduation, she said she wants to attend college and law school.
Thompson takes joy in talking about the students and their successes. He called several of them his "pride and joy."
"Job experience is so important," Thompson said. "Not all kids are going to be brain surgeons. If you've got the skills to be successful, you can get a job.
"We may be over here by the trash dump, but we've got kids worth saving."
Thompson said he and others will not only help these students create resumes and provide letters of reference but also help place them in jobs after the work program ends Aug. 17.
Contact View education reporter Jeff Mosier at jmosier@viewnews.com or 224-5524.