Youth theater program taps Strip and Art's District talent to help put on 'ASAP Superhero Academy'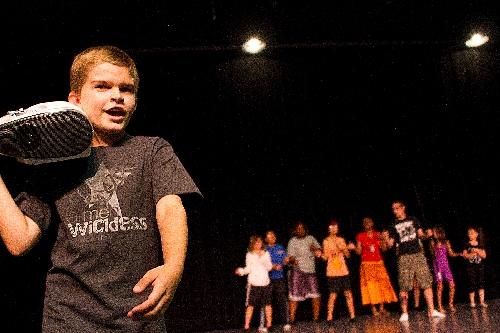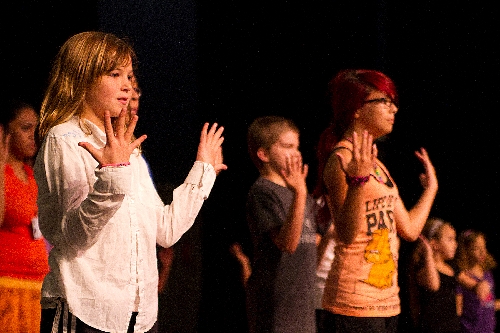 This summer the superheroes aren't just in the summer blockbusters and being featured at your friendly neighborhood comic shop. They're at the Winchester Cultural Center in the original Winchester Players Production "ASAP Superhero Academy."
"ASAP stands for all super, all powerful, and it's about all these superheroes on a floating island," said Susan Swanson, who directs the Winchester Players with her brother, Chris Swanson. "It's a place like 'Brigadoon.' All the superheroes wait there until they're needed."
The Winchester Players put on several shows each year, but the summer show is always a big one that the crew works on during the three sessions of the center's Summer Theater Boot Camp.
The second session of camp is nearly finished, but the Swansons still are looking for a few good superheroes to round out the roster.
"We really would like to have a few more kids to round out the cast," Susan Swanson said. "This year the boot camp kids have such a great opportunity to work with performers from Cirque du Soleil and '(The) Lion King.' "
Keena Smith, who works with Clark County Parks and Recreation, spent several years performing with "The Lion King" on Broadway and with a touring company. She's teaching the players some of her moves for dynamic action.
"I worked with 'Flying By Foy' doing a number that was trimmed out of the local production of 'The Lion King,' " Smith said. "It was a duet dance in the sky during the 'Can You Feel The Love Tonight' number."
The superhero show is expected to include sets by artists from the county's ZAP! project, in which fine artists paint on utility boxes in area neighborhoods.
"It's going to be a metropolis and a Greek theme together," Susan Swanson said. "It's going to be an amazing set."
As Swanson describes the plot, it involves a fair amount of Greek pathos, pop culture and daring do, all set to music drawn from the 1980s and '90s with some contemporary tunes, too.
"We're mixing it up," Susan Swanson said. "We have the song (Bette Midler) sang, 'Did You Ever Know That You're My Hero?,' and songs on the other end of the spectrum, like 'Kung Fu Fighting' ."
In addition to the Swansons, staff from several Strip shows are pitching in to teach and help out in other arenas.
"Kerry (Adderly) from Cirque du Soleil is coming in to teach the acrobatics," Swanson said. "Keena from '(The) Lion King' is helping out with the choreography. The costumes are made by the parents, and Cirque du Soleil people are helping out with the makeup."
With the last few weeks of preparation winding down and the final session of the boot camp about to begin, Swanson and the rest of the instructors seem confident that it will all come together.
"The kids are working really hard," Smith said. "I think it's going to be a great show."
The final session of the Winchester Players Summer Theater Boot Camp is set to run from July 26 to Aug. 19. The cost to participate is $320.
Performances of "ASAP Superhero Academy" are scheduled for 7 p.m. Aug. 19 and 20 at the Winchester Cultural Center, 3130 S. McLeod Drive. Tickets are $5. For more information, visit clarkcountynv.gov or call 455-7340.
Contact Sunrise and Whitney View reporter F. Andrew Taylor at ataylor@viewnews.com or 380-4532.