Former Cirque performers use talents to teach North Las Vegas students science
November 10, 2016 - 5:00 am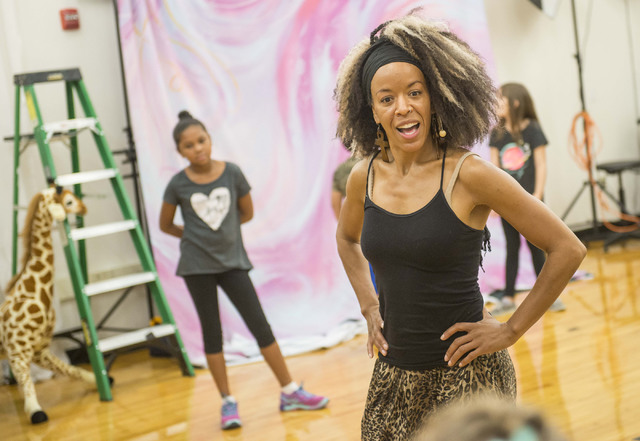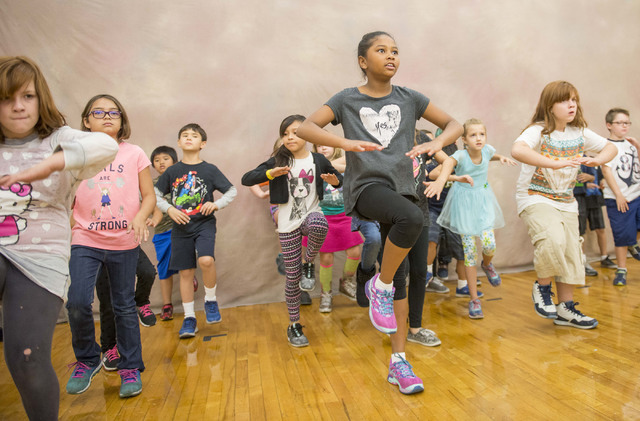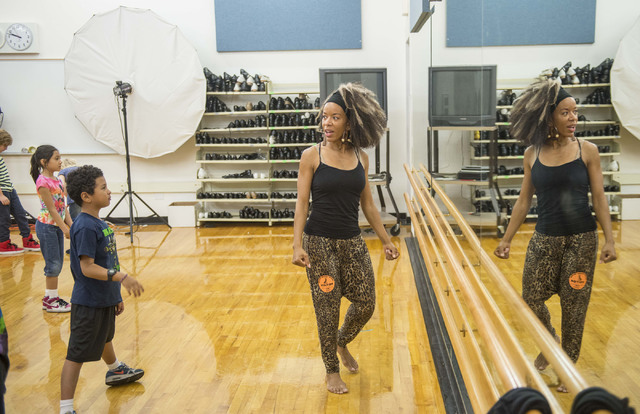 Dancing, miming and juggling — these are just a few of the lessons a handful of third grade students added to their weekly curriculum this year.
As part of a pilot program called Art Nomades, roughly 240 students from McCall Elementary School, 800 Carey Ave., and Gilbert Elementary Magnet School for Communication and Creative Arts, 2101 W. Cartier Ave., are receiving specialized instruction from current and former Cirque du Soleil performers.
"We're bringing circus arts to the curriculum," said Stacy Testo, magnet program theme coordinator for the Clark County School District. "It's nice to have people who have worked in the professional business of the arts to come and share their experience. It's really the perfect collaboration. Kids are excited to be a part of the program, and it's helped them build a motivation for learning."
The program is a partnership among the Public Education Foundation, the district and Cirque du Soleil. The schools were chosen based on socio-demographic data, which is similar to that of Saint-Michel educational institutions in Montreal, where the program originally launched.
In addition to inspiring students to venture into creative careers, Art Nomades focuses on integrating the arts with the standard curriculum of the classroom.
Two performers rotate their time once a week with the classroom's third-grade teacher to learn about everything from mathematics to science and social studies.
Former LOVE performer Kishema Pendu Malik sees students for an hour every Tuesday at Gilbert. Malik, who holds a master's degree in kinesiology, enjoys teaching students the art of dance while incorporating topics like gravity.
"Right now, I'm using movement to help students learn about force. Basically, I'm teaching students how to apply what they're learning to real life," Malik said. "Kids at this age want to play and move around. This helps keep students very engaged."
Tim Williams, a third-grade teacher at Gilbert, has helped integrate science into various types of dance moves and lessons on devil sticks, a form of gyroscopic juggling.
"The students love it," Williams said. "They don't even realize they're learning until after they're done. After the lesson, all they talk about is science (our focus for this week). It's really a great way of making a connection between the artists and classroom learning."
"I really think it's cool because I used to go to dance, but my dad took me out," said third-grade student Marcos Garcia, 8. "We've been learning about gravity and polarity and magnets through dancing and clapping. I enjoy that I get it and it's fun."
Benedikt Negro, mime performer at Cirque du Soleil's O show, hosts the class every Wednesday. Negro said he's always wanted to give back to his community in a way that his former teacher did for him.
"My fondest memory as a child was my math teacher, who taught basic math with a raven puppet," Negro said. "That puppet was a different persona and wasn't afraid to say crazy things while relating it back to math. I'm excited to create that experience for the kids."
In a similar style, Negro uses a persona named Professor Airlington, who is described as a troublemaker.
"I change into a lab coat and change my posture to look like an old professor," Negro said. "I talk to kids about concepts like Newton's Laws. Basically, he is the person who kindles the fire for the kids to want to learn things."
North Las Vegas is the second city to offer Arts Nomades. Cirque du Soleil has offered the program to over 5,700 Montreal students since 2006.
The pilot program is set to end in May; however, the program will remain in the schools for two years.
"I perform weekly in front of almost 20,000 people for Cirque du Soleil, but there's something different about performing in front of a group of 20 students in a classroom," Negro said. "One student told me that the coolest thing that happened this week was that I came here and juggled with them. I know these lessons will be useful to them 20 to 30 years from now. It's such a great opportunity."