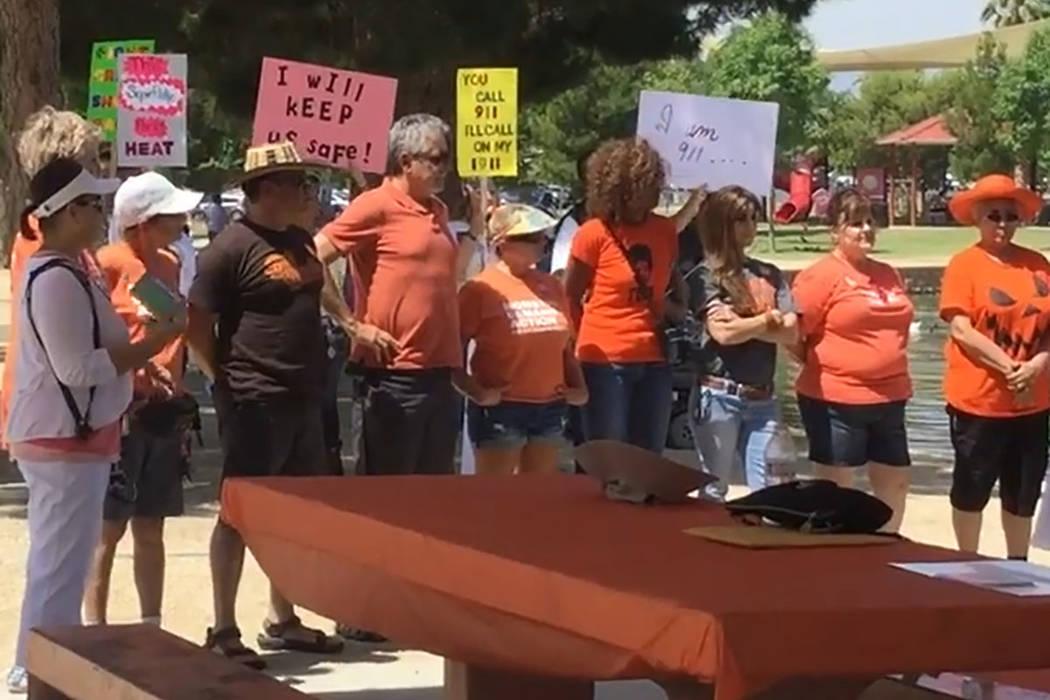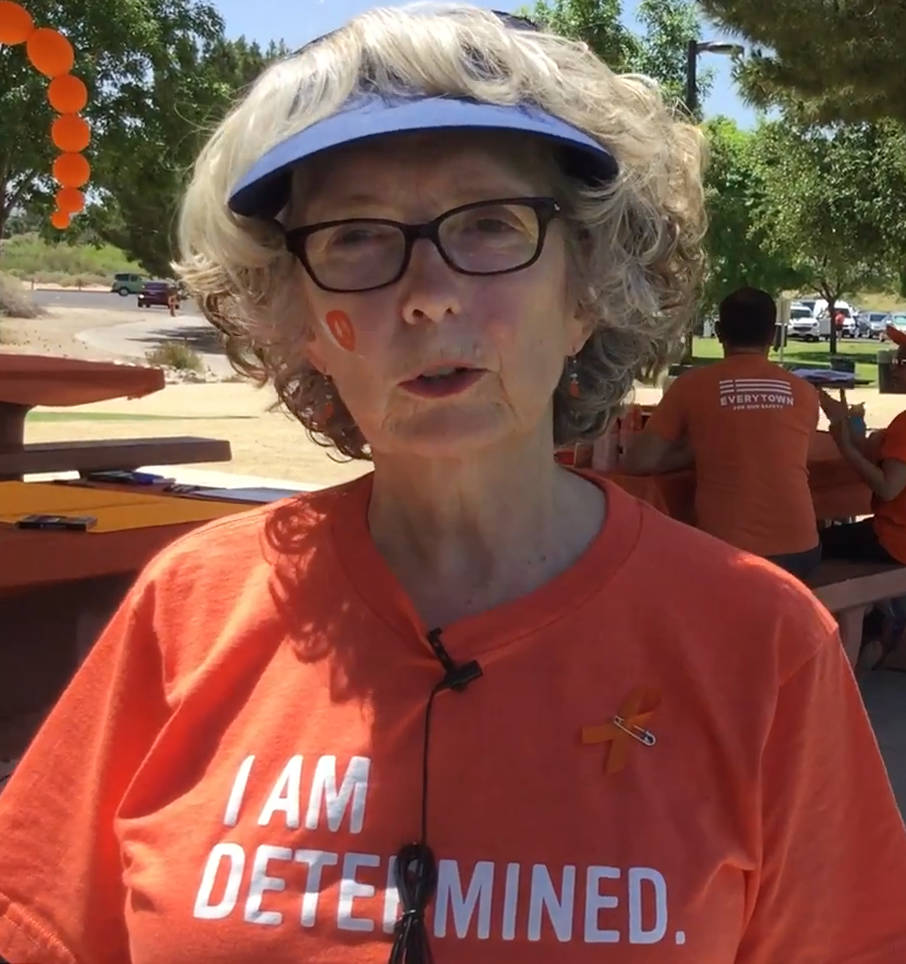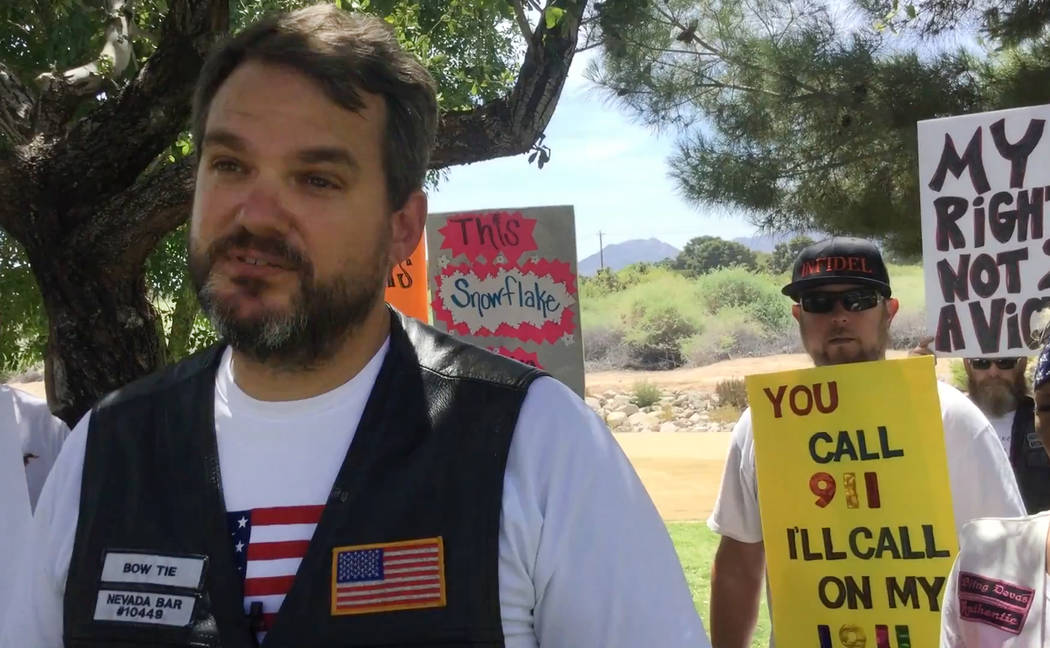 Orange balloons and American flag T-shirts stood out at Sunset Park on Saturday as one group advocated for decreased gun violence and a counter protester group looked on.
One group was observing Wear Orange Day, started in 2013 by friends of Hadiya Pendleton, a Chicago teenager who was fatally shot. While the official day was Friday, events are held nationally around that date by the organization Moms Demand Action for Gun Sense in America, said Wendy Starkweather, the leader of the group's Henderson chapter.
Starkweather said orange is the color hunters wear in the woods, and it signifies "don't shoot."
"Orange isn't about the gun debate or choosing a side," she told about 40 people. "It's about ending gun violence and saving lives."
As the Wear Orange group convened, about 25 other people stood to the side, holding posters in favor of gun ownership. The group, some with holstered guns on their hips, was there to defend people's rights to own guns, said Stephen Stubbs, the attorney representing the counterprotesters.
"They're trying to take away our choice to have guns," Stubbs said. "They are advocating for no citizens to have guns and only police to have guns."
Stubbs said he disagreed with the group's stance that police are the best suited to protect people, and that gun owners "are our own first responders." He said the best way to prevent gun violence was to be a responsible gun owner.
He also said he took issue with Moms Demand Action falling under the group Everytown for Gun Safety, which is funded by former New York City Mayor and gun-control advocate Michael Bloomberg.
Jeremy Slaughter, Nevada's organizing manager for Moms Demand Action, said the group was not there to take away people's guns.
"We strongly support the second amendment right to bear guns," Slaughter said. "There was nothing talking about taking guns away at all."
He said the event was to bring awareness to gun violence prevention efforts like education and safe storage. He said Nevada has a high rate of gun violence that can be reduced through efforts like expanded background checks for those purchasing guns, which Nevadans voted for in November. However, the office of Republican Attorney General Adam Laxalt in December issued an opinion deeming the expanded background check law unenforceable because the FBI refuses to conduct the checks and the state lacks authority to do so.
"If it was enforced here, then that would lower our crime rate," Slaughter said.
Everytown for Gun Safety heavily funded the campaign to pass the background check legislation.
But for Bilal Shabazz, Saturday's event wasn't about politics.
The 69-year-old volunteer told the group of how his daughter-in-law was shot in an attempted robbery, causing a miscarriage seven months into her pregnancy. Shabazz's son has also been shot in an attempted robbery.
"I have had some unpleasant experiences with guns myself," he said. "I've been shot at."
Shabazz said although it's sometimes difficult to speak about his and his family's experiences, it's important to say something.
"I speak because I want our message to be heard," he said. "I think that we're murdering our future, to be honest with you, and I think we need to do something about that."
Contact Katelyn Newberg at knewberg@reviewjournal.com or 702-383-0240. Follow @k_newberg on Twitter.