2 dead, 1 injured in Henderson apartment complex fire
Updated August 24, 2019 - 7:54 pm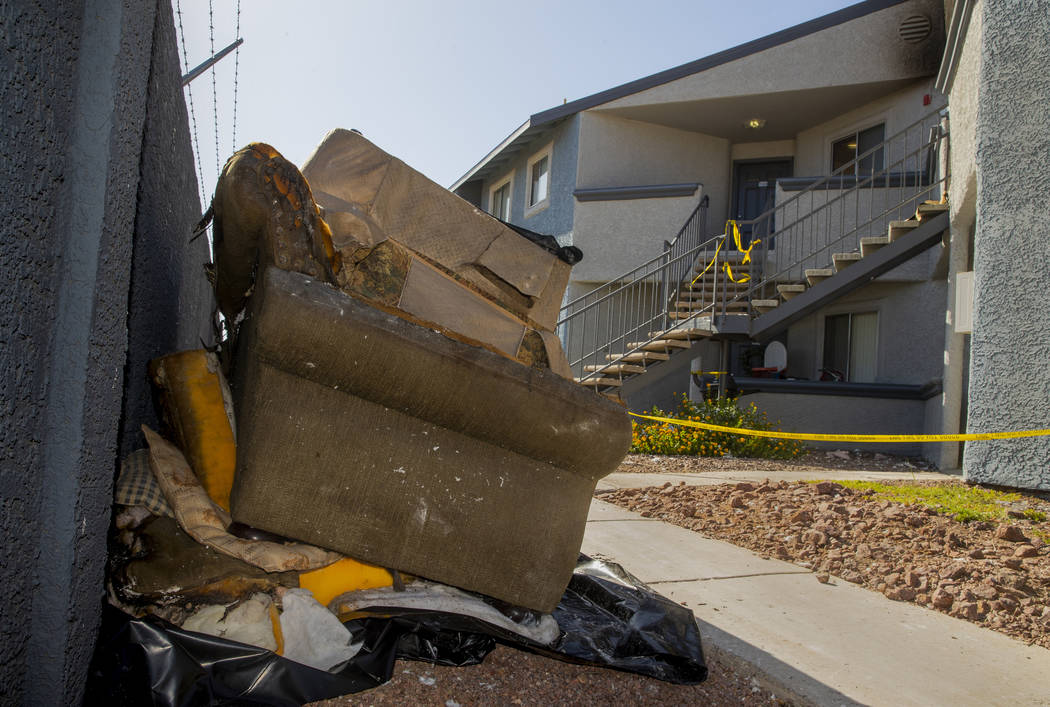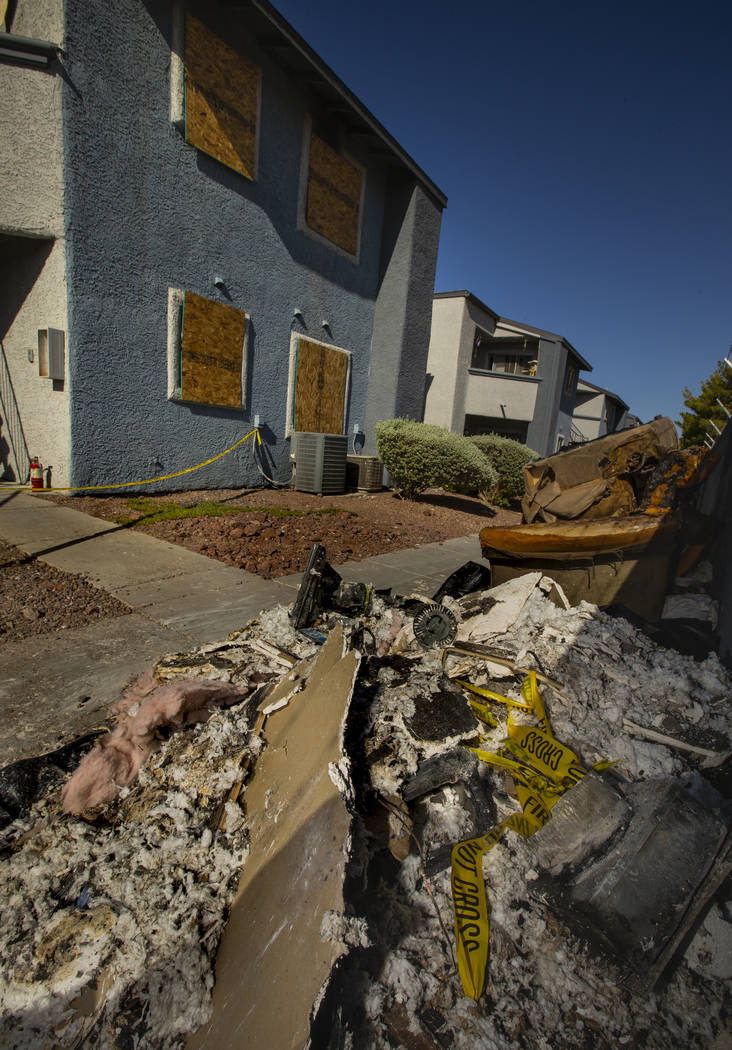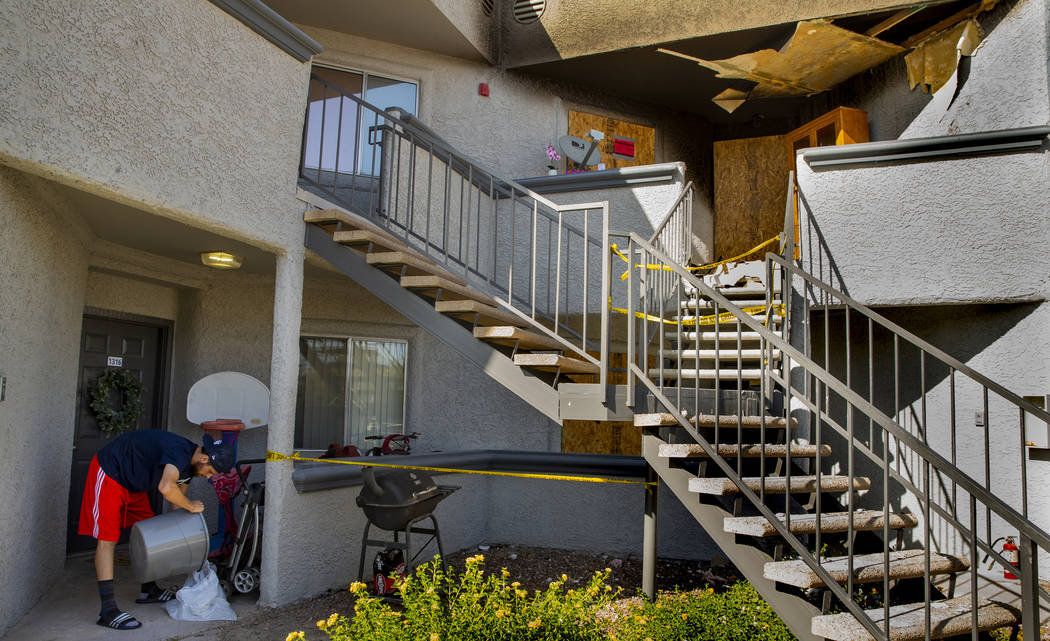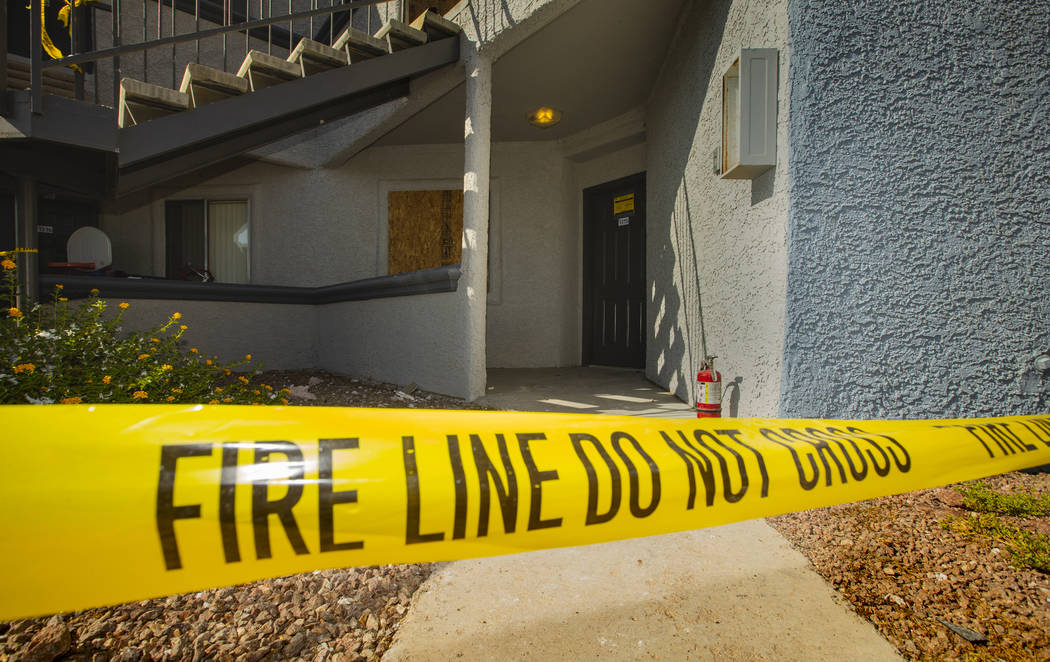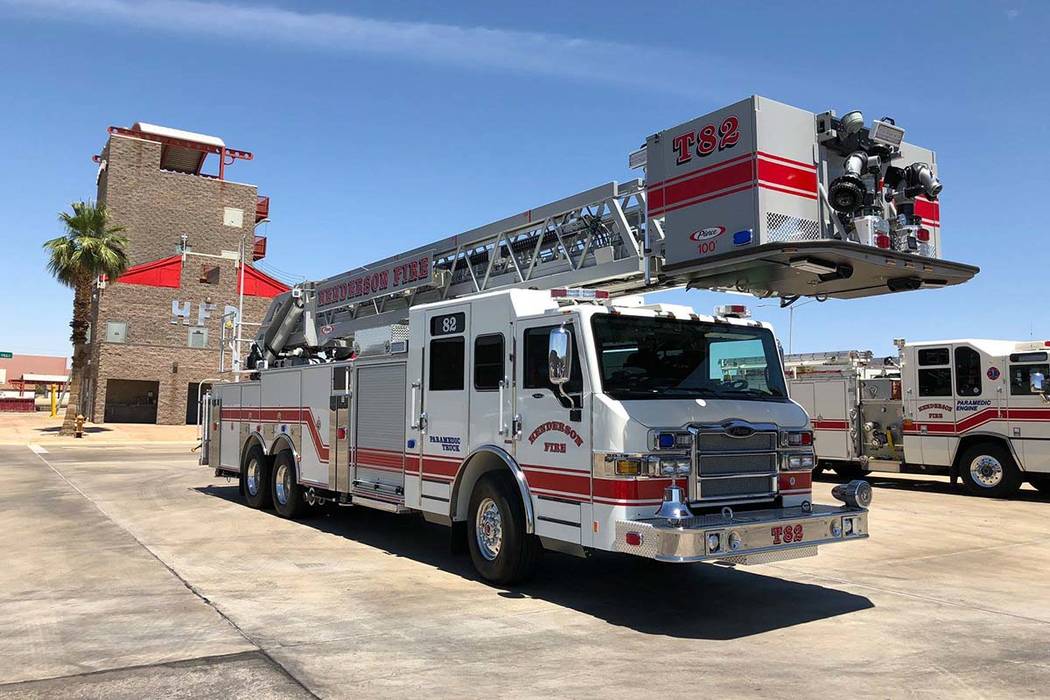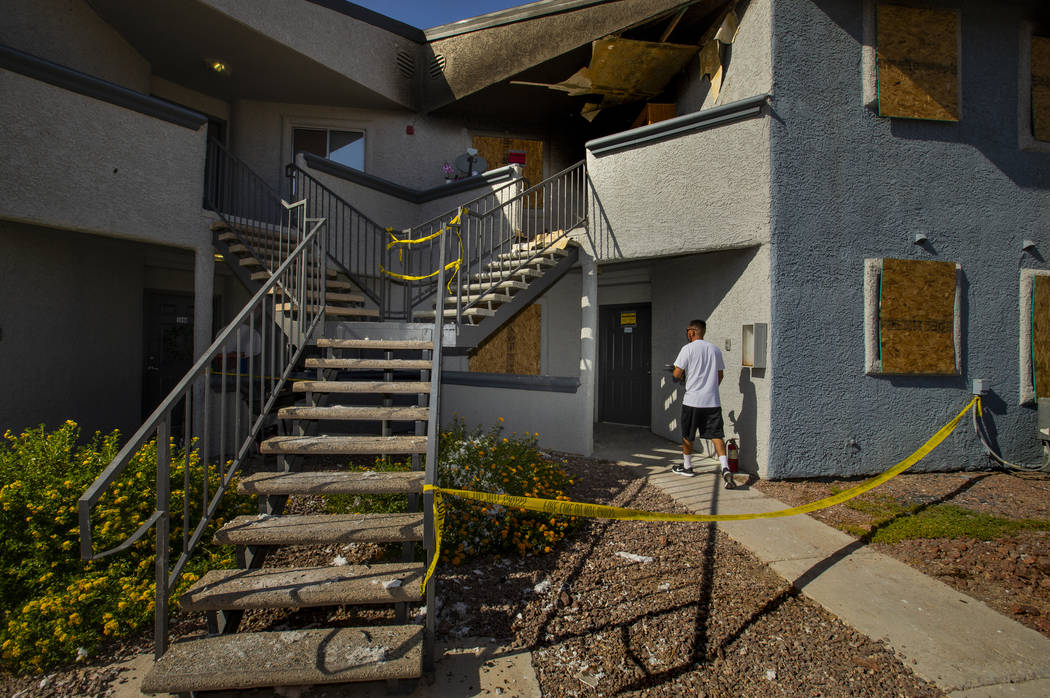 Candy Leach's voice shook as she recalled being surrounded by fire crews early Saturday, watching in shock as her longtime neighbors were carried out of a burning building.
"I'm a nervous wreck, to be honest with you," Leach told the Review-Journal Saturday afternoon outside the burnt apartment, the smell of smoke lingering in the air. "It was terrible watching them carry people out that didn't make it."
Two people died and another was injured in the fire at The Bristol at Sunset apartments, 2001 Ramrod Ave., near Mountain Vista Street and Sunset Road, according to Henderson spokeswoman Kathleen Richards. Emergency crews responded about 1:20 a.m. to find that "heavy smoke and fire" damaged multiple units in a two-story building.
A man and a woman were taken to Henderson Hospital, where they died. Another man was taken to University Medical Center and treated for smoke inhalation, Richards said. Three dogs also died in the fire.
Signs of the fire weren't visible from the road inside the complex Saturday afternoon. It wasn't until you rounded the corner behind Building 13 that the remains of fire-damaged furniture sitting on the sidewalk came into view.
Caution tape roped off a downstairs and upstairs unit, where plywood covered doors and windows.
Leach and other residents said a mother and two adult sons lived in the upstairs unit. Leach and another neighbor, Gary Garcia, said one son was injured while trying to save his mother and brother.
"Sweet, kind, loving people," Leach said of her neighbors, whom she said lived at the complex for about five years. "This shouldn't have happened."
The man who died had "special needs," Garcia said. The man would walk his dogs around the complex, and Garcia would run outside to chat and offer him candy or a snack, Garcia said.
"He was an angel from God," Garcia said, standing next to Leach after they placed a flower, an angel figurine and a sign reading "love" outside the burnt remains.
No sprinklers
Multiple residents told the Review-Journal on Saturday that they don't have sprinklers in their units. Leach, who lives in the building where the fire broke out, said she believed all fire alarms in her building should go off if triggered in one unit.
Leach said she heard no alarms early Saturday. After living in the complex for 19 years, Leach couldn't remember another fire.
Henderson Fire Chief Shawn White confirmed in a text message that the apartment did not have sprinklers.
"There was a smoke alarm in the apartment, but it was melted and on the floor when we arrived, so we don't know if it was working," White said.
The cause of the fire remained under investigation Saturday, and multiple units were uninhabitable, Richards said. Damage was estimated at $180,000.
Information about previous fire inspections wouldn't be available until Monday, Richards said.
Leach said she was told by the mother's eldest son, who didn't live at the unit, that the family had been asking for a new stove from the complex "for months." Garcia said appliances in the complex are old, and maintenance requests can take a long time to complete.
"The appliances are failing," Garcia said. "Stoves are failing, refrigerators are failing."
'I do not feel safe'
In October, the Review-Journal published a series detailing deadly residential fires in the Las Vegas Valley, including several with dangerous living conditions and a lack of sprinkler systems.
Henderson Fire Protection Engineer Lynn Nielson previously told the Review-Journal deadly fires were tied to buildings without sprinkler systems.
"I am not aware of a single incident in a sprinklered residence where we've had a loss of life," Nielson said at the time.
Since 2008, more than 140 fires have killed more than 160 people in the Las Vegas Valley — a fraction of the thousands of blazes valley firefighters battle annually. The vast majority of the deadly fires took place in single-family homes, apartments or mobile homes.
Henderson has required sprinklers in newly-constructed homes since 2011, but state law only requires landlords to provide smoke alarms and keep buildings in line with the fire codes in place at the time of construction.
The Bristol and Sunset apartments were built in 1989 and purchased by San Diego-based MG Properties Group in September 2017, according to Clark County online property records. The 20-acre complex contains 432 units and has one- to three-bedroom apartments.
An administrator at the complex referred questions to MG Properties' corporate office, which was closed until Monday and could not be reached for comment.
Rents at The Bristol start at $1,063 for a one-bedroom, one-bath unit; $1,148 for a two-bedroom, two-bath unit; and $1,680 for a three-bedroom, two-bath unit, according to the complex's website.
In the aftermath of the fire, Leach said, she's thought about moving.
"I do not feel safe," she said. "I haven't gone to sleep. I'm scared — I'm terrified actually."
Contact Katelyn Newberg at knewberg@reviewjournal.com or 702-383-0240. Follow @k_newberg on Twitter. Contact Sabrina Schnur at sschnur@reviewjournal.com or 702-383-0278. Follow @sabrina_schnur on Twitter. Review-Journal staff writers Julie Wootton-Greener and Blake Apgar contributed to this report.