Authorities ID one victim, suspected DUI driver in fatal I-11 crash
Updated August 29, 2018 - 3:16 pm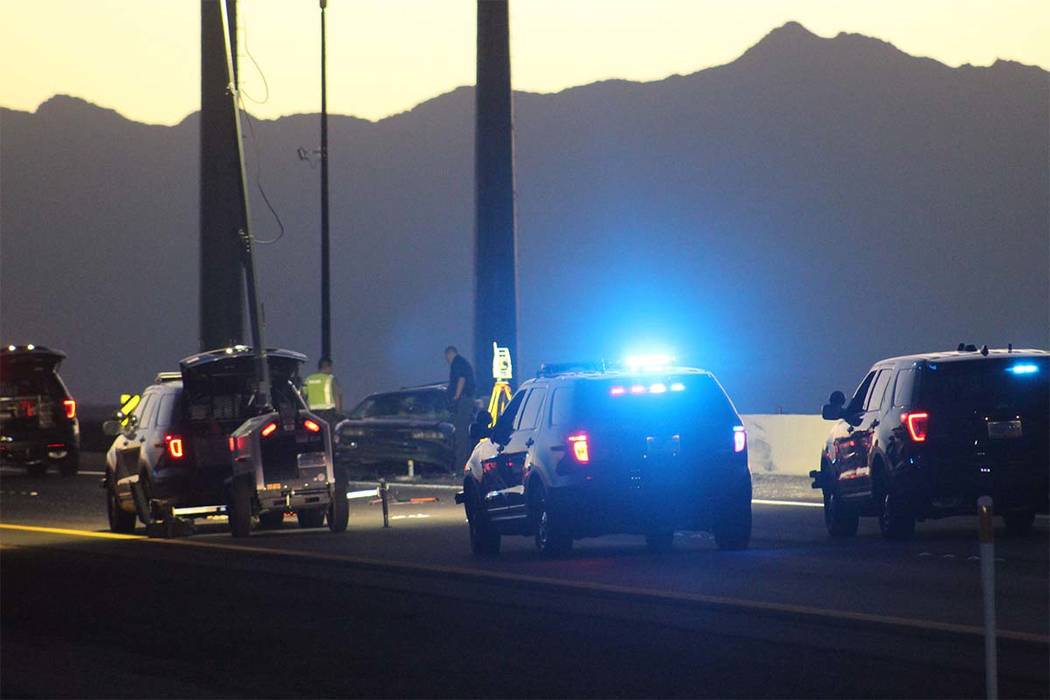 Authorities have identified one of two people killed in a crash on Interstate 11 early Tuesday as a Henderson woman and named the driver suspected of slamming into their vehicle on the highway's shoulder while impaired.
The crash was reported around 2:20 a.m. on the interstate south of Las Vegas after a 2014 BMW 355 driven by 39-year-old Antonio Romualdo-Macedo crashed into the back of a 1994 Honda Prelude parked on the right shoulder of the highway, Nevada Highway Patrol said. After the BMW hit the stopped sedan, it traveled across all southbound lanes before coming to rest on the left shoulder.
Jennifer Rene Taylor-Beasinger, 49, of Henderson, who was in the driver's seat of the Prelude, and another male occupant of the sedan who was in the back seat died at the scene, the highway patrol said. The male passenger who died had not been identified by the coroner's office as of Wednesday morning.
Another female in the sedan, who was in the front passenger seat, was taken to St. Rose Dominican Hospital, Sienna campus, with non life-threatening injuries, officers said.
Troopers believe Romualdo-Macedo, who's from New Mexico, was impaired and speeding at the time of the crash, the highway patrol said.
A 4-year-old child was in a car seat in the back seat of the BMW at the time of the crash, officers said. Romualdo-Macedo and the child were taken to University Medical Center and were listed in stable condition Tuesday.
Romualdo-Macedo faces charges including two counts of driving under the influence resulting in death, a count of driving under the influence resulting in significant bodily harm, and a count of child abuse or neglect, officers said. He was booked into the Clark County Detention Center, where he remained without bail Wednesday.
Tuesday's crash was the second fatal accident on the new stretch of highway, which opened less than a month ago. Highway Patrol Trooper Travis Smaka said Tuesday that both crashes were caused by human error.
Contact Katelyn Newberg at knewberg@reviewjournal.com or 702-383-0240. Follow @k_newberg on Twitter.