Black Mountain Golf and Country Club files for bankruptcy
October 5, 2017 - 12:09 am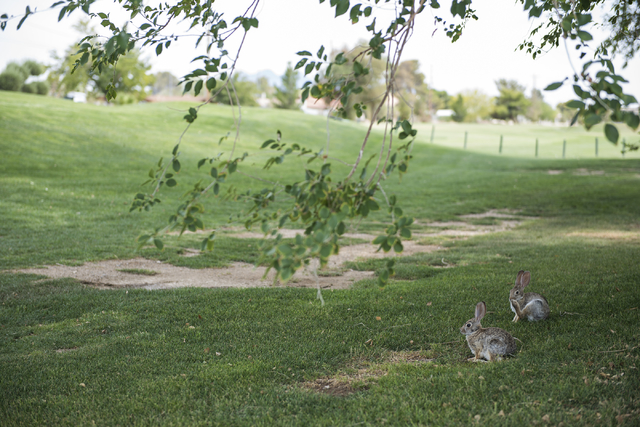 Another Henderson golf course could face a fateful change.
The once-shuttered Legacy Golf Course changed hands recently after fiscal struggles. Now Black Mountain Golf and Country Club at 500 Greenway Road, near East Horizon Drive and Greenway Road, has filed for bankruptcy.
The Chapter 11 filing came March 30. Members say the only way to save the golf course is to develop more than a thousand homes.
"Golf is not the most popular sport around," said Larry Tindall, president of the Black Mountain Golf &Country Club board. "This is the only way we can keep part of the course open. It wasn't an easy decision and we're all upset about it, but we would like to play golf there for the rest of our lives."
As part of the plan, the Founder's 9 – referring to the course's original nine holes — will stay open. Many in the community call the course the "crown jewel" of their neighborhood.
Tindall submitted a request earlier this month to the city of Henderson to rezone the area from a public open space to a single and multifamily with residential-use zoning. The city's planning commission will review the request Nov. 16 and it is set to go before the City Council in December.
The preliminary proposal is to build 740 single-family homes and 569 multifamily homes. The proposed development covers roughly 130 acres south of Greenway Road.
Black Mountain, a nonprofit founded in 1957, is now privately owned by 105 members. The average age of membership is 69 years old, Tindall said.
He said members were paying $1.8 million a year to operate the golf course.
At its peak in the 1990s, Black Mountain had 465 members. The Great Recession ravaged that count, Tindall said.
"We can't continue to operate it," Tindall said. "Our original goal was to keep the entire property open — all 18 holes — but we've been working on this for four years and we feel this is the best solution."
Despite neighborhood opposition, Tindall says this is the best solution for everyone. But resident Denell Hahn is wary.
"They haven't been totally forthcoming with us," Hahn said. "We're all very concerned about the historic element of our neighborhood. Henderson is great place to live because of its open spaces. We don't want them to bring a sea of houses that will cause traffic and overcrowding in schools."
Hahn and nearly 120 other families formed the Black Mountain Neighborhood Association to try to save the golf course. The group plans to work with city officials to find a solution.
City officials say they are monitoring the federal bankruptcy case to determine how it might affect the Black Mountain Country Club's future.
Contact Sandy Lopez at slopez@reviewjournal.com or 702-383-4686. Follow @JournalismSandy on Twitter.