Boulder City bighorn herd still ailing as 'insidious' bacteria spreads
January 2, 2017 - 12:09 am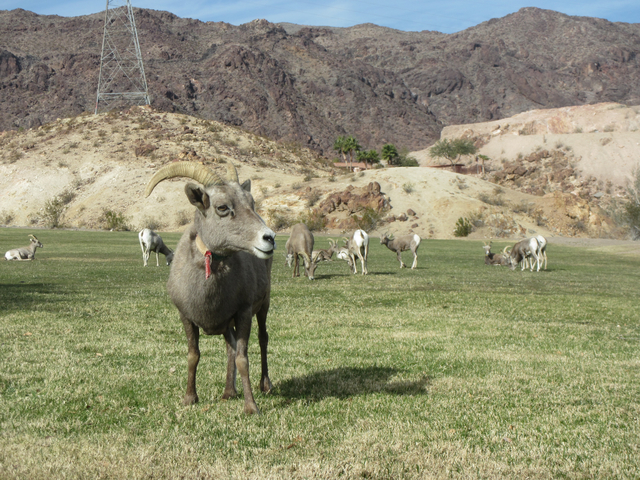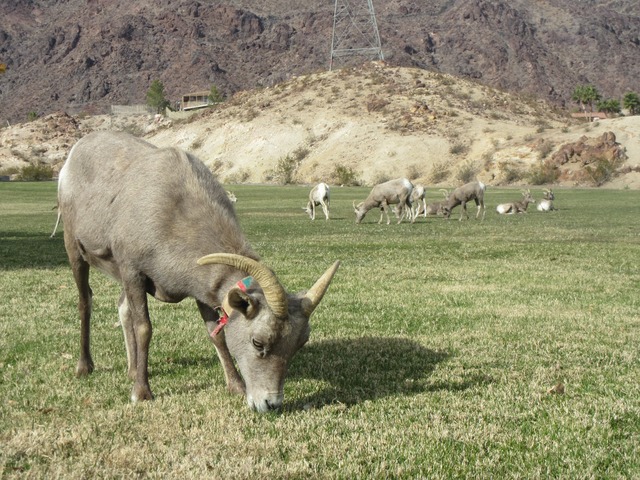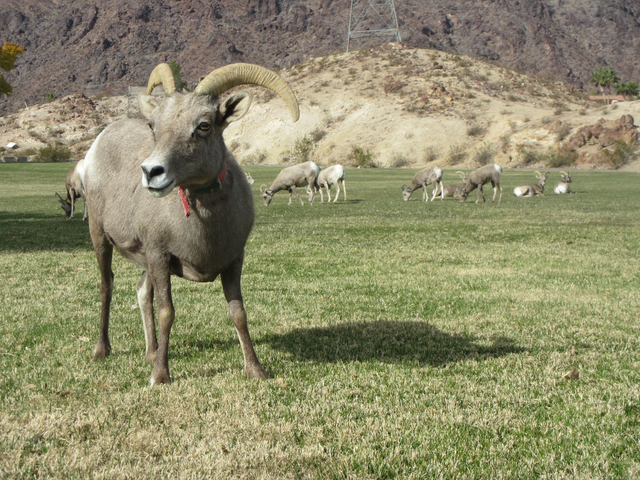 On a recent morning in Boulder City, a group of full-grown rams slowed traffic on U.S. Highway 93 as tourists stopped to photograph them grazing near the road.
Meanwhile, in a city park just to the west, about a dozen ewes lounged in the grass as if they owned the place.
It's hard to believe this herd of desert bighorns is teetering on the brink of collapse.
Though its numbers improved somewhat over the past year, the once-robust herd in the River Mountains between Henderson and Boulder City is still infected with an "insidious" strain of bacteria that causes deadly pneumonia, said Pat Cummings, a biologist for the Nevada Department of Wildlife.
Bighorn sheep have no natural resistance to pneumonia and tend to die when they get sick. Some of the animals that survive become carriers of the bacteria, infecting and often killing newborn lambs in a cycle that can diminish a herd for up to a decade, if not eliminate it altogether.
Wildlife officials believe the illness in the River Mountains began as early as 2012 and got worse when a more virulent strain of the bacteria made its way north from an outbreak that swept through Mojave National Preserve in California.
Cummings said counts conducted in October showed a higher ratio of lambs than in 2015, but the herd is still not producing enough young to sustain itself.
"But we're not seeing the bottom drop out of the population. We're hoping that won't happen," he said.
Cummings and company keep track of the herd from the sky, counting the sure-footed animals each fall by flying over the rugged mountain range in a helicopter.
In an average year, they will spot about 33 lambs for every 100 ewes. In a really good year, when range conditions are especially lush, the lamb-ewe rate can run as high as 50 per 100.
Last fall, wildlife officials counted just 15 lambs per 100 ewes. In 2015, the rate was six per 100.
Blood samples collected from animals in the wild show that the Mojave strain of the bacteria has spread into other herds in Southern Nevada, including those in the Spring and McCullough mountains.
The bacteria also has appeared in the Black Mountains just across the Nevada border in Arizona.
"Somehow, some way there must have been a sheep that swam across the Colorado River and it must have been a carrier," Cummings said. "We can't think of any other way it could have happened."
There's no way to treat sick animals or vaccinate healthy ones against the illness, which might have originated in domestic livestock. It does not pose a risk to humans.
"We're just going to have to ride it out and see how individual sheep herds come through it," said Peregrine Wolff, the state wildlife veterinarian for Nevada. "Right now, unfortunately, it's going to be kind of wait and see."
The outbreak has derailed a decades-long effort to restore and expand bighorn sheep populations in Nevada and elsewhere.
Last year, wildlife officials abruptly canceled plans to supply Utah with sheep from Southern Nevada's largest herd, in the Muddy Mountains near Moapa Valley, over fears of bacterial infection.
Bighorns once roamed nearly every mountain range in Nevada, but by the early 1960s the population had been reduced to about 1,200 animals in a handful of areas in the southern half of the state as a result of unregulated hunting, habitat loss and disease from domestic livestock.
Since 1967, wildlife managers have restored Nevada's official animal to more than 60 mountain ranges and helped boost its total population to more than 11,000 adults, more than that of any other state. More than a quarter of the nearly 2,900 sheep captured and relocated under the program so far have come from the River Mountains herd.
Cummings said that's all over for now.
"I don't see us getting back in the business of translocating desert bighorn sheep from the Southern Nevada source stock for at least several years," he said.
Contact Henry Brean at hbrean@reviewjournal.com or 702-383-0350. Follow @RefriedBrean on Twitter.