Cowabunga Bay used as Henderson rescue team's practice grounds
Updated October 25, 2018 - 8:21 am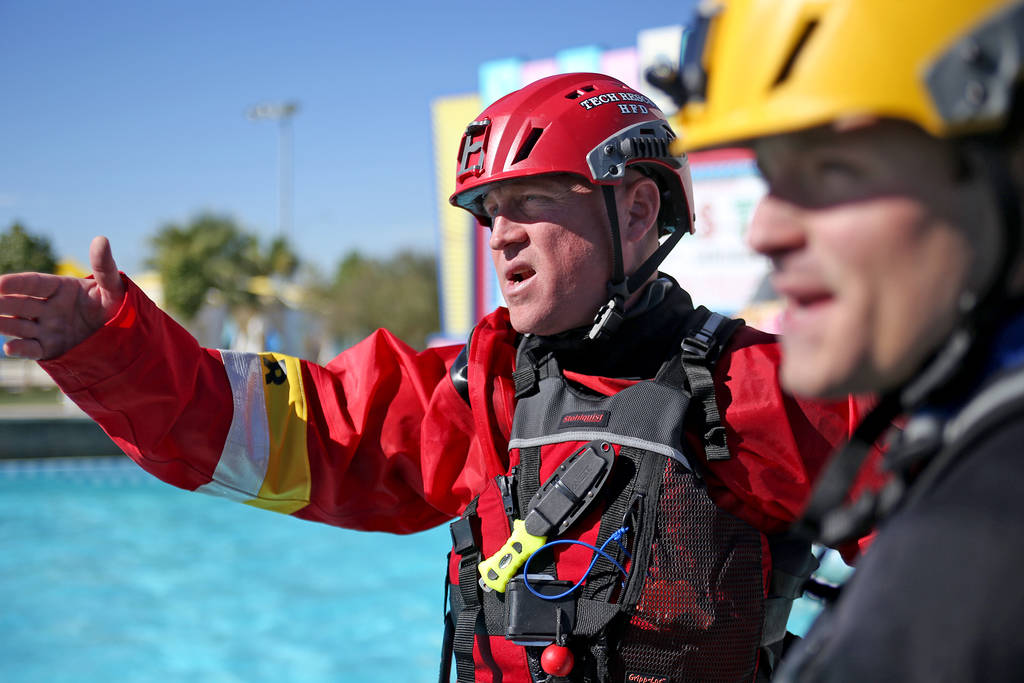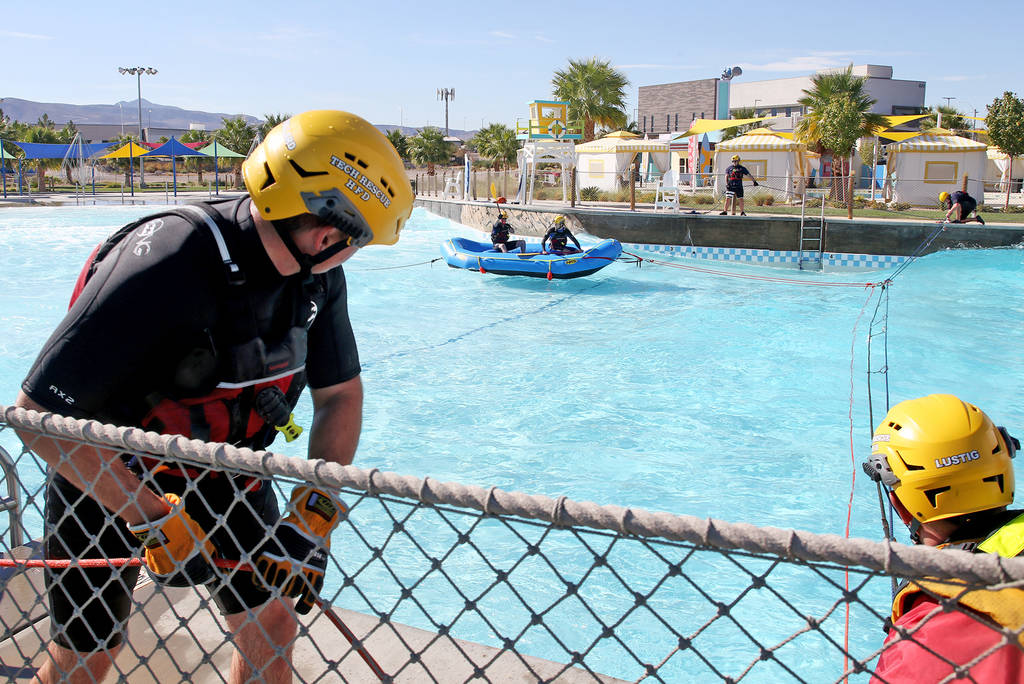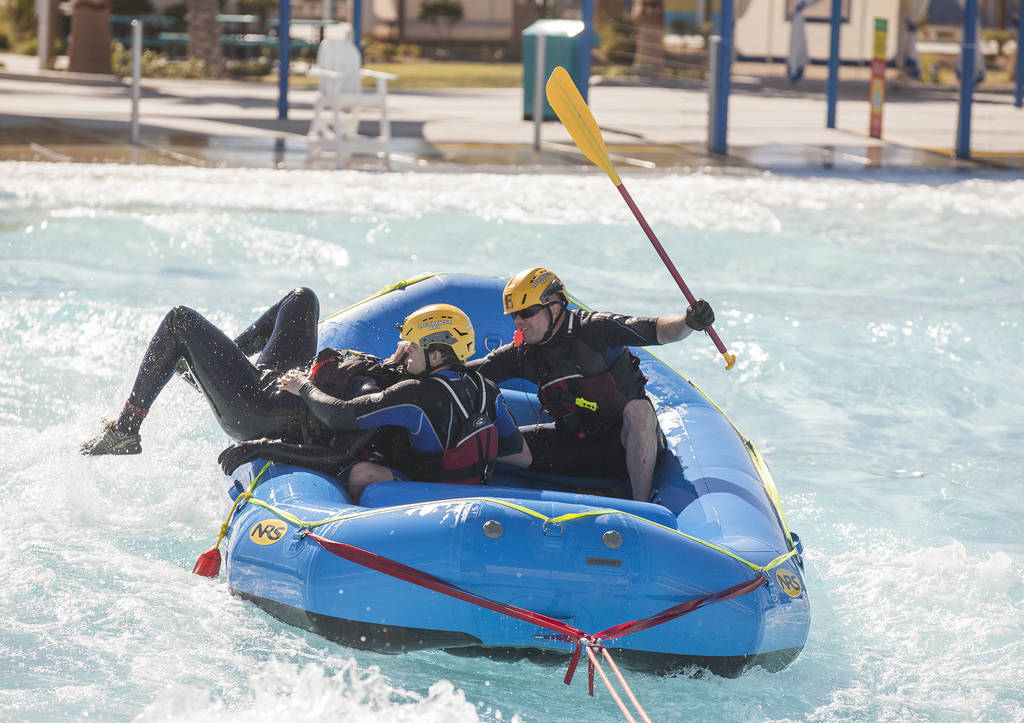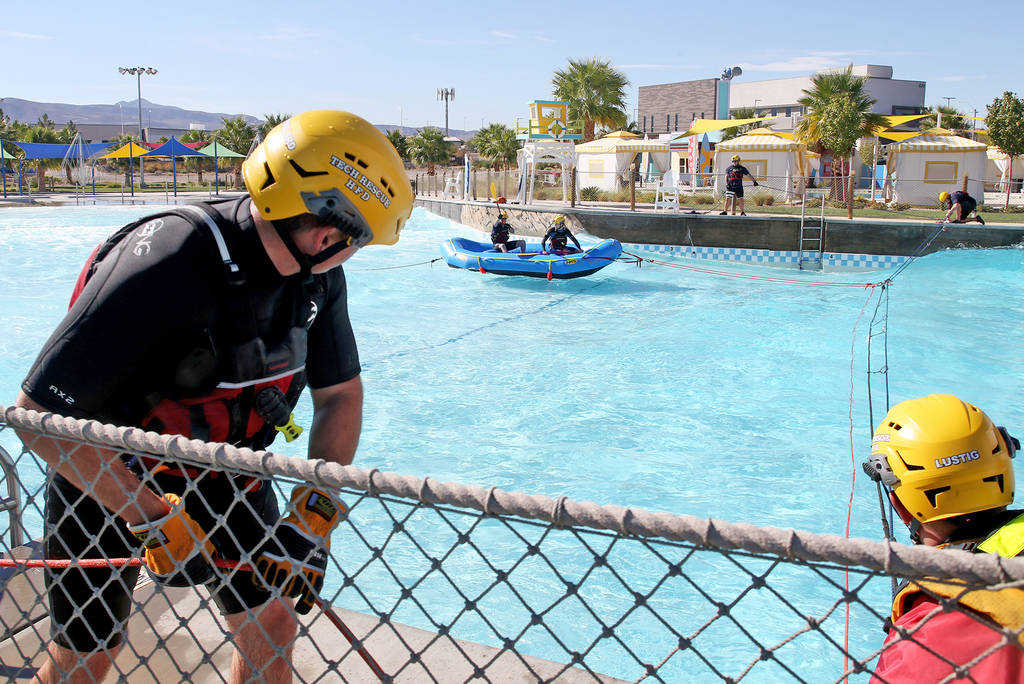 The Henderson Fire Department's technical team practiced rescues at Cowabunga Bay, using the water park's wave pool to simulate the choppy waters they sometimes face on the job.
The exercise Oct. 17 came after the department's recent purchase of a $5,000 water raft that will allow them it to more easily access people stranded in high or fast-moving water. The technical team is housed at Station 82.
"When we get the rains, especially in August, the flood channels get filled up with water and there's potential to get people trapped in there," said technical rescue captain Trenton Beal, a Boulder City resident. "We've done that a couple of times over the last couple of years … where people have been trapped … this gives us another option to go out rescue." Southern Nevada's flood season runs from July through September.
On Oct. 17, the team of six worked together through a ropes system, guiding the raft up and down the wave pool. The set-up stretched from one end of the pool, where waves begin, to the other end, where they stop.
"It's a faster, safer response. And it's much more effective," Deputy Chief Tim McKeever said of the new raft. "There will be a minimum of two people in the boat for rescues. The other members of the team will be the ones manning rope and tether lines to either move the boat upstream or downstream."
The team communicated through whistles and hand and paddle signals, a method extremely important during a rescue, McKeever said.
"In the event of a flood, time is of the essence," he said. "It's so important to have the commands. When the wave pool was on, it was hard to hear — same goes for an actual flooding event — (so) the signals back to the control lines on the side are very important."
The team has trained at Cowabunga Bay for the past few years. The wave pool's currents are similar to those in natural floods, said Cowabunga Bay general manager Marc Glissman.
The technical team honored Cowabunga Bay with a plaque following the training.
Contact Mia Sims at msims@reviewjournal.com. Follow @miasims___ on Twitter.