Debra March sworn in as mayor of Henderson
Updated June 20, 2017 - 9:55 pm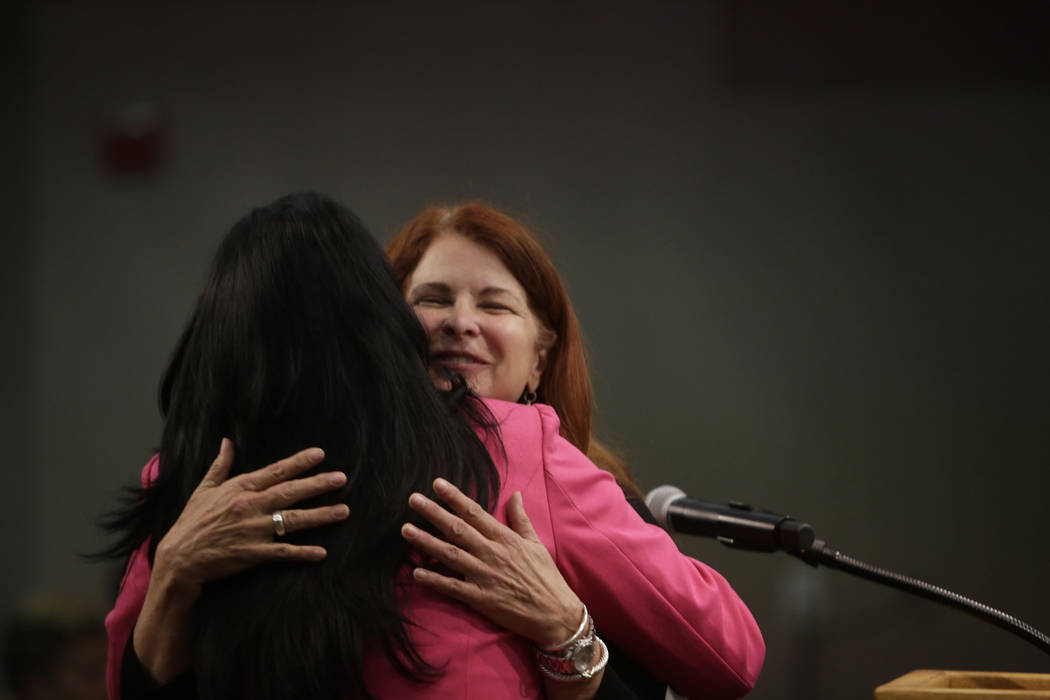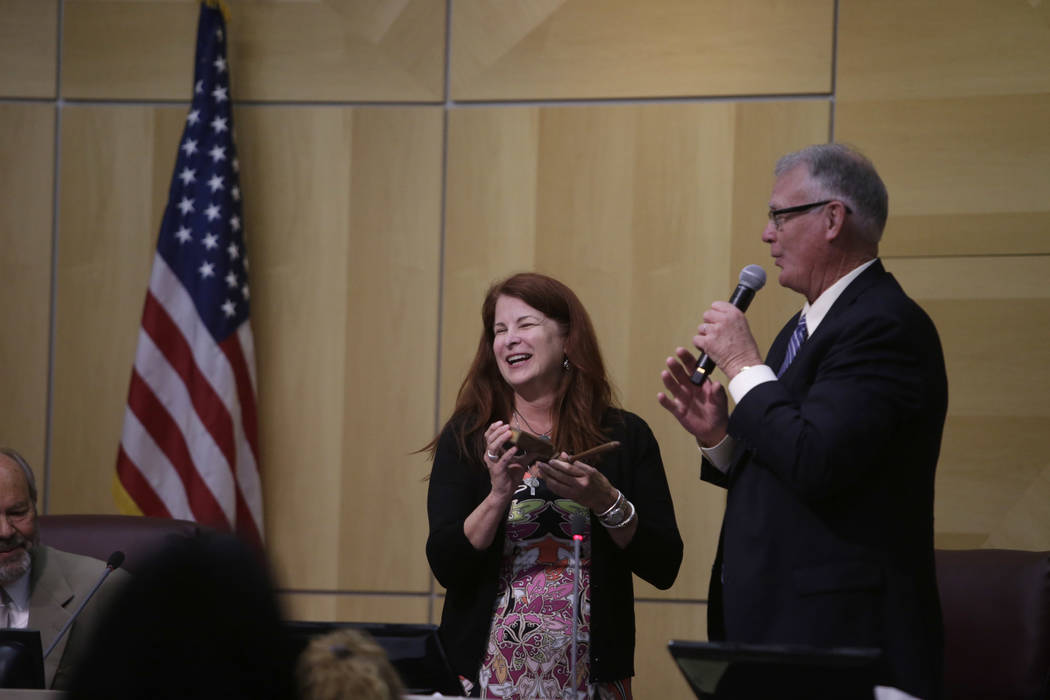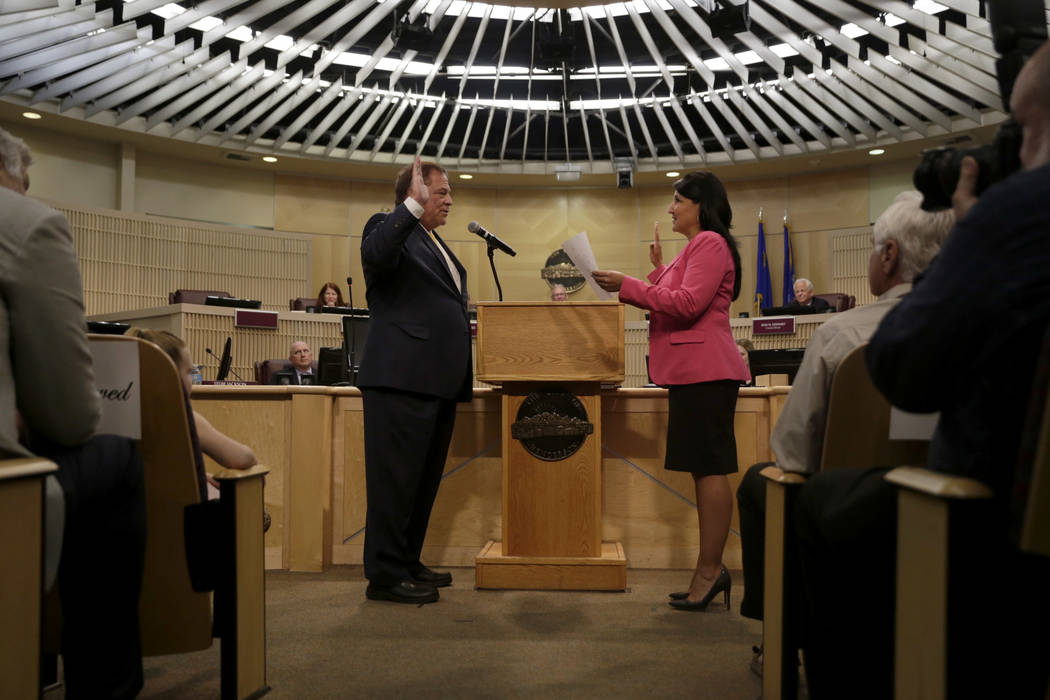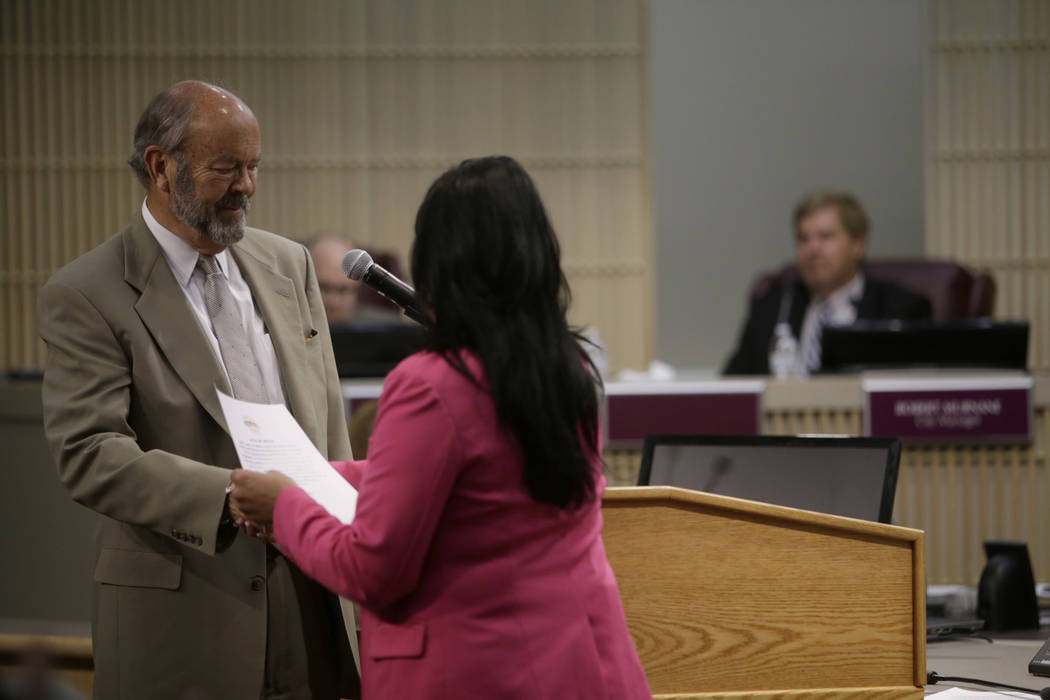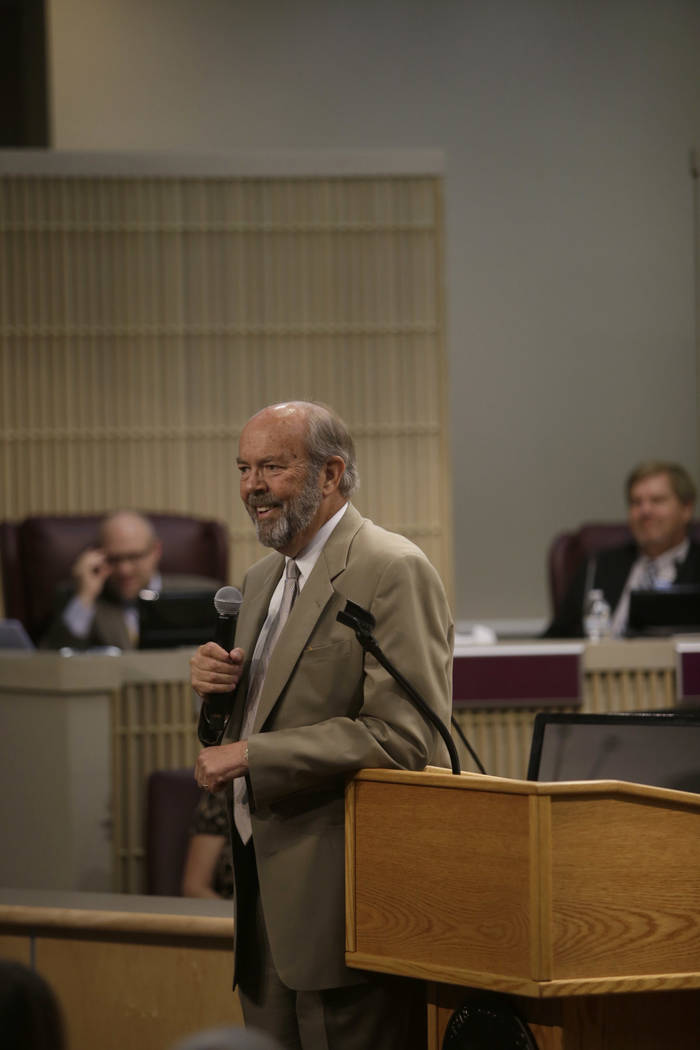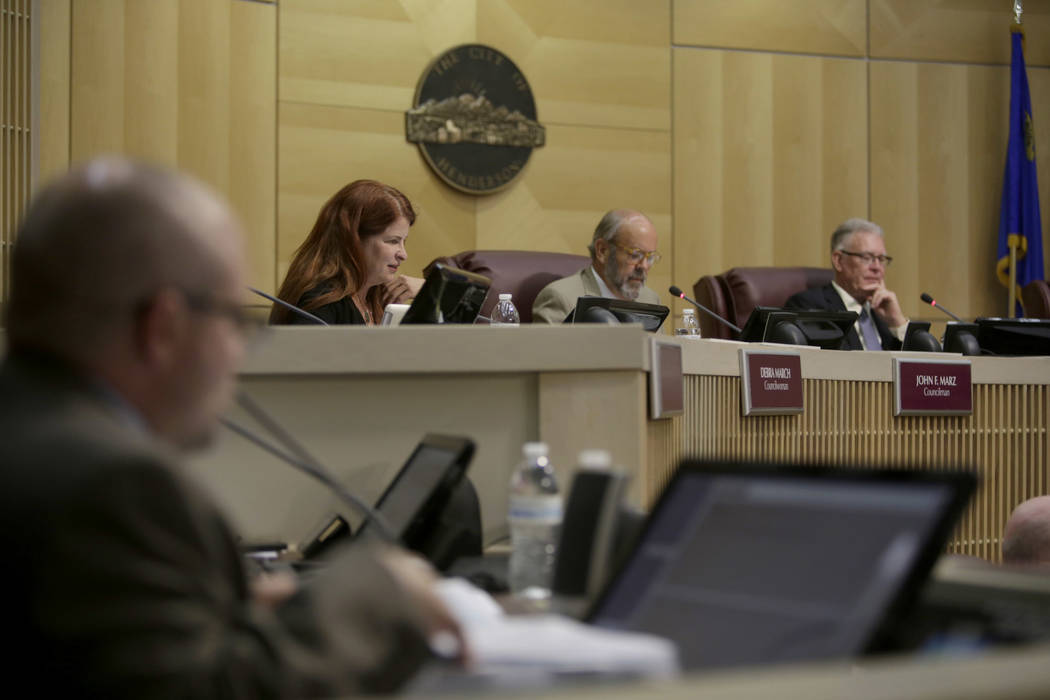 Henderson Mayor Debra March was sworn in Tuesday night along with three other aldermen, making her the city's second female mayor.
She replaces term-limited Mayor Andy Hafen, who handed her a personalized gavel before stepping aside. City Councilman John Marz and Municipal Court Judge Rodney T. Burr were also sworn in.
"What an honor it is for me to be here tonight," March, 63, said. "No one works harder than this city council. I think folks take it for granted, but we do it because we love this city."
March joins Lorna Kesterson, who served from 1985 to 1993, as Henderson's only woman mayors.
With Tuesday's ceremony over, March discussed the three finalists for the Ward 2 appointment. The Henderson City Council unanimously voted to appoint Dan Shaw, the president and CEO of Rustler Investments and the Clark County Planning Commission's chairman. As a Henderson council member, Shaw will have to resign his Clark County Planning Commission post.
Also during the meeting, Councilman Dan Stewart was named mayor pro tem.
March said she's optimistic about the future.
"I'm looking forward to the opportunity to build on some wonderful strengths that the city already has," March said. "We have a great community and recent surveys show that our citizens are satisfied with our quality of life, but I want to take Henderson to the next level."
Plans for Henderson's future
March joined the council in 2009 after heading the Lied Institute of Real Estate Studies at the University of Nevada, Las Vegas. During her council tenure, March led the Southern Nevada Strong regional planning effort and served as Regional Transportation vice chairwoman.
She was elected to the council in 2011 and re-elected in 2015.
In April, March won the mayoral primary with more than 50 percent of the votes.
To fulfill her campaign promise to create a more transparent administration, March said she will hold monthly town hall meetings around Henderson. She also introduced her 100-day plan, which will focus on community safety, economic development, transparency, education and quality of life.
March said her long-term goals include recruiting well-paying and diverse businesses to Henderson, including those in health care and technology. March has her eye on west Henderson, which encompasses mostly vacant land, as a potential business site.
"I think Debra will do a great job," Marz said. "She is incredibly knowledgeable of the issues we face. She's also incredibly personable and very outgoing and good at communicating with others."
Stewart said, "(March) has honesty and integrity, and to me, those are key things needed to be mayor. I look forward to working with her on finding the right kind of economic development to move the city forward."
The mayor serves a four-year term and is paid $61,276 per year.
Contact Sandy Lopez at slopez@reviewjournal.com or 702-383-4686. Follow @JournalismSandy on Twitter.
Meet the mayor
Henderson Mayor Debra March has been a Nevada resident for more than 40 years. After graduating from UNLV, she served as a state park ranger in locations throughout Nevada.
March moved to Southern Nevada as deputy administrator with the Nevada Real Estate Division, creating and implementing policies for responsible home ownership and served from 1996 to 2009 as director of UNLV's Lied Institute for Real Estate Studies where she led efforts for the development of livable communities. From 2004 to 2009, she also served as a member of the City of Henderson Planning Commission.
Source: City of Henderson