Foothill marching band makes memories in 2017 Rose Parade
January 2, 2017 - 8:40 pm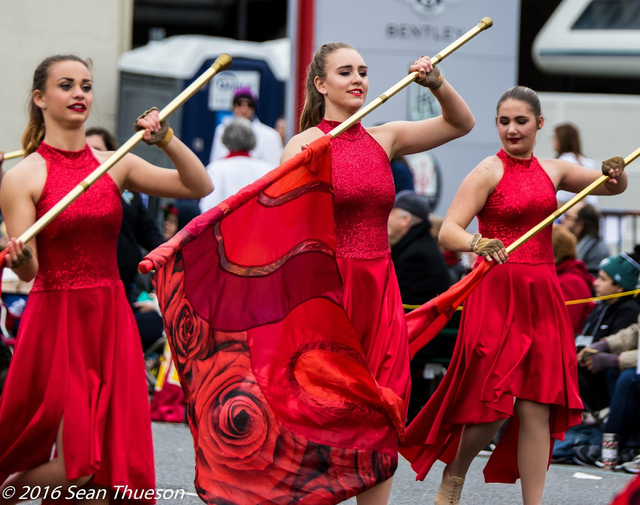 2017 was in just its second day, but Foothill High School's marching band and color guard were making a memory to last all year, and maybe many more.
The Henderson high school sent 285 students to Pasadena, California, to join the 128th Tournament of Roses Parade. The group marched Monday's 5½-mile route, which Foothill Band Director Travis Pardee said is more like 6 miles after staging, and performed a musical program including "Flight of Falcons," a song written by University of Nevada, Las Vegas music professor Anthony LaBounty, and a version of "Holiday Road" arranged by Foothill Assistant Band Director Dean Snavely.
Fleetwood Mac guitarist Lindsey Buckingham wrote "Holiday Road" for the 1983 film "National Lampoon's Vacation." Although the Foothill Band's version was instrumental, the lyrics aptly include the lines: "Jack be nimble, Jack be quick/Take a ride on the West Coast kick."
Falcon Band Boosters President Sean Thueson estimated the school's 239 musicians and 45 color guard members marched for about three hours Monday. (One musician was sick and had to sit out).
"The kids had a great time," Thueson said by cellphone Monday as he drove back to the valley. "They're tired out and napping on the buses now."
The band and color guard left early Friday morning for California, loading their gear and themselves aboard six buses, a semitruck and a 25-foot trailer, Thueson said. They performed Saturday at a fest for Rose Parade bands and rang in 2017 with a party in their hotel.
If Monday's march was long, the wait for it was longer. Pardee said he and the band applied for a berth early in May 2015, sending videos and music recordings to the Tournament of Roses Parade Committee. Foothill was chosen in September 2015.
To fund the trip, the band and color guard collected $25,000 from local businesses and students raised an extra $700 apiece, Thueson said. This past April, the band did a 5½-mile march as a dry run and fundraiser, attracting Henderson Mayor Andy Hafen and Tournament of Roses President Brad Ratliff.
Last week, Pardee said, the band twice had three-hour rehearsals and twice marched the full parade distance around the school's campus and track.
Pardee, Foothill's band director since 2002, has taken groups to the St. Patrick's Day Parade in Dublin (2009), the National Memorial Day Parade in Washington (2012) and the Macy's Thanksgiving Day Parade in New York (2014). He said mobs of spectators make the Rose Parade special.
"I've done a lot of parades, and on many of them there are a few grandstand areas and then it thins out," Pardee said Monday. "But this one has miles and miles of grandstands along the whole route that are sold out and packed. We were (on the route) Saturday and Sunday, and already people were setting up tents and air mattresses and camping out so they'd get a good spot to watch."
A famous Rose Parade highlight comes early, Pardee said, when bands and color guards make a 105-degree turn from Orange Grove Boulevard onto Colorado Boulevard.
"When you turn that corner, it's a sea of human beings as far as you can see, and they're all cheering and clapping and standing and yelling, 'Happy New Year,'" Pardee said. "It's loud and crowded and positive for 6 miles."
After the pomp and procession came a feast — donated hamburgers from In-N-Out Burger, cooked in trailers at the parade terminus.
"It might have been the best-tasting hamburger of my life," Pardee said.
Contact Matthew Crowley at mcrowley@reviewjournal.com. Follow @copyjockey on Twitter.