Girl killed after jumping from bridge onto 215 Beltway in Henderson
Updated November 1, 2018 - 6:13 pm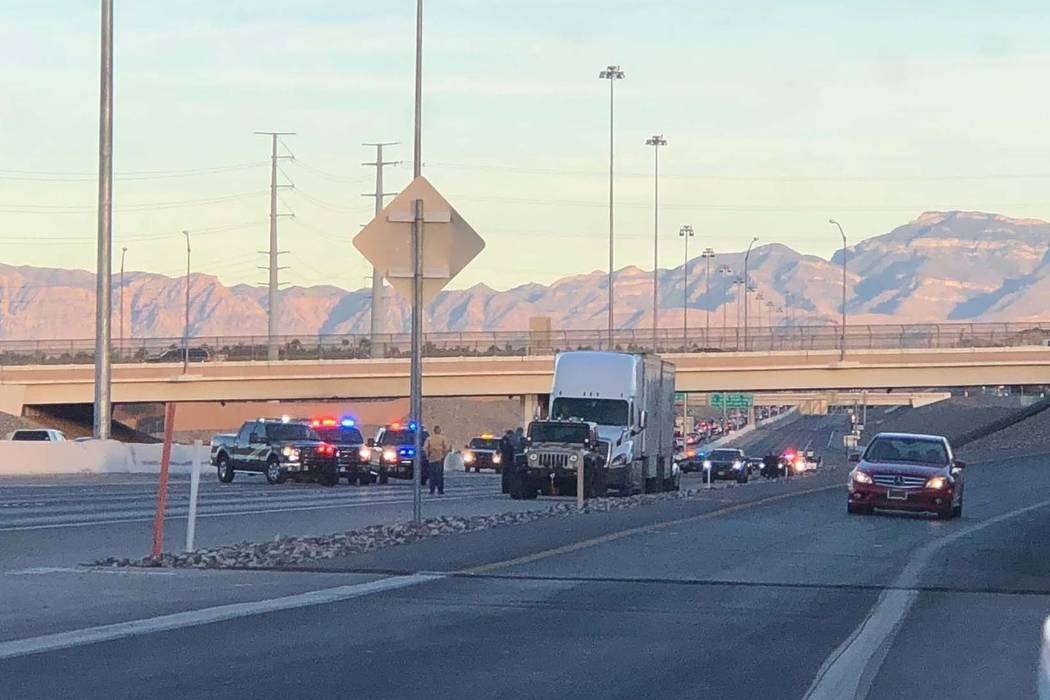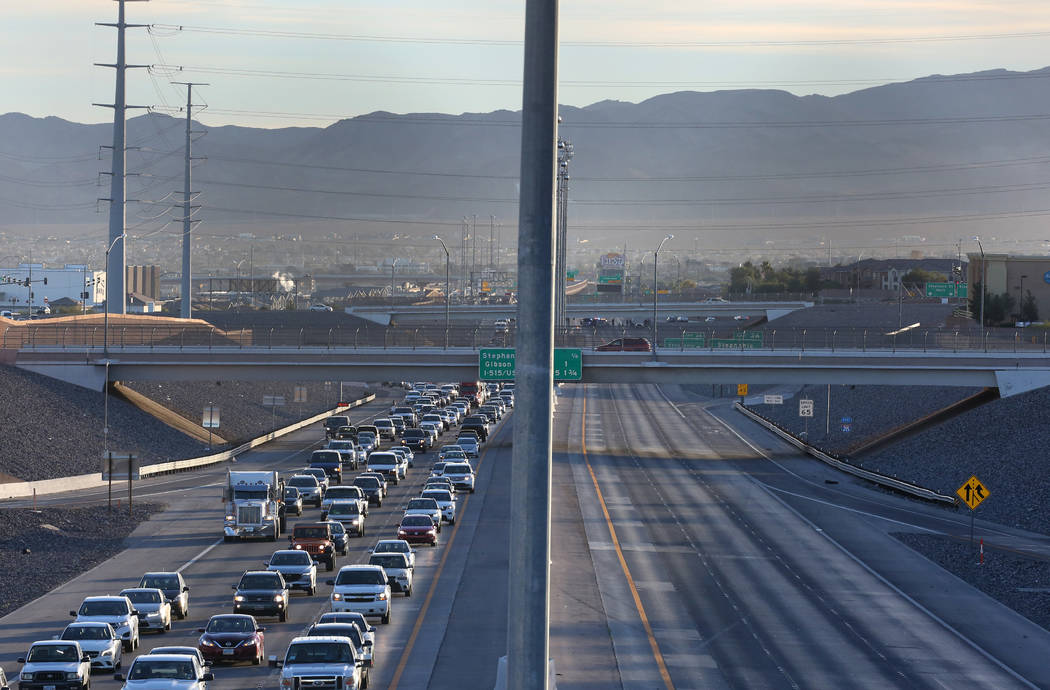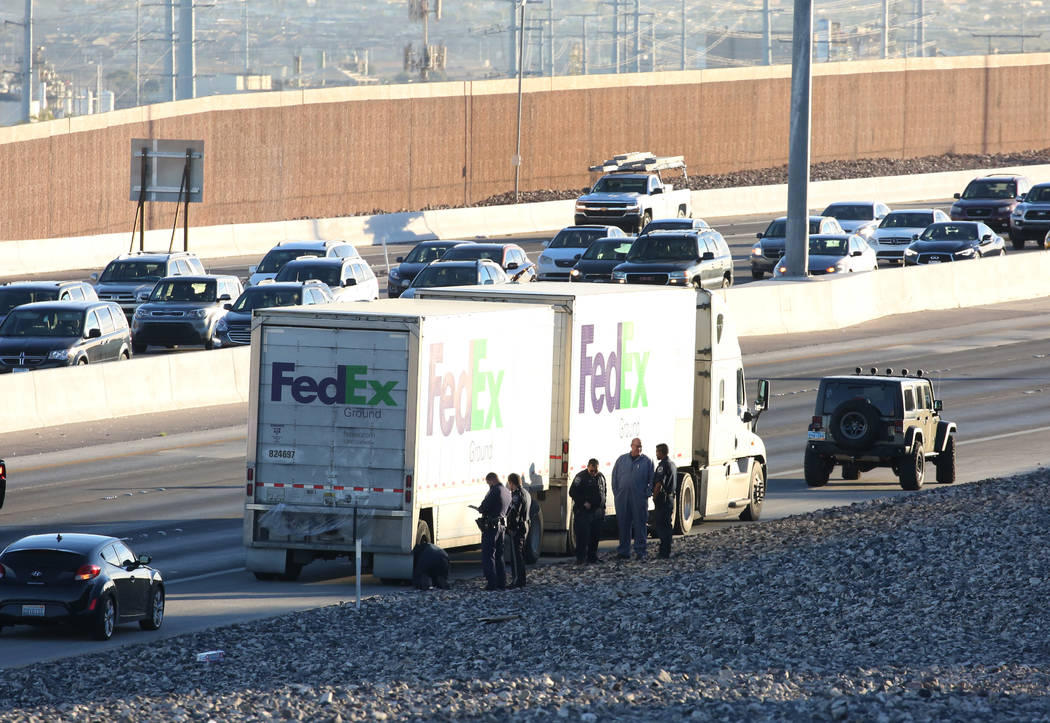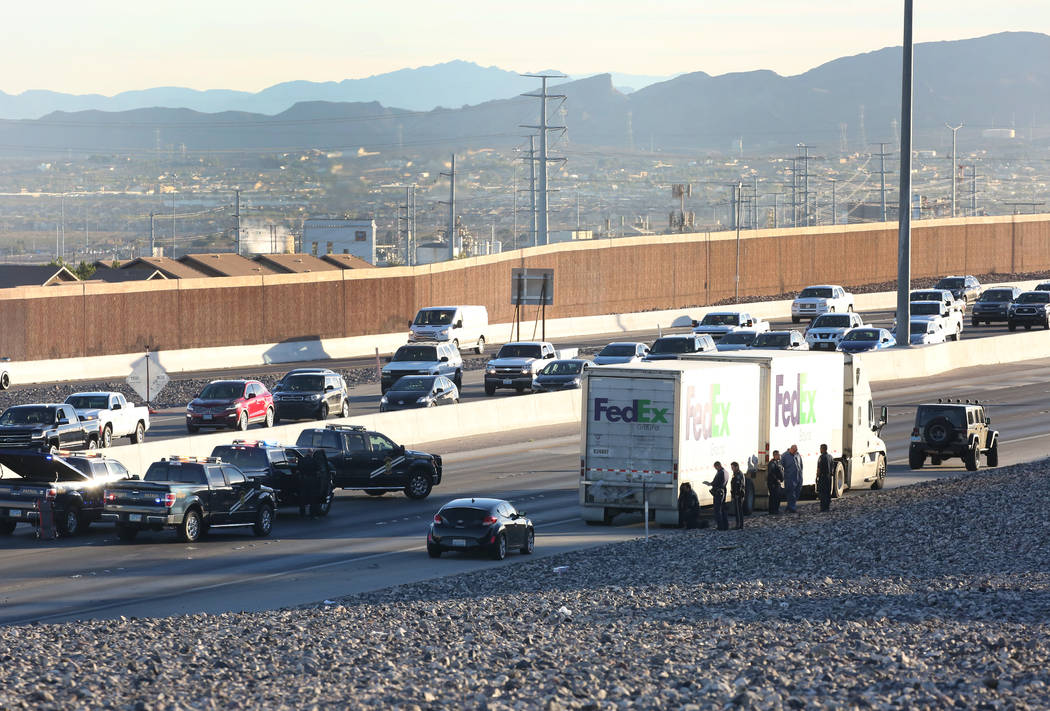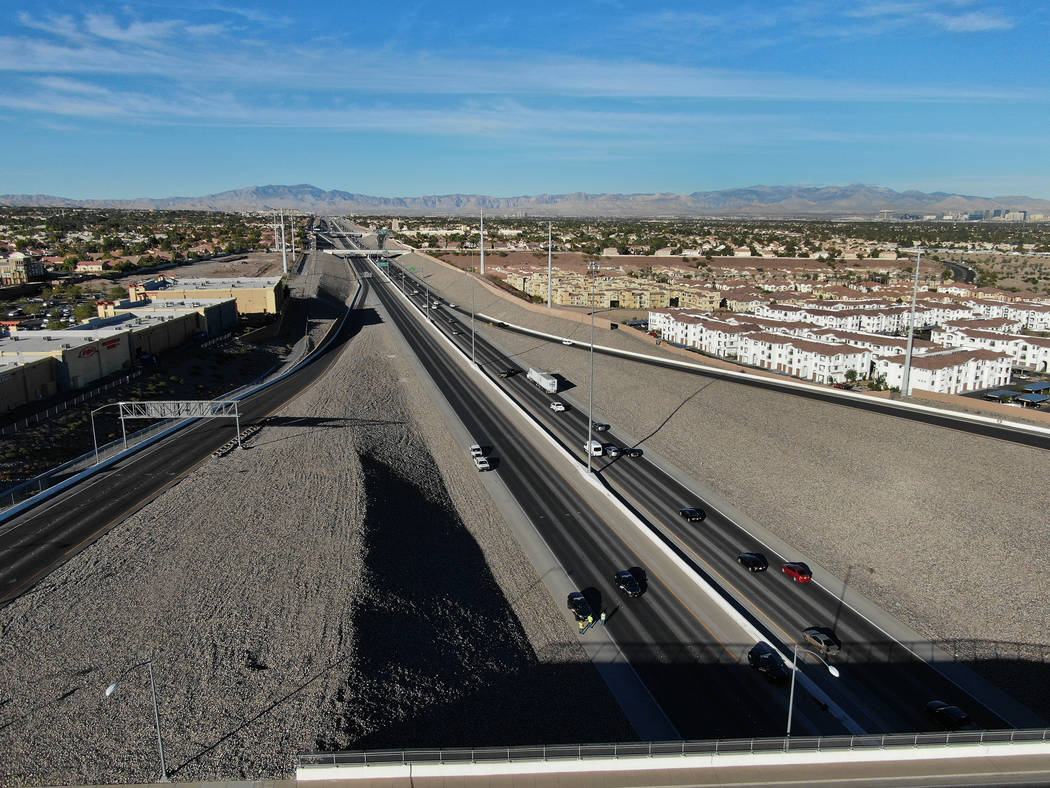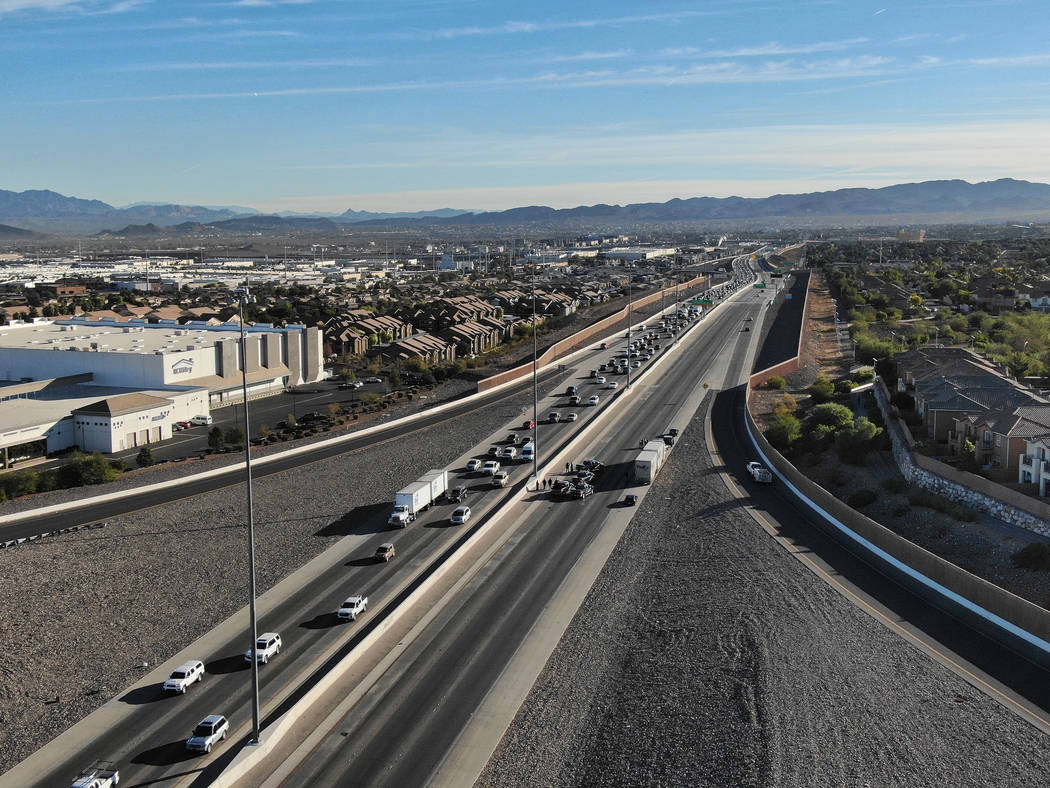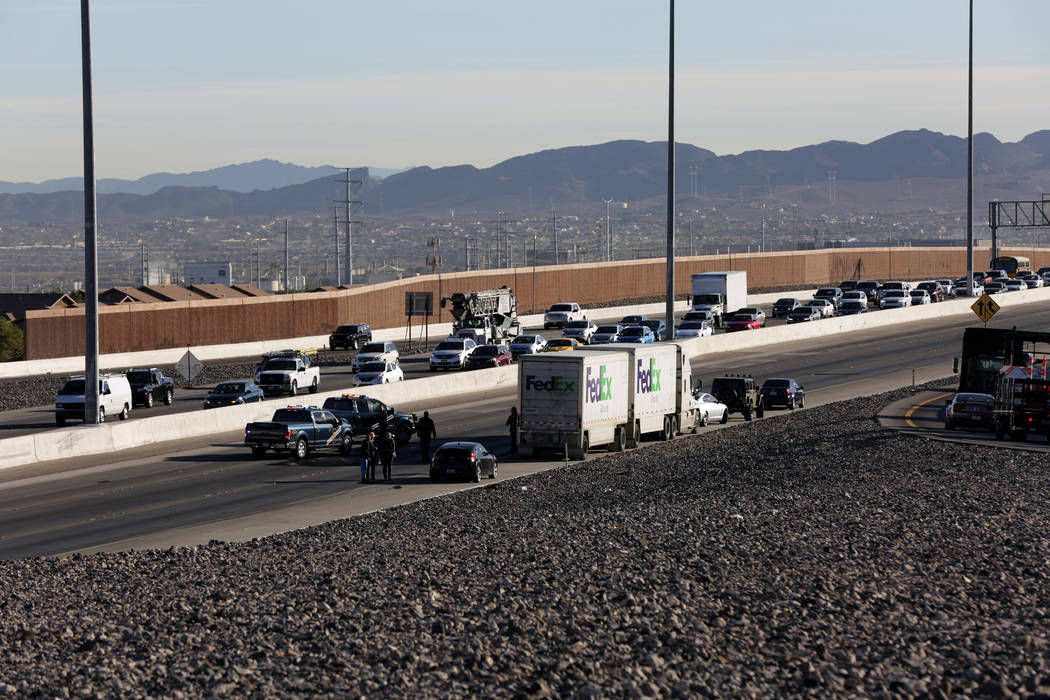 A section of the 215 Beltway in Henderson was closed for more than five hours Thursday morning after a teenage girl jumped off an overpass and was hit by a semitrailer, according to the Nevada Highway Patrol.
The girl died after she jumped about 6:15 a.m. from the Stephanie Street bridge and landed in the eastbound lanes of the Beltway, Highway Patrol spokesman Jason Buratczuk said. She was struck by a FedEx semitrailer and possibly a second vehicle.
"According to witnesses statements and evidence on scene we believe this to be an intentional act by the female juvenile decedent," Buratczuk wrote in a release.
Eastbound lanes were blocked and drivers were being forced to exit at Valle Verde Drive until about 11:50 a.m. During the highway closure, traffic was being allowed to enter the Beltway from the eastbound Stephanie on-ramp, where a large cluster of Highway Patrol vehicles were parked, their emergency lights flashing.
Parked on the shoulder of the highway near the patrol vehicles was the FedEx truck and a Jeep. Several investigators could be seen walking along the highway just before 8 a.m. near the bridge.
The girl's identity will be released by the Clark County coroner's office once her family has been notified of her death.
Knowing the signs
Nevada is the only state that saw a decrease in its suicide rate between 1999 and 2016, but its suicide rate still ranks sixth-worst among the 50 states — with 21.4 deaths per 100,000 people — according to Centers for Disease Control and Prevention statistics.
Suicide was the seventh-leading cause of death in the state in 2016, the most recent year with available CDC data. It is the third-leading cause of death among Nevadans between 15 and 24 years old, according to the Nevada Coalition for Suicide Prevention's website.
Suicide is a complicated issue, but youth suicide is preventable, said Phyllis Alongi, clinical director of the New Jersey-based Society for the Prevention of Teen Suicide. There are many risk factors for those who consider taking their own lives including family issues, history of suicide in the family, relationship issues, exposure to suicide and loss, she said.
Warning signs can include any observable change in behavior such as a loss of appetite, lack of sleep and researching suicide online, she said. Other signs can include feelings of hopelessness or changes in social activities.
"There are always warning signs and usually more than one," Alongi said.
Nevada's Office of Suicide Prevention website encourages parents to form strong relationships with their children, encourage healthy emotional expression and to have a balance between being supportive but not intrusive in a child's life.
Adults have to be on the lookout for youth who exhibit warning signs, because they may not come forward on their own, Alongi said. Its also important to watch for signs in those grieving after someone dies by suicide, particularly those already at risk of taking their own life.
"We have to take every threat seriously," she said.
Contact Mike Shoro at mshoro@reviewjournal.com or 702-387-5290. Follow @mike_shoro on Twitter. Review-Journal staff writers Rio Lacanlale, Max Michor and Jessie Bekker contributed to this report.
Warning signs
Signs of suicide can include changes in conversation, behavior and mood, according to the American Association of Suicidology.
If a person talks about being a burden to others and feeling trapped; if a person starts acting recklessly or withdrawing from friends, family and activities; if a person starts experiencing rage, anxiety or a loss of interest — among other factors — reach out to the person or seek help.
For more information, visit suicidology.org/resources/warning-signs. The National Suicide Prevention Lifeline, 1-800-273-8522, provides access to trained telephone counselors, 24/7.