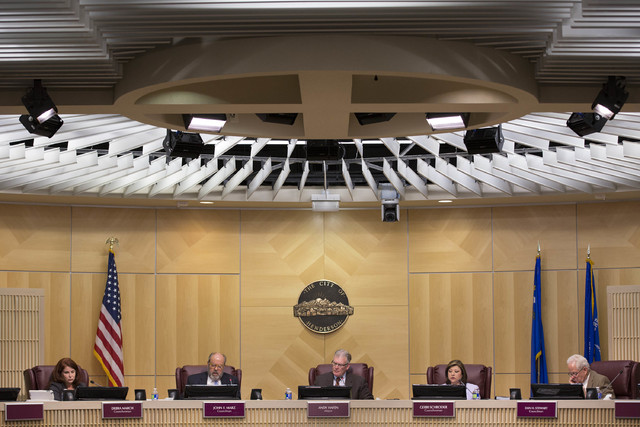 The annexation of approximately 800 acres adjacent to west Henderson was unanimously approved Tuesday by the Henderson City Council.
The annexation area is generally east of I-15 and south of the Sloan interchange. It is owned by the Interior Department and managed by the Bureau of Land Management.
"The property is still located outside of the disposal boundary, which limits its ability to be sold and developed," city spokeswoman Kim Becker said. "Annexing it would provide the city with jurisdiction over the property, making it easier for us to coordinate with BLM and its management of the property in the event that they plan some conservation-type of plan, or anything like that."
The city's West Henderson Land Use Plan — which focuses on transforming the area into a "premier destination for economic development and livable neighborhoods" — has the property designated as Mountain Park under public/semipublic land use. In 2006, the city annexed 3,455 acres, including the area surrounding the 800 acres.
Councilwoman Debra March said the newly annexed area was once considered for a gravel mine. During Tuesday's meeting, she reaffirmed that those plans were ceased.
Becker added that the city's population continues to grow. Population in 2010 was 276,428, whereas growth projections for 2020 are 317,661. City data estimates that 2025 will see an increase to 341,486, and 2030 will see an increase to 365,390.
"Some more mature areas in the city are built out now, so west Henderson will provide us room to grow," Becker said.
The area is expected to be annexed into the city June 14.
Contact Sandy Lopez at slopez@reviewjournal.com or 702-383-4686. Follow @JournalismSandy on Twitter.