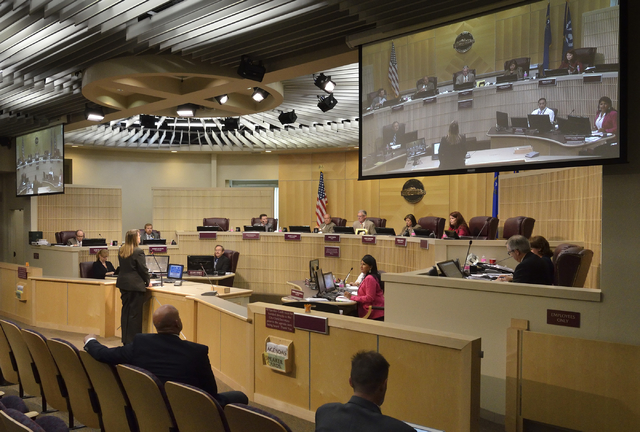 The Henderson City Council will hold a special meeting Thursday morning to begin the selection process for filling the Ward 4 council vacancy.
The vacancy was created when former Councilman Sam Bateman resigned Nov. 17 after his election to the Henderson Justice Court was certified. The person selected will fill the remainder of Bateman's term, which ends in June 2019.
Nineteen eligible individuals sought the appointment, but one applicant Greg Barnes asked that his name be withdrawn from consideration.
The remaining 18 applicants will receive three minutes each during the special meeting to make a presentation and will be asked four questions from the City Council. A question-and-answer period will follow.
The City Council has the option to select finalists during Thursday's special meeting, which begins at 10 a.m. in the council chambers, 240 Water St.
Finalists will be asked to participate in follow-up interviews. Upon conclusion, the City Council may choose to appoint an applicant to the post or may schedule another special meeting to conclude the appointment process.
The vacancy must be filled by Jan. 16.
The meeting is open to the public and also will be shown via livestream at cityofhenderson.com.
Contact Sandy Lopez at slopez@reviewjournal.com or 702-383-4686. Follow @JournalismSandy on Twitter.