Henderson couple's generosity brings Christmas joy to Nevada schoolchildren
December 23, 2016 - 11:32 am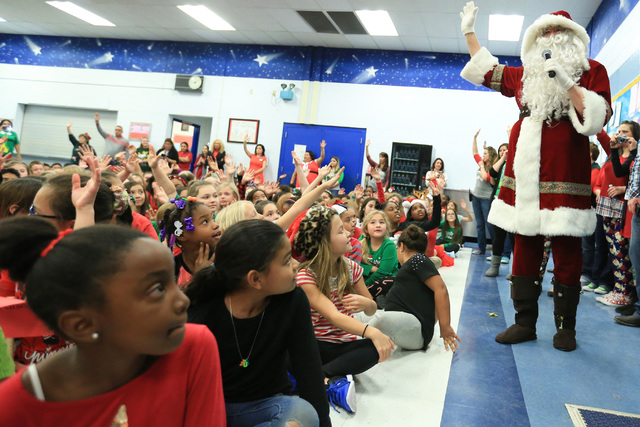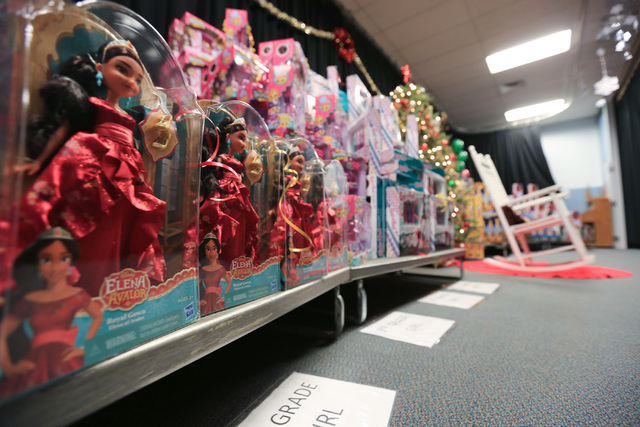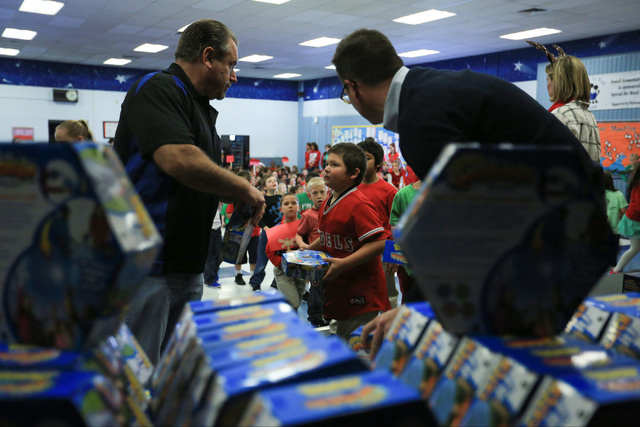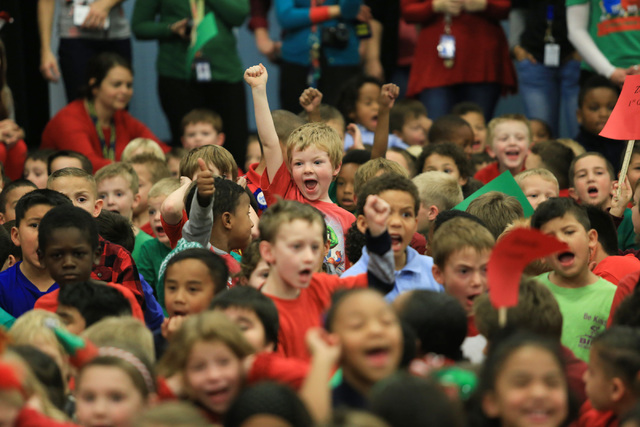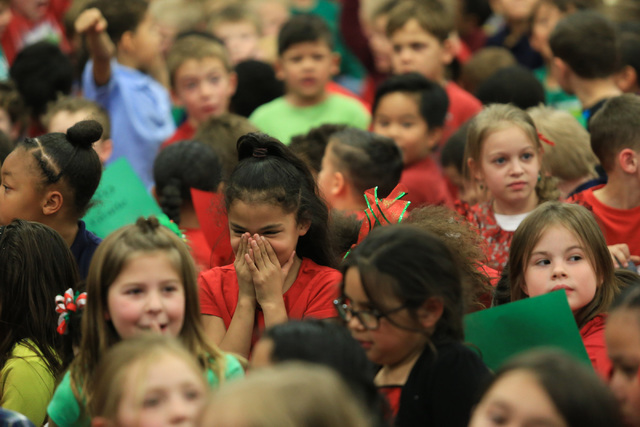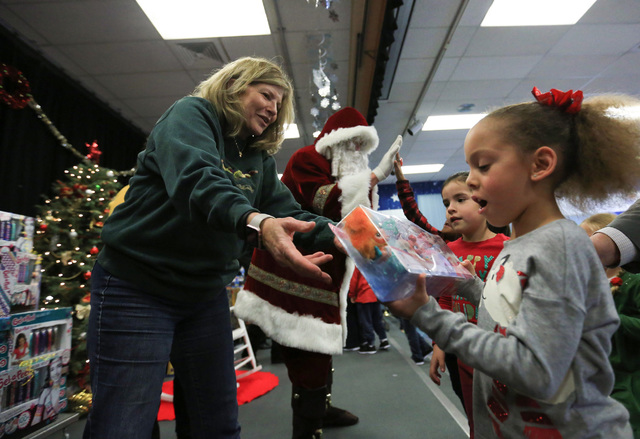 As the curtain — adorned with a big red ribbon — pulled back ever so slowly, the screams of almost 1,000 children intensified. Before their eyes, the Sewell Elementary auditorium stage had transformed into a mini toy trove.
Gifts were grouped by recipients' age level — stage left was stacked with toys for girls, stage right with toys for boys.
Almost in unison, the children surged forward, craning their necks and screaming over one another. On Dec. 16, the Friday before the Clark County schools' winter break, the students at the Henderson school each received a pair of brand-new sneakers, two pairs of socks and, as a grand finale, a toy.
The shoes were practical, but the toys were magical.
It's exactly the reaction Bob and Sandy Ellis live for. Twelve years ago, the local couple adopted Whitney Elementary for Christmas, purchasing gifts for each child.
These days, the operation is much bigger.
This year, the Ellises sponsored 17 campuses statewide, including schools in Lincoln and Clark counties. The cost is estimated to exceed $200,000, all covered by the Ellises. Each school also gets a check f0r $1,500 to $3,000, for the principals to use as they see fit.
With grandchildren in their mid-20s and no great-grandkids to spoil with the latest toys, the ceremonies at the schools serve as a Christmas of sorts for the Henderson couple.
"It's just a happy feeling," said Bob, 74.
"They're crazy excited," Sandy, also 74, added.
SERVING A NEED
Bob and Sandy recalled growing up with not much of anything but having a strong desire to give back.
Bob Ellis is the former president and CEO of Snap Towing, and he owned B&E Auto Auction before selling it nine years ago. He now owns R&S Investment Properties and R&S Leasing.
They have been in the valley since the 1950s. Bob graduated from Rancho High School in Las Vegas, Sandy from Basic High School in Henderson.
Christmas gifts for schoolchildren aren't the only way they give back. The Ellises donated to the Henderson Libraries Foundation, the University of Nevada, Las Vegas and Nevada State College, focusing on educational programs.
"They're going to be running our country 20 years from now," Bob said. "Without education, you can't get a good job. We want to keep these kids in school and give them a better education and show these kids that people out there love them."
For their efforts, the couple was named Distinguished Nevadans in 2015 by the Nevada System of Higher Education. They were two of 11 people honored that year for contributions "to the cultural, scientific or social advancement of Nevada."
Standing on the wheelchair ramp next to the auditorium stage, Sandy watched her husband and other volunteers pass toys to children, and she reflected on the valley's needs and the charity work that is all too often focused just during the holiday season.
"There is a lot around, but it's not enough," she said.
About 75 percent of Sewell's 995 students, who come mostly from the surrounding neighborhoods, qualify for free- and reduced-lunch, Principal Holli Ratliff said. She guessed the toys from the Ellises would be the only ones some students would receive for the holidays.
"This is amazing for us," she said. "It really does go a long way."
BEHIND THE SCENES
To make the magic happen, the Ellises work with the Payless at 530 Marks St. in Henderson for socks and shoes and the Target at 350 W. Lake Mead Parkway in Henderson for toys. Payless staff visits the schools, measuring students' feet and then bringing choices of shoes.
Sandy shops for the toys. Sometimes, she will wander up and down Target's aisles, seeing what gifts and gadgets excite children. She has learned a lot in the past decade.
"Kids love to put stuff together," she said.
Fifth-graders Arba Dhima and Heather Tomlinson proved this, reveling in Gel-a-Peel packs. The toys let children use gel to create jewelry, key chains, cellphone cases or other products by following designs or using their imaginations.
Another popular plaything this year was the Super Wubble, a toy that "looks like a bubble, plays like a ball." The inflatable ball is marketed as being indestructible and comes in four colors.
"You can kick it, whack it, throw it, bounce it and even sit on it without worrying about deflating it," according to the makers.
Six to eight volunteers are on hand for gift giveaways, which stretch throughout December because of the number of schools involved. Setup for the toys starts a couple of days before the assembly and the school staff decorates.
Before the toys were distributed, the Sewell students went to their classrooms to change into their new shoes. The kids were eager to show Bob and Sandy their new kicks. At the assembly, Santa visited before the big toy reveal.
'NOBODY IS MAKING THEM DO IT'
Arba and Heather were some of the last students to receive toys during the Sewell assembly. Luckily, the girls were busy admiring their new shoes and hardly noticed.
Arba opted for white sneakers with white laces. Heather's sneakers included pink, purple and blue.
"I like that nobody gets left out," Heather said.
"I'm really thankful," Arba said of the Ellises' kindness. "They did this for us, and they didn't have to. Nobody is making them do it."
Fifth-graders Lane Pusko and Cash Sanchez said the year-after-year experience has taught them about giving back.
At 10 years old, they're aware that not all of their classmates have the traditional Christmas at home. Or have the money to buy new shoes when they need them. Lane and Cash seemed keenly aware of the scope of the undertaking.
"I think it's pretty amazing," Cash said.
Contact Meghin Delaney at 702-383-0281 or mdelaney@reviewjournal.com. Follow @MeghinDelaney on Twitter.