Henderson fiddlers group connects with past through music
September 19, 2017 - 12:39 pm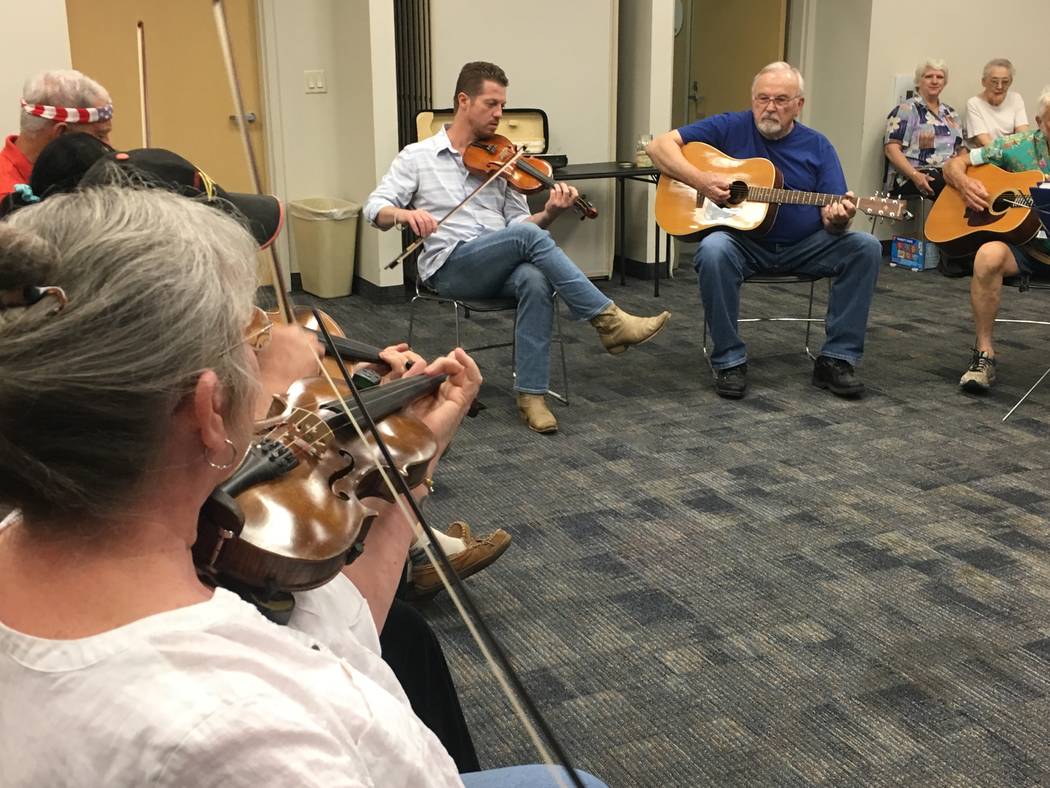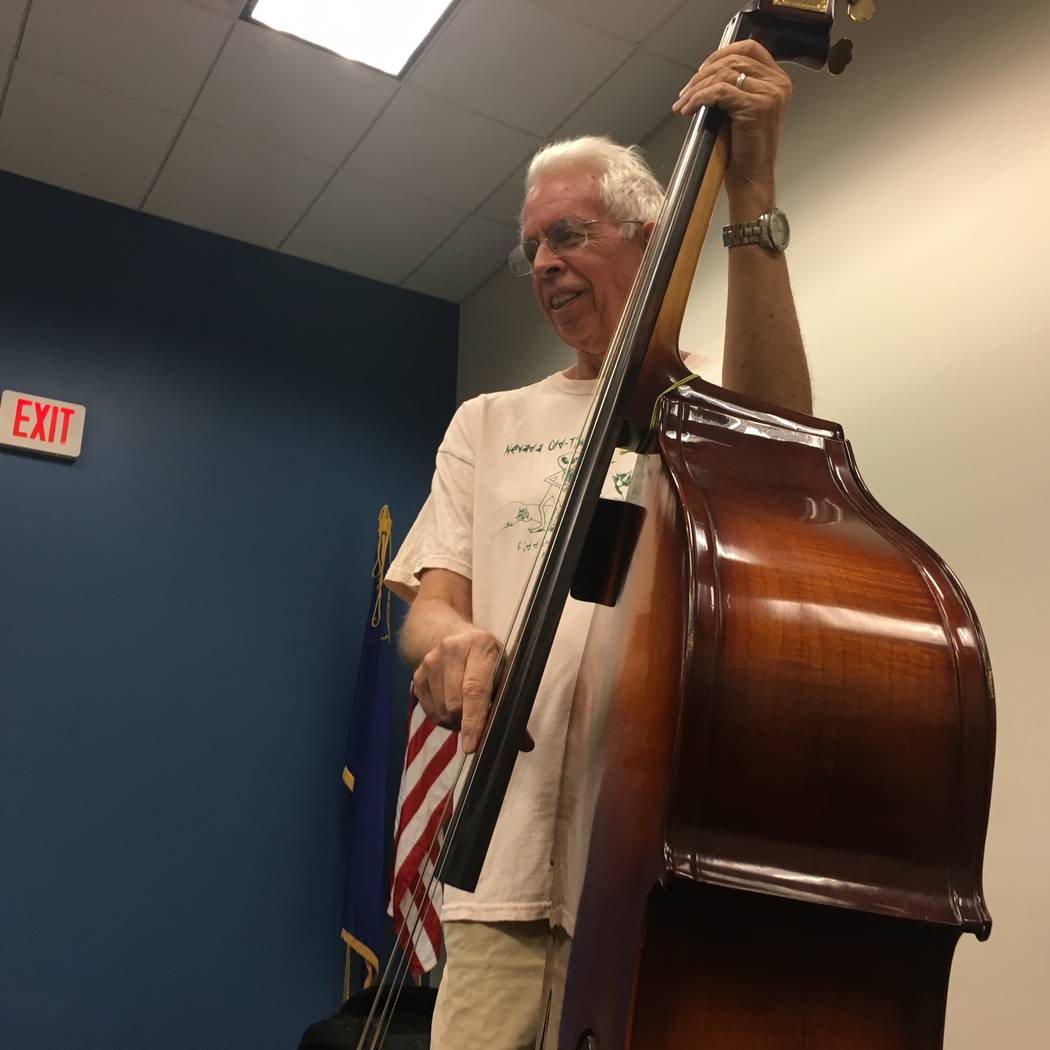 The disjointed sounds of instruments being tuned breaks, instantly morphing into a cohesive fluttering of fiddle notes and rhythm-setting guitar strums, all supported by the low beating of a single bass.
Spectators trickle into the program room at Henderson's Gibson Library, as members of the Nevada Old-Time Fiddlers Association play tunes dating back to the early 1900s, such as "Red Haired Boy" and "Ragtime Annie." The music pauses briefly between songs as the musicians decide what tune comes next; jovial banter is often part of the process.
This casual "open jam" is a weekly event for members of the fiddling group. The organization, formed in 2000, and has grown to about 50 members; it welcomes people of all skills and ages, NOFA Treasurer Herb Gilkey said.
The group plays at retirement homes, hospitals, schools and blue grass festivals throughout Nevada.
"Some (fiddlers) are much more accomplished than others, but it's all the same club. It's all the same team; it's great," mandolinist Paul DePatta said.
The group's travel and events are funded by a grant from NV Energy, NOFA Vice President Jim Damele said.
Gilkey, his wife, Jeanne, and a few other fiddlers started the group as a way for fans of bluegrass music to come together and play.
"When you think of bluegrass, typically you think of a bluegrass band where there may be a fiddler, guitar, bass, a banjo, mandolin, a lot of vocals," Gilkey said. "We wanted to focus on fiddling, and so we just decided to kind of pass the word around and people just started showing up out of the woodwork."
For West Virginia native Odie Parkins, the fiddle and banjo were part of the culture while growing up, he said.
"To find some folks that appreciate it and still like it here, it's the one thing from home that I have," he said.
Another fiddler, Vera Vann-Wilson, took up the instrument after encountering NOFA in 2004. Her late-second husband was a jazz violinist, she said.
"I decided I wanted to play, and so they offered beginner sessions and help and assistance, and they got me started," she said. "… It's just very helpful for anybody that wants to even start learning or to get better at it."
Vann-Wilson, who grew up in the South and was familiar with fiddle music, said playing with the group allowed her to meet others from the same area and connect to her roots.
What makes playing fiddle tunes unique, according group members, is the free-wheeling style and a signature touch each musician gives to a song.
"It's kind of the opposite of orchestra," Gilkey said. "In orchestra and band, you go by the written music, exactly. Fiddling is the opposite. You learn the basic melody, then make it your own. No two fiddlers play the same tune twice. Everybody has their own little things."
Music preservation is also important to the group.
"A lot of the things I play are very old tunes from people that I learned (from) that are now dead," Parkins said. "The only way that those are going to survive is if I play it for someone else. It is a piece of history. Even if you don't play, you can remember what you heard, and it's alive.
"If somebody remembers hearing it, it's still there."
Contact Diego Mendoza-Moyers at dmendozamoyers@reviewjournal.comor call 702-383-0496. Follow @dmendozamoyers on Twitter.
If you go
Nevada Old-Time Fiddlers Association meetups in Henderson are planned from 10-11:30 a.m. on the first and third Saturdays of the month at Mira Loma Assisted Living, 2520 Wigwam Parkway, and from 6-7:45 p.m. on the second and fourth Wednesdays at Gibson Library, 100 W. Lake Mead Parkway.
The group is set to perform at bluegrass festivals, including Oct. 13-15 at Viva Las VeGrass at Craig Ranch Regional Park and Oct. 20-22 at the Logandale Fall Festival in Logandale.
For more information on the group, visit nevadaoldtimefiddlers.com.