Henderson massage parlor cited for prostitution violations will lose permit
February 22, 2017 - 5:55 pm
Updated February 22, 2017 - 6:32 pm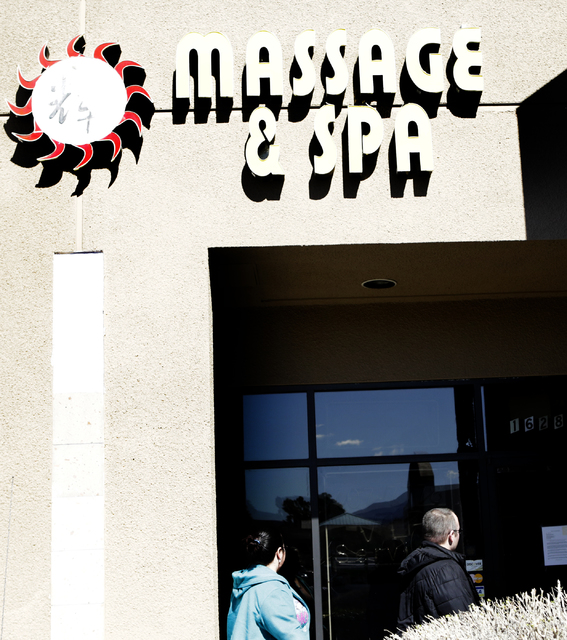 A decision to revoke the special-use permit for Sun Bright Massage & Spa, a Warm Springs Road massage parlor cited for multiple prostitution violations, was upheld Tuesday by the Henderson City Council.
The council voted 4-1 to uphold the decision, originally voted on by the Henderson Planning Commission. Councilman John Marz was the lone no vote.
Paras Barnett, attorney for Blue Top Investments LLC, Sun Bright's landlord, argued that revoking the conditional use permit for personal service-massage would cause financial hardship for his client, which had planned to lease the location to another massage business owner. The revocation would last two years.
"If my client knew that these atrocities were happening in their property and did nothing, well, that might be a good reason," Barnett said. "But without having any knowledge … my client can't act. My client is being punished for something my client didn't do."
Barnett said his client never received notices from the city or law enforcement.
Since 2008, the massage parlor has been cited for 28 state and city violations, including solicitation for prostitution, being open after hours, having no manager on duty, having locks on massage room doors and hindering inspection. Its business license was revoked in November.
"Massage is a privileged license," City Attorney Josh Reid said. "It is not a business license you get by right. We only have massage establishments in certain locations within the city."
Marz, who sided with the landlord, said, "The problem I have is that we're punishing the landlord and not the business. I just don't know if that's a fair thing to do to the landowner."
Councilwoman Gerri Schroder said she's received complaints from parents, teachers and a former principal at Green Valley High School, which is across the street, about the numerous times police have been there.
Contact Sandy Lopez at slopez@reviewjournal.com or 702-383-4686. Follow @JournalismSandy on Twitter.
RELATED
Henderson cites, shuts down seven massage parlors