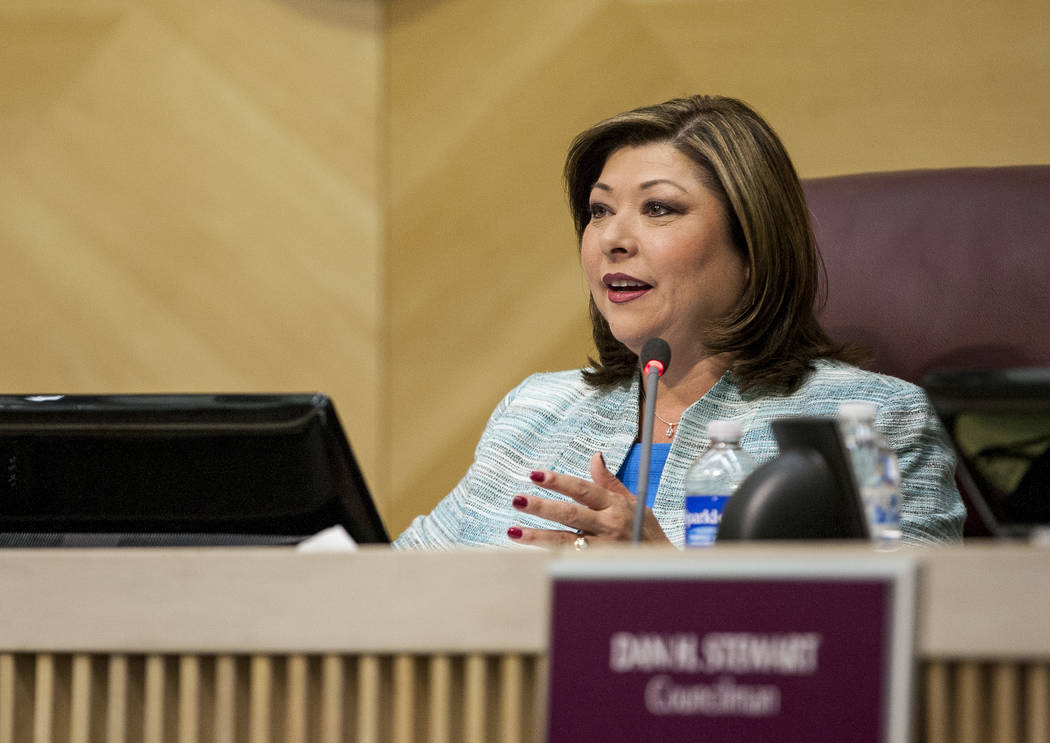 Debra March largely focused on government transparency during her campaign for mayor of Henderson. Now, less than three months after taking the reins of the city, an ethics complaint accuses March and Councilwoman Gerri Schroder of failing to comply with transparency rules.
The complaint obtained by the Las Vegas Review-Journal, states that March and Schroder failed to disclose their relationships with the Henderson Community Foundation during City Council votes related to the foundation.
A Henderson resident who wishes to be anonymous filed the complaint last week with the Nevada Commission on Ethics.
"This is an inherent conflict of interest," the complaint states.
March and Schroder could not be reached for comment.
"No one at the city of Henderson or any elected official has been notified by the Nevada Commission on Ethics about any actions being taken," Henderson spokesman David Cherry said.
Police foundation investigated
The complaint centers on a June 6 City Council meeting when March and Schroder "insinuated they had an arms length relationship" with the Henderson Community Foundation. It also claims March only disclosed her relationship with the foundation because she had launched an investigation into the Friends of the Henderson Police Department Foundation.
In May, March told the Review-Journal that the investigation into former Henderson Police Chief Patrick Moers was launched after she saw a mailer sent by Moers to local business owners. The mailer included Moers' photo and an image of a City of Henderson police badge.
"Debra March intentionally and willfully failed to disclose her 15-year relationship with the Henderson Community Foundation in order to benefit and further her political agenda and the standing of the HCF over the Friends of the HPD Foundation. … March intentionally disparaged the reputations of the foundation and the former police chief and deputy chief," the complaint states.
Campaign finance records show that Schroder's campaign donated more than $7,500 to the Henderson Community Foundation, while March's campaign donated $1,650. In 2015, March and Schroder became members of the foundation's chairman's council.
"We've never asked Debra or Gerri to fund raise for us in any way," said James Green, vice president and founding member of the foundation. "They've never been involved in our conversations regarding funds with the police department."
Ethics Commission Executive Director Yvonne Nevarez-Goodson said she could not confirm or deny the complaint because complaints are confidential until a jurisdictional review panel rules whether a violation occured.
Contact Sandy Lopez at slopez@reviewjournal.com or 702-383-4686. Follow @JournalismSandy on Twitter.