Henderson mayor looks back on years of public service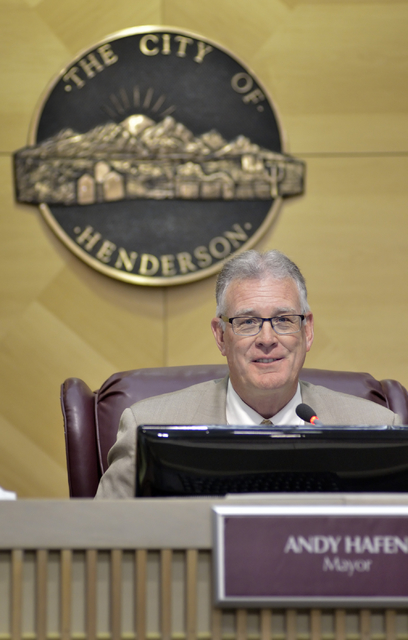 Over his three decades in office as Henderson councilman and mayor, Andy Hafen has learned a few things about public service.
"Not everyone is going to like you, but what matters most is having a willingness to serve," said Hafen, who will leave office Tuesday. "The best reward is when you give, it comes back to you.
"It's a blessing to have been able to shape this city for the last 30 years."
What people want in a mayor is simply someone they can trust, he said. Mix that with working hard, always doing the right thing and developing thick skin, and you've got the makings of what it takes to be mayor, he said.
Hafen believes that Mayor-elect Debra March, has that and more.
"Debra March will do just fine as mayor," said Hafen, who was ineligible to run again because of term limits. "Her heart is like mine, and she wants to make Henderson great."
'That small-town feel'
Hafen was born in Boulder City and lived in Henderson all but one year of his life. He graduated from Basic High School in 1972 and received his bachelor's degree in business administration from UNLV in 1976.
Growing up, Hafen said he remembers the city as a small town with dirt roads where everybody knew each other. Some things have stayed the same since then — "it still has that small-town feel where everyone knows each other."
Hafen retired from the Metropolitan Police Department in 2002 after working for 23 years in the special investigations division. Previously, he worked as a clerk for the FBI and as an accountant for Sunrise Hospital and Medical Center in Las Vegas.
Although he initially had his eyes on becoming an FBI agent, life had other plans. Hafen decided to run for the Ward 2 seat in 1987 because he said the former councilwoman was fairly new to the city and made some decisions he didn't agree with.
By 2013, Hafen was re-elected as the city's 12th mayor in April 2013 after representing Ward 2 on the Henderson City Council from 1987 to 2009.
That three-decade roller coaster of a political ride has seemingly come to a stop for Hafen. It's a bittersweet ending for the fifth-generation Nevadan.
Responsible stewardship
Hafen grew up in a family of seven siblings and said service to others was a given.
"You're expected to give back to your community, faith, brothers and sisters," he said. "I don't know of any other way to live."
During his time in office, Hafen has seen the city population explode from 48,660 to 300,500, making it the second-largest city in Nevada.
"One of my biggest accomplishments is growing as big as we did, as fast as we did," Hafen said. "We doubled our population not once but twice during my career as a public servant."
Nurturing a city of that size wasn't an easy task for officials still feeling the effects of the Great Recession during his early days as mayor.
That, Hafen attests, was his most difficult role.
He remembers becoming mayor when the city budget featured a $90 million shortfall. Hafen helped the city out of its fiscal mess with cutbacks in travel and a voluntary employee severance program.
"We just focused our energy on getting through those dark economic times," Hafen said. "The employees of the city have really been an inspiration to me. It was through all of their hard work that we became a premier city."
Hafen said he strived to be approachable. Out in public, he often can be seen warmly greeting residents with a smile.
For many, his level-headed demeanor stood out.
"Andy has always had a calm and thoughtful nature," March said. "He provided great leadership, and I learned a lot from him."
"Humble would be a good word to describe him," said Scott Muelrath, president and CEO of the Henderson Chamber of Commerce. "He's always kept a level head, and that's what people want in a leader."
Muelrath added that Hafen's contribution to the city's economy has been an important element in its rapid growth.
"Developers prefer to spend money in communities with a consistent and stable approach in management, like that found in Henderson," Muelrath said.
Even North Las Vegas Mayor John Lee has taken note of Henderson's accomplishments during Hafen's time as mayor.
"Having Henderson as part of our community validates that we are more than just gaming and tourism here," Lee said. "Slowly, we try to follow their lead. We'll never be Henderson … but we strive to have that quality of life that Henderson offers its residents."
Hafen has always been quick to tout Henderson as being recognized as one of America's best places to live, named one of the six safest cities in America and designated a bicycle-friendly community.
Positive memories
Some of his finest memories revolve around giving a fifth-grader an autograph and inspiring another student to want to become a mayor, he said.
"If we all take the time to make a difference in at least one person's life, then that's the real success story," Hafen said.
As far as his return to private life, Hafen said he plans to spoil his 13 grandchildren and spend time on his family ranch.
"As far as political office goes, whatever the residents want, I'll be there, but I'm not going to take the first step."
Until that call is made, he said he'll continue to be the city's biggest cheerleader.
"For 30 years I've been privileged to carry the Henderson torch," Hafen said during his last State of the City address in February. "That flame, lit so many years ago, has been carried by many courageous people … For everything we were and everything we are today, I believe that Henderson's best days are yet to come."
Contact Sandy Lopez at slopez@reviewjournal.com or 702-383-4686. Follow @JournalismSandy on Twitter.
Related
Henderson mayor focuses on economic development, growing population in state of city address
Henderson emerges from recession with eye on infrastructure
Hafen calls for more control over public schools in Henderson