Henderson officials 'concerned' about plans for Legacy Golf Club
A Henderson city official reacted with concern upon learning Wednesday the new owners of the Legacy Golf Club are exploring options for developing the property.
"The City of Henderson is concerned about future plans for the Legacy Golf Club," City Manager Robert Murnane said in a statement emailed to the Las Vegas Review-Journal by a city spokesman Wednesday night. "We are currently researching issues related to the golf course and evaluating next steps. City officials will be seeking to meet with the new owners in the very near future to determine their exact intentions for the property."
Par Excellence Drive Trust LLC closed on its purchase of the 177-acre property , located at 130 Par Excellence Drive,on Monday. The new owners shuttered the clubhouse and course on Tuesday.
Elizabeth Trosper, a spokeswoman for the new owners, emailed a statement about the Legacy Golf Club purchase to the Review-Journal earlier Wednesday evening.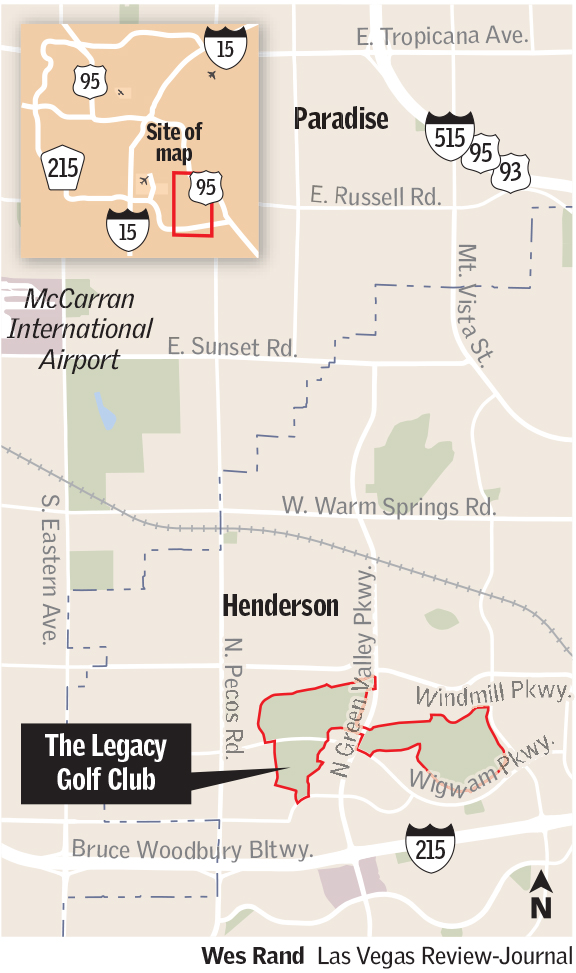 "Effective July 4, 2017, The Legacy Golf Club was sold to a consortium of local businessmen, who immediately closed the golf course and club house due to massive financial losses, increased operating costs and declining revenue over the past several years," the release read. "Since this time, there has been much speculation from both the public and the media, (sic) trustees of the properties are reviewing areas of opportunity with these parcels of land and are vetting a variety of development proposals.
"Over the next 60-90 days, the representing trustees of the properties will continue open communications with City of Henderson officials and will begin timely discussions with the neighboring businesses and residents," it continued. "It is their intent to create a planned use development that will be enjoyed by neighboring homeowners and provides uses that enhance the viability of the location."
According to Henderson spokesman David Cherry, city officials had not been made aware of the sale other than through media reports.
The parcels included in the recent sale fall under two separate use categories. Land closest to the intersection of Wigwam Parkway and Green Valley Parkway is zoned neighborhood commercial.
The golf course areas, including the driving range and all 18 holes, fall under the public and semi-public use category. Any changes to the zoning would need approval from city planners and the Henderson City Council.
In addition, the language of the original property documents recorded with Clark County on Dec. 26, 1988, stated the following: "for fifty years, from and after recordation of this deed, the real property described in exhibit A may only be developed or improved as a golf course."
Contact Sandy Lopez at slopez@reviewjournal.com or 702-383-4686. Follow @JournalismSandy on Twitter. Freelance writer Brian Hurlburt is a two-time author who has covered golf in Las Vegas for more than two decades. He can be reached at bhurlburt5@gmail.com or @LVGolfInsider on Twitter.
Related
Henderson's Legacy Golf Club sold, closed indefinitely