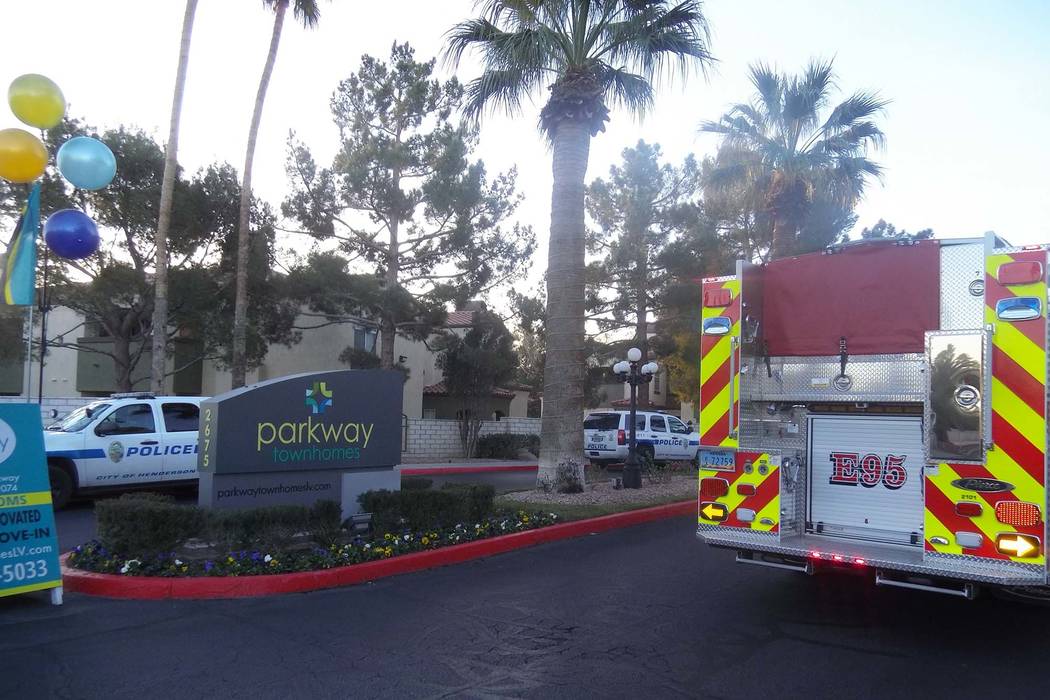 Henderson police are investigating a murder-suicide that occurred Friday morning at Parkway Townhomes.
At about 5:30 a.m., an 82-year-old man called police and said he shot his wife and was going to shoot himself, according to a press release.
When officers arrived, they found the bodies of the man and a 81-year-old woman with gunshot wounds.
"They had everything in order as far as all the paperwork," Henderson police spokesman Scott Williams said. "It appears that due to some health issues and the complications of being elderly, they may have been done."
Murder suicides usually are related to domestic violence, but this case "looks more like frustration from aging," he said.
About 12 police vehicles responded to the townhouse complex, located at 2675 Windmill Parkway, near the intersection of Windmill Parkway and North Pecos Road.
The names of the husband and wife will be released by the Clark County coroner's office after next of kin is notified.
This is the first homicide of 2018 investigated by the Henderson Police Department.
Anyone with information in this case is urged to call the department at 702-267- 4911, or, to remain anonymous, call Crime Stoppers at 702-385- 5555 . Tips directly leading to a felony arrest or an indictment processed through Crime Stoppers may result in a cash reward.
Contact Max Michor at 702-383-0336 or mmichor@reviewjournal.com. Follow @MaxMichor on Twitter. Contact Briana Erickson at 702-387-5244 or berickson@reviewjournal.com. Follow @brianarerick on Twitter.
2675 Windmill Parkway, henderson, nv