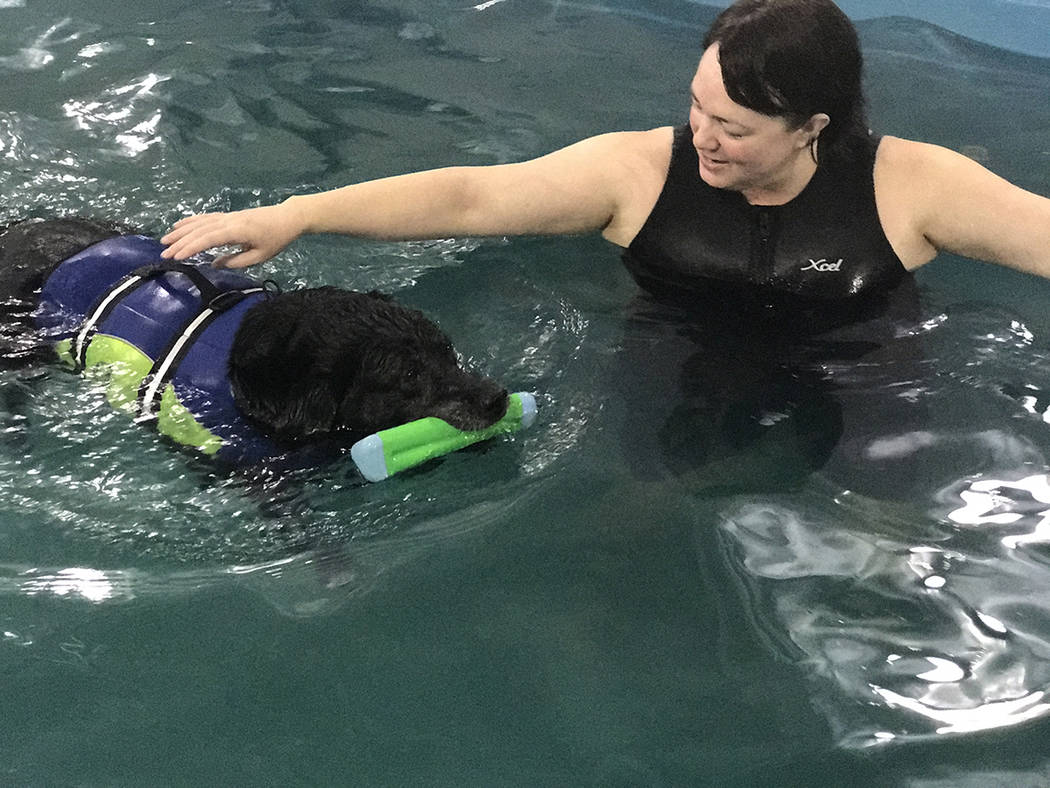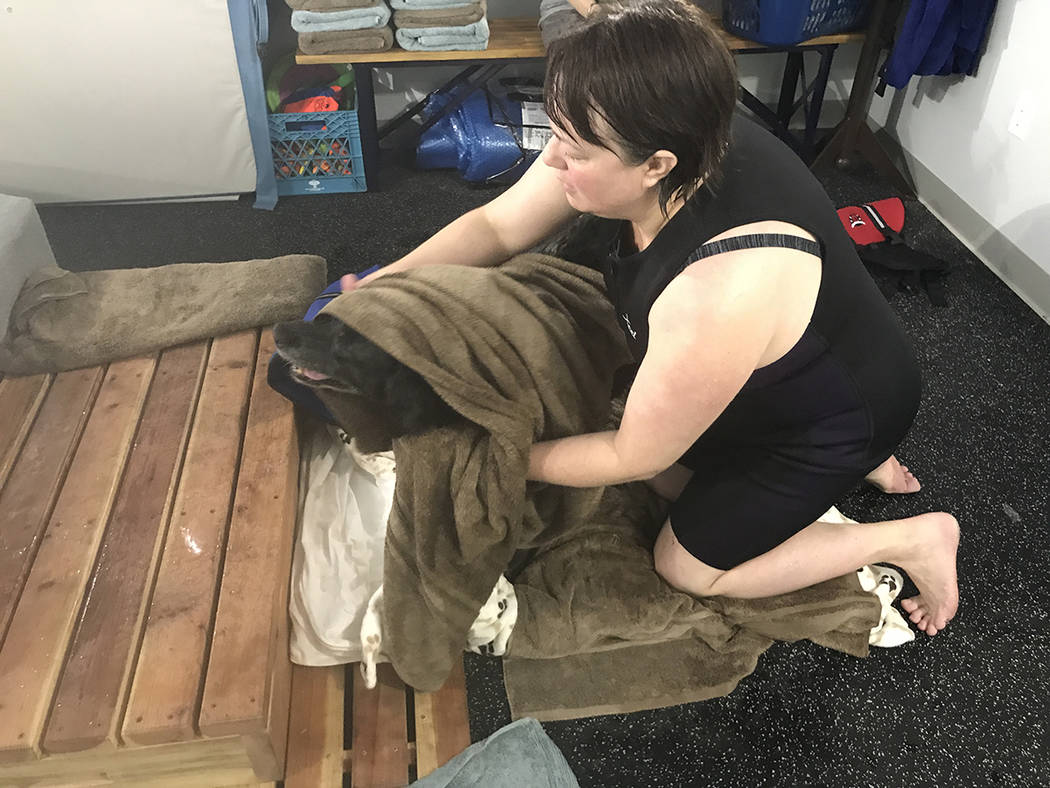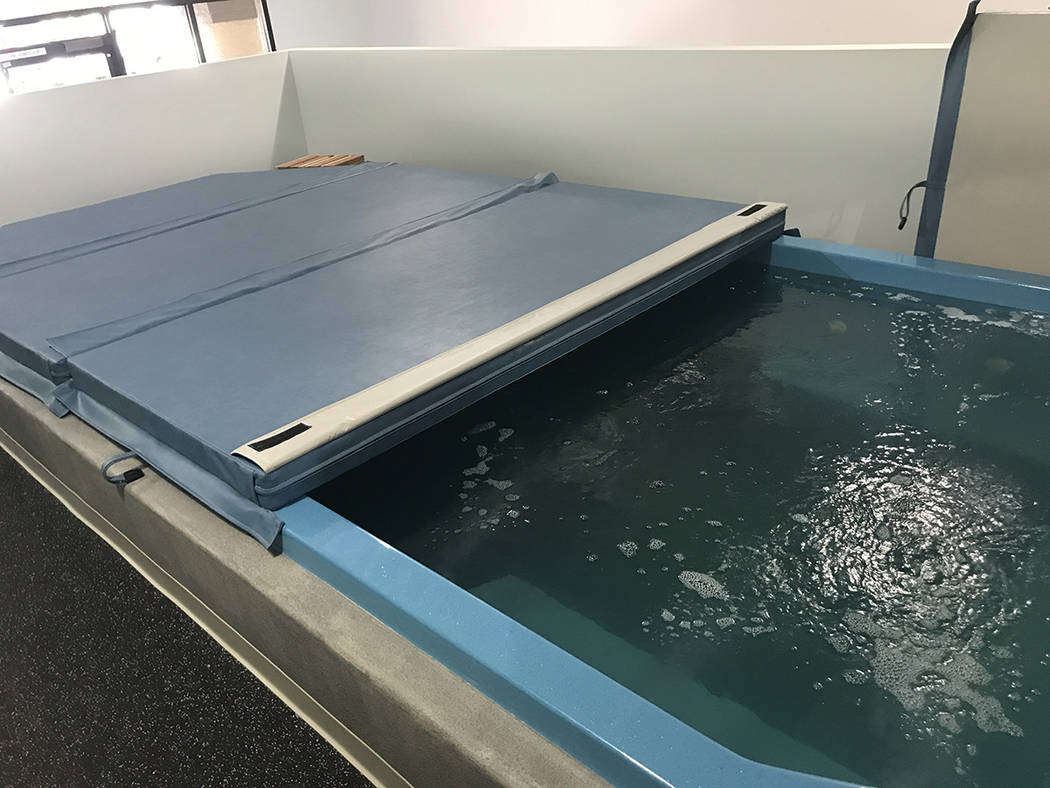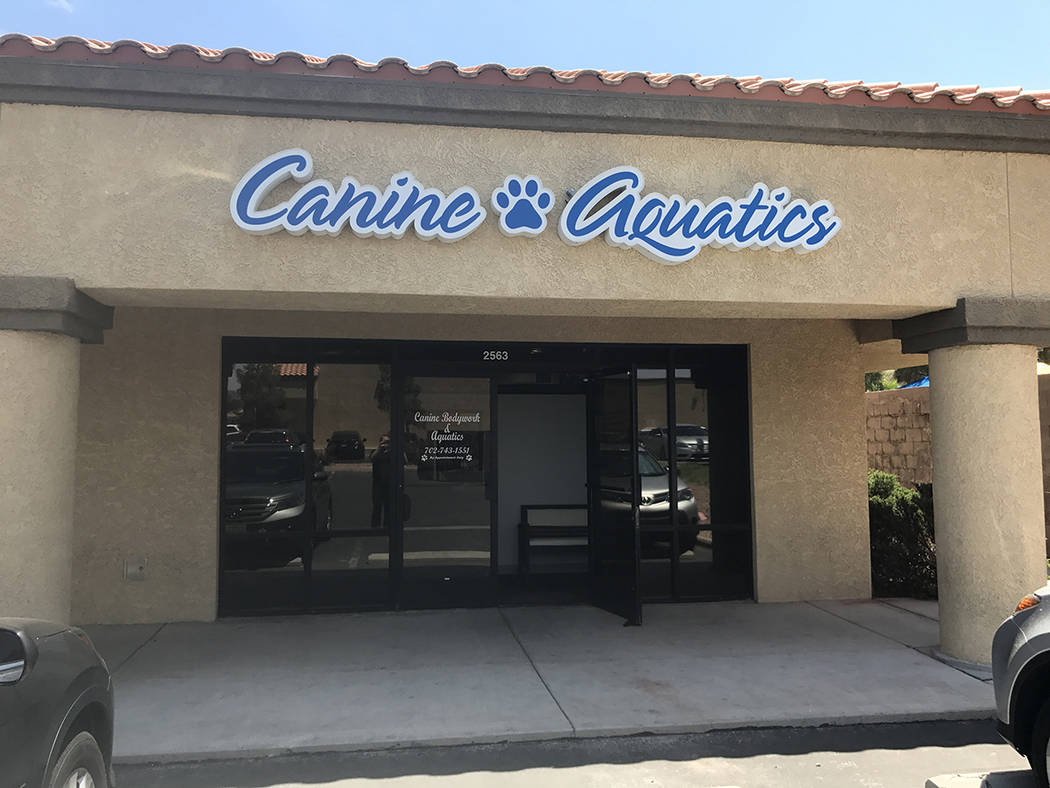 Henderson resident Kathy Carr jokes that she created Canine Bodywork & Aquatics for her dog, Ginger, a 13-year-old chow mix with three legs.
The business, 2563 Wigwam Parkway, may not be for solely for Ginger, but it serves dogs like her — old or disabled.
Canine Bodywork is a wellness center for dogs that uses water for swimming, floating or relaxing.
Carr started her business because she loves dogs and wants to help extend their lives.
"My mom's side of the family were full of ranchers and farmers," Carr said. "I've grown up with animals for most of my life."
Born in Calgary, Alberta, Carr is a certified animal massage therapist. She started doing bodywork on animals 10 years ago, taking courses at the Northwest School of Animal Massage in Vashon, Washington.
She took classes at La Paw Spa in Sequim, Washington, learning from Cindy Horsfall, founder of the Association of Canine Water Therapy. Carr is also a certified veterinarian assistant through Pima Medical Institute and a member of the International Association of Animal Massage and Bodywork, which has about 300 members in the U.S.
Carr said aquatic therapy is common mainly in Washington, California and New York.
"Good thing there's internet, so we can learn from each other," Carr said.
Canine Bodywork, which opened May 1, is in a shopping center at Pecos Road and Wigwam Parkway. Carr wanted a location that wasn't in a busy neighborhood and that had a family-friendly environment.
Inside there is a small lobby. A hallway leads to a massage room, which can be used as an alternative to water therapy. There's also a shower for dogs to use before getting in the 4½-foot-deep pool.
The water temperature ranges from 85 to 90 degrees. Carr adds PoolSan, a chlorine-free treatment that contains minerals such as copper, zinc and silver.
The pool is used for more than therapy for older dogs. Carr has been teaching an 8-month-old goldendoodle to swim and has used water therapy to help foster dogs dealing with anxiety.
Each session depends on the dog, she said.
"If they're anxious, we'll do more bonding first," Carr said. "If they're smaller, within 10 minutes, we'll try to get them on that first step so they're closer to me, and gradually get them in the pool."
David and Leigh Anna Lavers have brought their two Labrador retrievers, 14-year-old Berta and 13-year-old Ivory, to Canine Bodywork twice.
The Laverses used to take their dogs on 3-mile walks, but David suffered a stroke in July, and Leigh Anna won't leave him home alone. In turn, the dogs couldn't get their usual exercise.
"We called Kathy two weeks before she opened, hoping to get in first," Leigh Anna Lavers said. "This gives (the dogs) the exercise they need."
The Laverses said they're happy with how much energy the dogs are using in the pool and are planning more sessions before going on their annual summer travels.
"It's not like (Carr) does her thing and we have to wait," Lavers said. "She makes it very personal with us and the dogs. I really hope she stays open because I want to keep coming here."
Carr, like her former mentor, wants to be a pioneer in her field and in Southern Nevada.
"When I started taking those classes, I fell in love with this," she said. "I realized I wanted to do that for the rest of my life."
Contact Danny Webster at dwebster@viewnews.com or call 702-477-3834. Follow @DannyWebster21 on Twitter.
Canine Bodywork & Aquatics
Where: 2563 Wigwam Parkway
Hours: By appointment only
Rates: One hour, $75; four sessions, $280; 10 sessions, $675
More information: Visit caninebodyworkandaquatics.com or call 702-743-1551
Social media: facebook.com/caninebodyworkandaquatics, instagram.com/caninebodyworkandaquatics