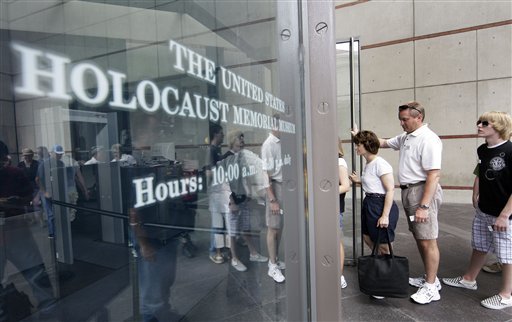 Henderson resident Esther Finder knows that as she seeks Holocaust survivors in the Las Vegas Valley to tell their stories, she's in a race against time.
As the president of Generations of the Shoah — Nevada, made up of children and grandchildren of Holocaust survivors, Finder knows the importance of this history.
Finder said she finds this history more timely after the White House's statement on International Holocaust Remembrance Day on Jan. 27, as well as amid concerns about President Donald Trump's executive order barring refugees.
"For one thing, Trump's comments on Holocaust Remembrance Day excluded reference to Jewish people," she said. "That is unfathomable and inexcusable. That was outrageous."
Finder grew up in a Jewish community in Skokie, Illinois, a Chicago suburb that was home to many Holocaust survivors. She remembers when her aunts and uncles, along with her parents, started talking to her about the Holocaust and things they'd survived.
Finder didn't understand, but she always knew her family was different.
"I thought maybe Jewish people didn't have grandparents," she said. "None of my Jewish friends had them. I also knew I could never visit the house my parents grew up in. I just didn't know why."
Finder since has worked to preserve the memory of Jewish Holocaust victims by collecting oral histories from survivors and volunteering with the U.S. Holocaust Memorial Museum in Washington, D.C.
When Finder moved to Sun City Anthem about seven years ago to retire, she got involved with the community television station, Sun City Anthem TV.
"One thing I offered to do was its 'Eyewitness to History' series," she said.
Finder suggested Holocaust survivors would be a worthy topic for the show, adding, "There are a handful (in Sun City Anthem)."
She contacted Raymonde Fiol, the president of the Holocaust Survivors Group of Southern Nevada at the time.
Because of her family history, Finder knew how to make the survivors comfortable about the topic.
"It's like we're family," she said.
Funding proved to be a challenge, and Fiol connected Finder with UNLV film professor Brett Levner for help.
"It was pretty humbling to be part of this and to hear all these stories," Levner said. "It's also inspiring to hear how all these people moved forward with their lives despite everything they went through."
She added it was also a great experience for her film editing students to be able to contribute to a project that has an impact on the community.
They compiled 23 stories throughout the Las Vegas Valley, asking survivors about life after World War II, what brought them here and what it meant to be an American.
"That last question was always a powerful one," Finder said.
The film weaved stories together and has been used at various events. Finder said UNLV put the stories on its Southern Nevada Jewish Heritage Project, which has a Holocaust Remembrance section.
Beyond Las Vegas, people can see Finder's interviews at the U.S. Holocaust Memorial Museum.
Though Finder has collected the stories of local survivors, she wants to do more.
She has helped with a project that collects stories from the children and grandchildren of survivors, a project started by past Generation of Shoah presidents.
Levner is also helping with that project.
"It raises a good question about who is responsible for telling these stories after (Holocaust survivors) are gone," she said.
Additionally, Finder speaks on and organizes panels to talk about the Holocaust and what learning about its history means in the current political climate.
To reach Henderson View reporter Michael Lyle, email mlyle@viewnews.com or call 702-387-5201. Find him on Twitter: @mjlyle.